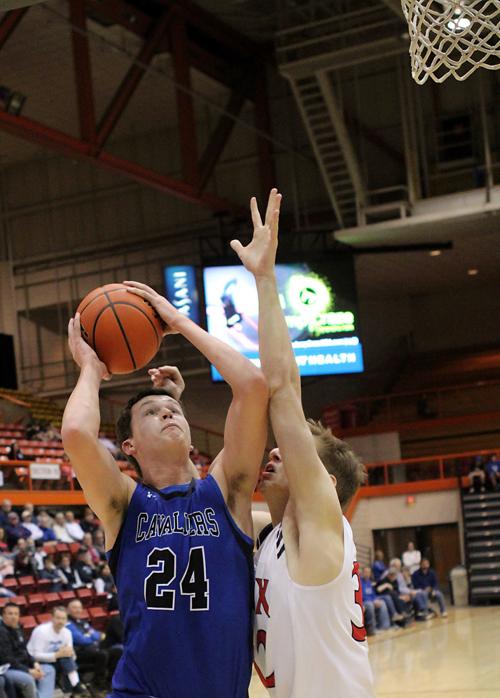 St. Thomas More's Ryder Kirsch capped the shortened 2019-20 boys basketball season by gathering the coveted title of 2020 South Dakota Mr. Basketball.
Kirsch led the Cavaliers to a 19-2 season and a start-to-finish No. 1 ranking in the Class A boys basketball ranks. Though the season was cut short before the state tournament was played, Kirsch became the fourth boys basketball player from St. Thomas More to be named Mr. Basketball by Hansen Anderson Basketball.
Emma Rosniek, a senior from Sioux Falls O'Gorman, was named winner of the 2020 South Dakota Miss Basketball award.
STM boys basketball coach Dave Hollenbeck told Hanson Anderson that Kirsch, a 6-foot-6 senior, was, "the most versatile player in St. Thomas More program history."
"Ryder has a very high basketball IQ," Hollenbeck told Hanson Anderson. "He can score and defend at all five positions on the floor. He had a really good year defensively and was solid on the boards."
Kirsch averaged 20.5 points, 7.1 rebounds and 4.2 assists per game during the 2019-20 season. He signed a letter-of-intent in November to attend Black Hills State University and played basketball for the Yellow Jackets.
Among the post-season awards Kirsch received, he was named to the Class A first-team all-state team and the Argus Leader's First Five team at the end of the 2019-20 season. He was also an all-state quarterback for the Cavaliers' Class 11B football team.
Kirsch joins STM alumni Zach Finley, Liam Duffy and Skye Warwick as winners of the South Dakota Mr. Basketball award.
Rosniek led O'Gorman to a 21-0 record before the South Dakota High School Activities Association first postponed then cancelled the 2019-20 season before the state Class AA tournament could be played due to the outbreak of the novel coronavirus in the U.S.
The 6-foot-1 senior averaged 16.5 points, 8.5 rebounds and 3.3 assists for the Knights. Rosniek finished her senior season with 48 blocked shots. She will play next year for Creighton.
Rapid City Stevens senior Kyah Watson was also nominated for the 2020 Miss Basketball award along with Hilary Albrecht, Howard; Ady Dwight, Langford Area; Rianna Fillipi, Lennox; Morgan Hansen; Sioux Falls Lincoln; Havyn Heinz; Huron; Kelsie Herman, Todd County; Hannah Parsley; Flandreau; and Madysen Vlastuin, Lennox.
Other Nominees for the South Dakota Mr. Basketball award were Akoi Akoi, Sioux Falls O'Gorman; Andrew Rohrbach, Aberdeen Christian; Josh Arlt, Lennox; Kobe Busch, Huron; Teegan Evers, Huron; Maxwell Nielson, Sioux Valley; Nick Wittler, Sully Buttes; Reggie Slaba, Hanson; and Zach Witte, Sioux Falls Christian.