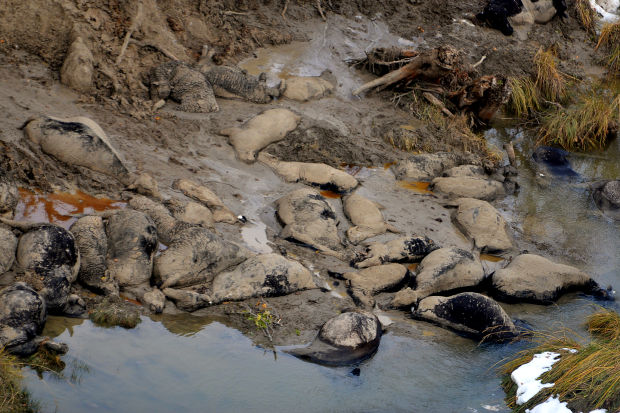 Many of the thousands of cattle that perished as a result of the Oct.4 blizzard died of congestive heart failure brought on by stress, according to the state veterinarian, who also released updated totals on livestock deaths from the storm.
At the one-month anniversary of the blizzard, Dr. Dustin Oedekoven said his office has verified the deaths of 13,977 cattle, 1,257 sheep, 287 horses and 40 bison.
Many of those animals died on dry land after being pummeled by rain, snow and unrelenting winds, he said.
"At least they were not lying in water and their lungs were full of fluid," Oedekoven said. "There was a common thought or misconception out there that they must have breathed all that in. That it must have settled in their lungs."
That's not the case, however, he said. Rain drenched the livestock for 12 to 18 hours before the blizzard's strong winds and wet snow delivered the killing blow.
"Those cows likely got hypothermic. They were cold," Oedekoven said.
As a result, he said, the cardiovascular systems of the cattle were working overtime, causing hypertension or high blood pressure in their lungs.
"It actually caused pulmonary edema and basically caused those lungs to fill with water or fluid," Oedekoven explained.
Other animals that died that weekend walked over steep banks or wandered into waterways or stock dams. There were reports of stock trampling each other inside shelters. In some cases, those shelters collapsed, killing animals where they stood. Ranchers also found livestock buried in snow banks.
Oedekoven believes there are still producers who have not reported their losses and he fears some may never reveal their losses.
"It's too personal of an issue and we understand that," Oedekoven said.
You have free articles remaining.
Meanwhile, a fund to help ranchers restock their herds is growing.
The Rancher Relief Fund now has received more than $700,000 in donations, according to Silvia Christen, executive director of the South Dakota Stockgrowers. The fund was established by the Black Hills Area Community Foundation and is administered by the Stockgrowers, South Dakota Cattlemen's Association and the South Dakota Sheep Growers Association.
Fundraising events are continuing throughout the state, with some even scheduled in February during the Black Hills Stock Show, Christen said. The fund has provided some financial assistance for producers with immediate needs, she said.
Donations are coming from businesses and private individuals, Christen said. Rollover auctions at livestock auction barns across the state have been successful, too, she added.
"It's been pretty incredible and impressive to see that grow," Christen said of the fund. "It's humbling to see where all the people are and where it's coming from and how many people care about what's happening out here."
A series of community meetings that brought together a variety of agencies with programs available to support producers were successful, Christen said. Similar meetings are scheduled in Eagle Butte on Nov. 14 and Interior on Nov. 16.
"I'm struggling with what's next. The long-term part of this recovery is going to be a challenge for us all," Christen said.
In part, the future for some producers could depend on the passage of a farm bill and their individual lenders, she said. 
"And what these individual ranch families all decide to do as they move forward now," Christen said.
Oedekoven is encouraging producers to report their losses to his offices. All information is kept confidential and reporting forms are available at: http://aib.sd.gov/, or by calling 773-3321.
"As a central collection point, we will hopefully have a way to provide a verified number of the animals that were lost and measure the impact of the disaster," Oedekoven said.
South Dakota's congressional delegation has referred to the estimated losses frequently while urging the passage of a farm bill, which is now being debated by a conference committee in Washington, D.C.