A teenager and police chief are speaking out against anti-Native American racism in Hot Springs.
"I should feel safe in my own town, let alone my own ancestral land," said Skyler Lanz, a 17-year-old member of the Oglala Sioux Tribe.
The town's police chief agreed with his assessment.
"Nobody in this community is going to be harassed because of the color of their skin," Hot Springs Police Chief Mike Close. 
Skyler lives and is homeschooled outside of town but has been going to Hot Springs three or four times a week during the past year for his job and to see friends.
He said drivers — usually white teenage boys or young men — yell racist slurs, make "war cry" noises or flip him off him about 70% of the time when he's walking downtown with friends or going to get a snack at Dairy Queen. Skyler said the drivers say things like "go back to the jungle" and call him a "prairie (n-word)."
Skyler said he doesn't know the people yelling at him but he's starting to recognize their cars after seeing them multiple times. He's been ignoring the comments because he's confident in his identity and actually feels "pity" for the drivers.
"Really is that what you do, you just drive around and be rude to people?" he said. "People these days don't have an excuse to be stupid" about racism because its discussed so much.
But Skyler decided to act last Saturday, when three different drivers yelled racist comments at him over a span of two hours.
Skyler said a friend — who is white — that he was walking with was shocked by the comments and told him he should be angry, that their behavior wasn't OK.
"I guess I shouldn't really have to tolerate this," Skyler thought at the time. "It was a bit much, three times in two hours."
He told his father, Matthew, who is white, what happened. Skyler and Matthew both told the Journal that a Filipina friend of Matthew's shared that she too is harassed by drivers who assume she is Native American.
Skyler said his father suggested they report the harassment to the police department and he agreed to do so. Skyler said that while he can handle the insults, he wants to stand up for others.
"I'm just going about my daily life, but I just want to make it known that there is still this stuff going on so other people don't get hurt," he said. "I want people to be happy and safe in this small town."
The incident on Saturday was the "last straw," Matthew said. "It's 2020 now people, get with it.
"Sometimes smaller communities are looked on as not outspoken or proactive," he added, but "we don't want to sit back and let an incident like this not be acknowledged."
Hot Springs has about 3,500 residents, according to 2018 Census estimates. About 80% of the town is white, 10% is Native American and 10% are multi-racial or from other backgrounds. 
Skyler said he feels the police department is taking his report seriously. "There's good cops here."
The police chief said he had a strong reaction to Skyler's complaint.
"I was upset" to hear what had been happening, Close said. We're a "very welcoming town to anybody, and we want to keep it that way.
"We decided to make a stand and say we're not going to tolerate that," he added. 
"I hate that I have to write this post," Close wrote. "It was brought to my attention last night that when certain members of our community are out in public other people are making racist and offensive comments towards our community members.
"When we catch the people doing this we will arrest you and do everything in our power to make sure you are convicted," he continued. "This will not be tolerated by the Hot Springs Police Department, the city or the amazing population of this town."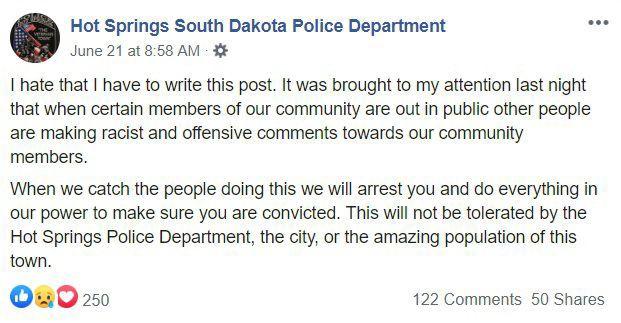 The Facebook post received more than 100 comments and many Hot Springs residents said they were upset about the racist comments and happy the police department was speaking up about it. A few people questioned whether it was legal to arrest people for making racist comments.
Close responded to Facebook commenters and told the Journal that the First Amendment protects people who believe and say racist things.
But he said people who make repetitive racist or other harassing comments towards the same person could be charged with disorderly conduct or stalking. South Dakota law says someone who "willfully, maliciously, and repeatedly" follows or harasses another person is guilty of stalking.
Close said his department is investigating whether they can identify any of Sklyer's repeat harassers but have no suspects yet.
He said there have been no anti-racist protests inspired by Skyler nor any Black Lives Matter protests in Hot Springs. Close said community members organized a march in support of the police department on June 2 that included a moment of silence for George Floyd, the 46-year-old Black man killed by a white, former Minneapolis police officer who pressed his knee against Floyd's neck for nearly nine minutes.
"We realize the actions of that officer cast a bad light on all of law enforcement," Close said. "Down here we would like to think that we do a great job of serving the community regardless of race." ​
Get local news delivered to your inbox!
Subscribe to our Daily Headlines newsletter.