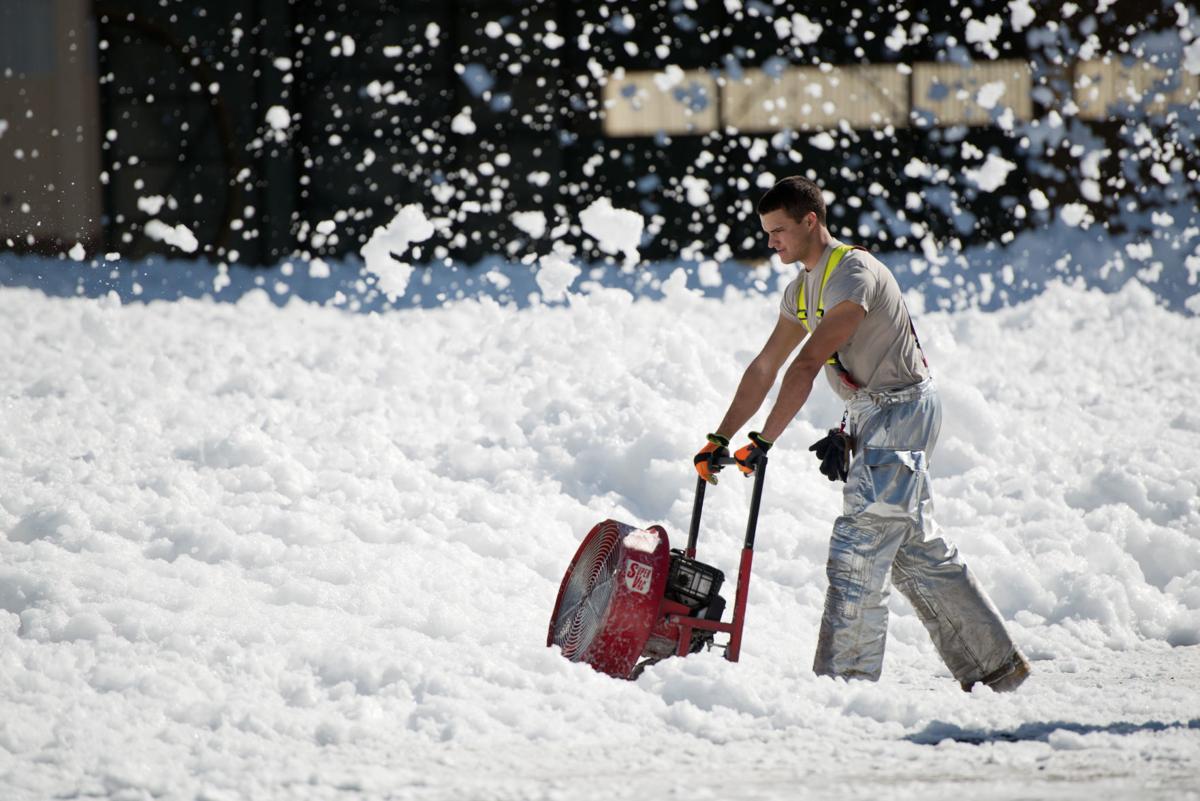 For decades, the Department of Defense used firefighting foam to smother petroleum fires and train for emergency responses at military installations across the world. But in recent years, chemicals within the foam linked to cancer, thyroid disease, weakened immunity and other health problems have been discovered in people's drinking water. Some estimate the toxic chemicals are in the drinking water of up to 110 million Americans. South Dakota has not been spared.
Near Box Elder, the chemicals have infiltrated at least nine private wells at levels above what the Environmental Protection Agency deems safe. Discovery of more contaminated wells is expected. Foam use by Ellsworth Air Force Base is the cause.
In Sioux Falls, 19 city wells have been shut down at Sioux Falls Regional Airport due to contamination from foam use by the South Dakota National Air Guard and Sioux Falls Fire Department. Investigations at both sites are more than five years old. Much remains unclear.
The possible effect on South Dakotans' health is also unknown, in part because only a smattering of people are aware of the issue, chemicals or consequences.
Jimmy Sanders has contaminated wells on his property south of Ellsworth at levels 40 times what the EPA deems safe. Two wells are for monitoring contamination. Another is for drinking water. Sanders hasn't used the water in years. He doesn't think he could prove much if he had.
"There's no way to ... without spending thousands and thousands of dollars and hundreds of doctor visits to pinpoint it back to specifically our water," he said.
Sanders' father died of mesothelioma from asbestos exposure after 27 years in the Air Force. Sanders' mother, who has lived at the property for more than three decades, suffers from heart and respiratory problems. Their drinking well was shut off in the 1990s after another Ellsworth contaminant, Trichloroethylene (TCE), seeped into their cistern.
"You never trust the government," he quipped.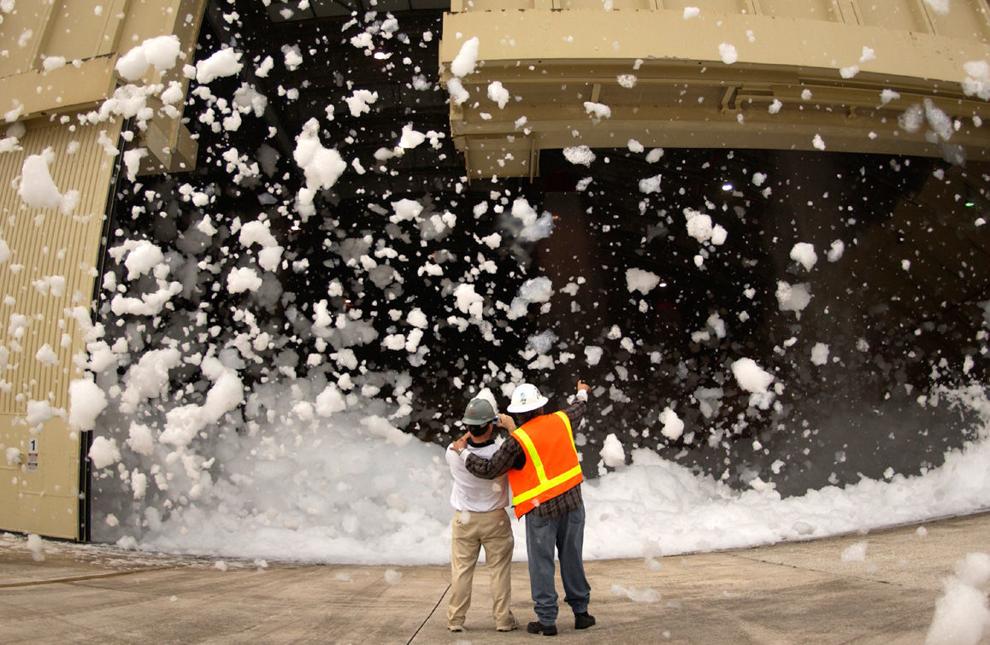 In your blood now; in the environment forever
One of the contaminants in Box Elder's private wells, perfluorooctanoic acid (PFOA), was once a staple in products like Teflon, Gore-Tex and Scotchgard, leading to its nickname the "Teflon toxin." PFOA's power comes from its unique ability to make things extremely slippery. As a result, it has ended up in coatings for eyeglasses, fast-food wrappers, microwave popcorn bags, bicycle lubricants, ski wax, communications cables and pizza boxes.
Now, it's in everybody's blood.
According to a 2007 data analysis by the Centers for Disease Control and Prevention, PFOA is in the blood of 99.7 percent of Americans. Perfluorooctane sulfonate (PFOS), another toxic chemical cropping up in private and city wells related to PFOA and within the family of per and polyfluoroalkyl substances (PFAS), is in the blood of 99.9 percent.
The chemicals have another power, too. Due to their chemical makeup, which features long and strong bonds of carbon and fluorine molecules, they never break down.
"That's one of the biggest problems with them," said Joane Lineburg, an environmental scientist for the South Dakota Department of Environment and Natural Resources (DENR). Lineburg has been working closely with Ellsworth's environmental remediation program as it brings the contamination investigation under its existing Superfund program from past contamination at the base. "They (PFAS) just don't go away naturally."
The first real public awareness of PFAS's toxicity came in the early 2000s when a class-action lawsuit was filed against DuPont on behalf of around 80,000 people whose drinking water was contaminated by the company's Parkersburg, West Virginia, plant, where Teflon was manufactured.
But it wasn't until the Department of Defense (DOD) released a preliminary assessment of bases where firefighting foam had been used that the scope of PFAS contamination began to be understood. According to a report from March 2018, 401 installations, including Ellsworth, have a known or suspected release of foam. Of around 2,600 ground water wells tested for the report, 1,621 had PFAS above the EPA's drinking water health advisory level, a baseline level of exposure at which there are no expected adverse health risks.
DOD investigations focus on PFOA and PFOS contamination because they are the only two PFAS for which the EPA has set drinking water health advisory levels. The EPA level for PFOA, PFOS, or a combination of the two is 70 parts per trillion, equal to about three-and-a-half drops of water in an Olympic-sized pool. Exposure to drinking water above that level has been linked to high cholesterol, ulcerative colitis, thyroid disease, testicular and kidney cancer, and pregnancy-induced hypertension. More recent studies have found connections to prostate and ovarian cancer, reduced fertility, arthritis, lymphoma, hyperactivity and altered immune responses in children, and hypotonia, or floppy baby syndrome, in infants.
According to other DOD documents, the Air Force has spent $241 million investigating and remediating the contamination to date. The agency estimates it will cost about $2 billion to remediate all PFAS groundwater contamination, adding to an estimated $27 billion in previously identified cleanup projects for the DOD.
Ellsworth's interminable investigation
In 2011, Ellsworth officials began to investigate whether foam used in emergency responses and training had contaminated the base's soil and water with PFOA and PFOS.
This March, the investigation culminated in a 391-page report. The history of when and where foam was used and the test results from 32 monitoring wells and temporary wells were detailed. In all, 30 wells had concentrations of PFOA/PFOS above the EPA levels, including one well inside the former foam-training area with concentrations almost 8,000 times the level. In other, off-base well sampling from May/June 2017 not included in the report, 11 of 13 wells had concentrations above the EPA level. One well one-half mile from the base had concentrations around 160 times that level.
On Oct. 5, early results of the base's investigation into off-base private wells started trickling in. Nine private wells south of the base were found with PFOA/PFOS above the EPA level. The affected households have since been provided one gallon of water per resident per day, though the base will not disclose the test results or the location of the wells. The survey has now extended further south and west of the base. Discovery of more contaminated private wells is likely.
The time it took the base to study nearby private wells is striking. In February 2013, DENR environmental scientist Lineburg wrote a letter to Melody Jensen, the base official tasked with managing the investigation and cleanup, saying that "because of the potential immediate threat to human health," the base should "make every effort to perform this survey as soon as possible in the current calendar year."
Five-and-a-half years later, the first stage of the survey is just now complete. When asked why it took so long, Jensen explained that the base was following the EPA Superfund process, laid out in a federal law known as CERCLA (Comprehensive Environmental Response, Compensation, and Liability Act).
"No matter the base, no matter the contaminant, the process is the same," Jensen said. "It takes time to finish these investigations."
Lineburg, who authored the DENR letter, called it "kind of a tortuous process."
"It's spelled out in federal law, that these are the processes that have to be followed," she said. "Unfortunately, it does take some time."
At Ellsworth, "some time" has translated into seven years since the investigation's start, 15 years since the first recorded use of foam at Ellsworth — 11 burns using 435 gallons of foam — and 48 years since the Air Force and Ellsworth likely began using foam.
"The Air Force is committed to continuing to test the water wells around Ellsworth Air Force Base," said Col. John Edwards, commanding officer at Ellsworth, at a Nov. 1 informational meeting with affected residents. "Where we find contamination, we have a rapid response plan to immediately provide safe drinking water to all of those contaminated wells as we work on a longer-term solution. We count on our partnership with Box Elder, the community and the neighbors, many of you who are in here today with us. That's an important relationship for us."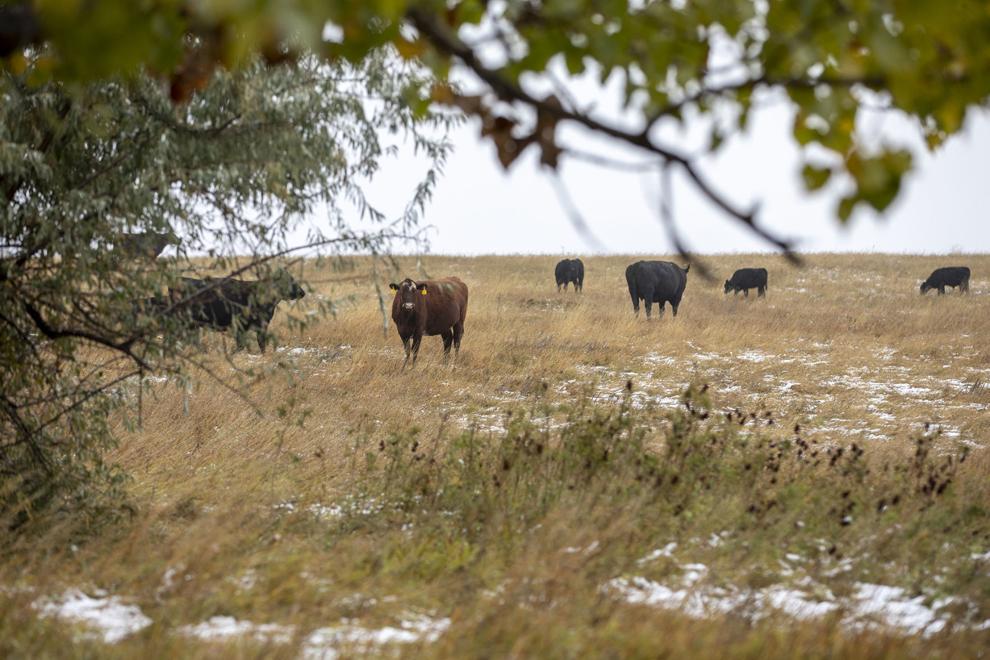 Ellsworth's immediate neighbors 
Two off-base wells sampled for the March report with detections 39 and 21 times the EPA level are on Sanders' property at 14754 Country Road. Along with his mother, Sanders lives with a gaggle of welcoming dogs on a 10-acre lot he calls the "porkchop" because of the unique shape it slices into the base's southern boundary.
A TCE-contaminated cistern sits in the front yard. He can't recall the exact year, but they've been receiving free water from the base ever since it was shut down. He pointed to an enormous, enclosed swimming pool adjacent to his home and said it wouldn't be full if it weren't for free water.
"They pump water to the house, so I ain't gonna complain," Sanders said in August from his garage. He's familiar with the foam. As a volunteer firefighter for nearly 15 years in Box Elder, he used it.
"When you're applying it for a fire, it's a godsend," he recalled. "It'll knock down gas, oil, it takes it right out. I mean, it's good stuff, but it's pretty toxic. Once you get it into your system, it's pretty toxic. It's not fun."
Across the street, an 89-acre lot owned by Tom Farrar is used for cattle ranching. A brook meanders through the property and cattle tracks dot its winding banks. Seven of eight wells on his property — four permanent monitoring wells, two temporary test wells and one well that supplied his trough — tested above the EPA level. Two samples taken in May/June 2017 from the brook, which eventually empties into Box Elder Creek, also tested high, with concentrations 70 and 484 times above the EPA level. The cattle-watering well, 2.6 times the EPA level, was decommissioned in January 2017. Farrar's property was connected to the base system in late 2016 due to PFAS contamination.
Farrar did not comment on the issue, citing ongoing negotiations with the base for future water service, but he acknowledged he had "a slight amount of concern" for his cattle. Farrar also owns the Thunderbird subdivision, where the first stage of the private well survey focused its efforts in September.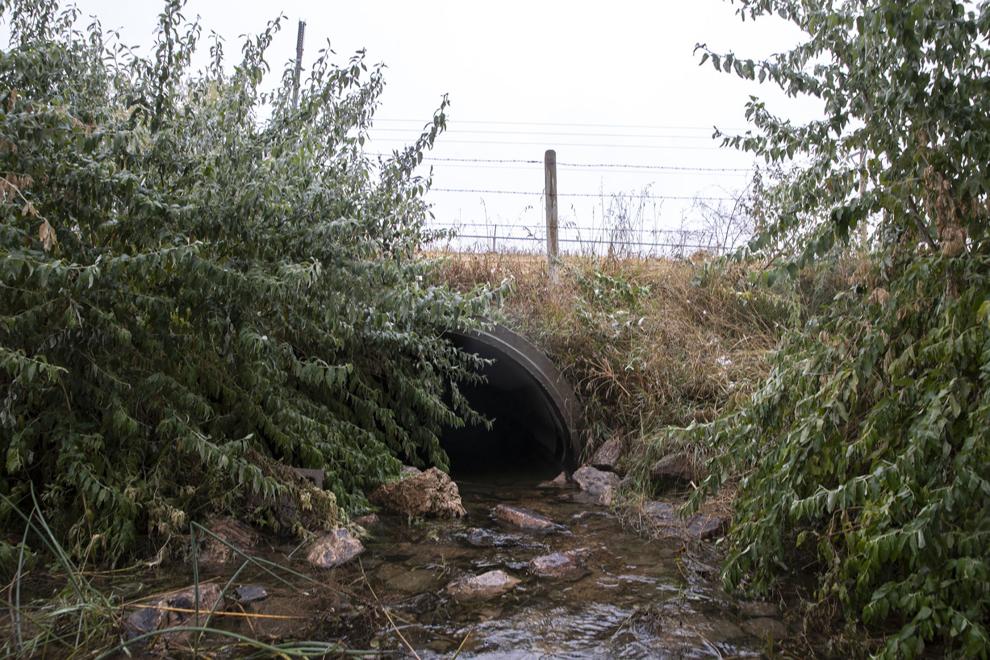 A great deal remains unanswered, but one issue appears resolved — Box Elder's water is apparently unharmed. When the city recently tested water taken directly from its wells for PFAS, no contaminants were detected, Box Elder Public Works Director Bob Kauffman said in September.
That makes sense according to Greg Delzer, a hydrologist at the Dakota Water Science Center of the U.S. Geological Survey. Though Box Elder is topped with permeable soils from the quaternary geologic period, Delzer said one need dig only about 50 feet before striking the impermeable Pierre Shale formation.
"They (contaminants) can't migrate downward through the shale," Delzer told the Journal in September.
Once groundwater reaches the shale, it begins to migrate laterally. In Box Elder, the lateral movement follows a west to east direction. The base's sampling appears to indicate a southward migration of PFAS. Further, while wells with PFAS concentrations hit water at depths between nine and 32 feet, Box Elder's water source, the Madison aquifer, sits between 4,000 and 4,500 feet below the city's surface.
But for residents who rely on private wells, such assurances mean little. The base's private well survey is now extending further south and west of the base. On Nov. 1, 32 additional wells were sampled. More sampling is expected in the coming days. Results are expected at the end of November.
Box Elder Creek has not been sampled, but Jensen said it will be tested in February or March 2019. Another report is expected to be published later this year or early in 2019. Field work for the report was completed in June.
"We don't have it delineated yet," Jensen said of the contamination.
Editor's note: This report has been updated to correct an error. 
This Journal special report by Samuel Blackstone published in three parts. Parts one and two published on Sunday, Nov. 4, and part three on Mo…