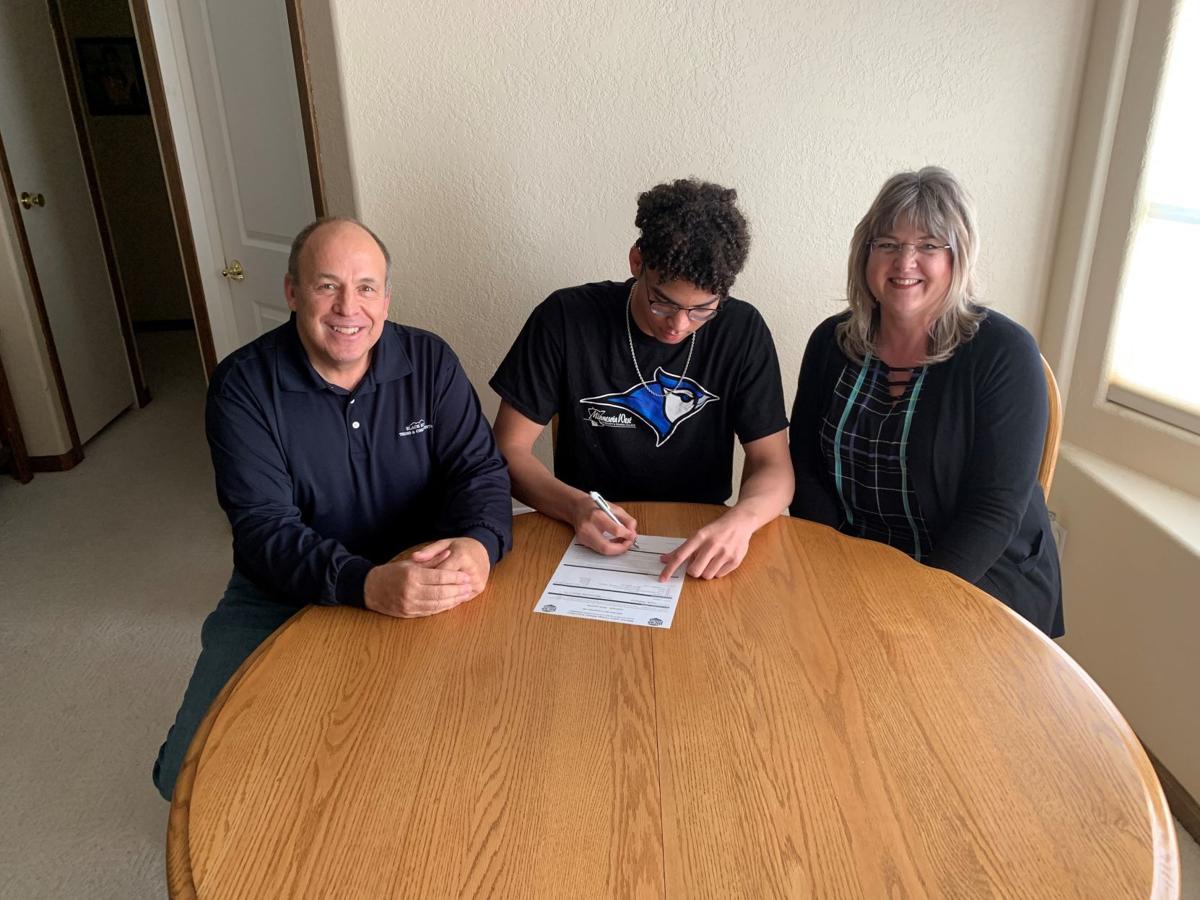 Three Rapid City Central student-athletes announced plans to compete in college with letters-of-intent via Zoom on Friday.
They include Taegen Wells, who will run track at South Dakota School of Mines; Isaak Williams, who will play basketball at Minnesota West and Katie Paris, who will bowl at Martin Methodist in Tennessee.
Taegen Wells, track and field at South Dakota School of Mines
On why he chose South Dakota School of Mines: "I was actually looking at NSU (Northern State University) before I was going to go to Mines because they were both texting me and trying to get me to go there. For Mines, I just really liked the campus and I wanted to stay close."
Wells placed fourth in the 2019 state track meet in the 110 hurdles and will also run the 400 hurdles in college.
On competing on the collegiate level: "It will be a challenge to run the 400 hurdles, and in the 110s, I think they are three inches higher. That will be a little harder too, so I will have to practice some flexibility for that. We (at Central) practiced at that (Mines) track a lot. We only have one home meet, but it will still be fun to run at the same track that I have run at before."
Degree of study – Wells plans to major in civil engineering.
Isaak Williams, basketball at Minnesota West
On why he chose Minnesota West: "It was pretty much one of my options that I narrowed it down to. Plus, my older brother Elijah went to that school and he just graduated, so I am hoping to continue my basketball career."
Williams competed in basketball at Central for four years, as well as in track for two years and football one year.
On competing on the collegiate level: "It's obviously going to be more competition. There are a lot of athletes from across the country who have financial problems and are there, they could be D-I athletes. I think I am going to have to work really hard this summer to be able to compete."
Degree of Study — Williams plans to major in Liberal Arts
Katie Paris, Bowling at Martin Methodist (Pulaski, Tenn.)
A three-time all-state softball player for the Cobblers, Paris chose bowling over softball for college.
On why she chose Martin Methodist: "For a long time I wanted to play softball in college and I ended up choosing my love for bowling over softball. I just fell in love with the game of bowling and wanted to take part in the collegiate level. One of my coaches knows the coaches down there, and most of the coaches are professional bowlers, so I will be learning from the best. It came down to where I felt most comfortable, where I felt at home, and where I felt I would be the most successful in the classroom and on the lanes."
Paris has a 202 average, and threw a 743 scratch series this year.
On competing on the collegiate level: "I look forward to learn about every aspect of bowling that there is. I want to learn about the mental game, because it is challenging. It is just you out there, so if you make a mistake it is on you. Obviously I want to improve my ability from where it is now. The coaches are unbelievable, two of the best bowlers in the world, and I get to bowl for them every day."
Get local news delivered to your inbox!
Subscribe to our Daily Headlines newsletter.