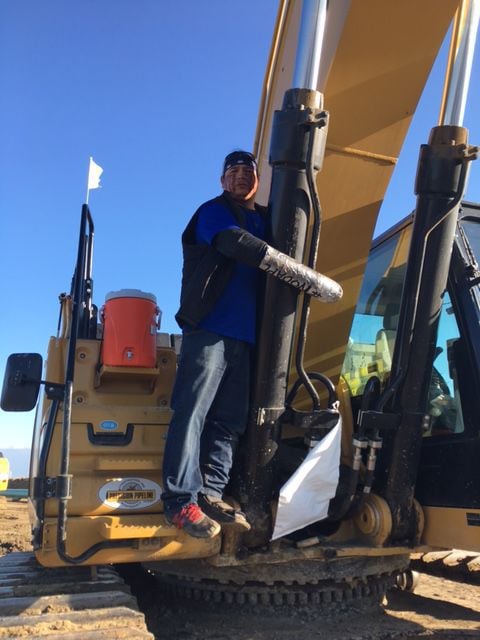 Nick Tilsen of Porcupine, a Lakota housing activist, was one of three people arrested and charged with a felony in North Dakota on Wednesday in connection to ongoing protests against the Dakota Access pipeline.
Authorities say Tilsen was among three people who attached themselves to construction equipment in order to stop progress on the controversial pipeline.
Tilsen is the founder and executive director of the Thunder Valley Community Development Corporation, a grassroots organization working to build a sustainable community of energy-efficient homes on 34 acres of land in the Pine Ridge Indian Reservation. He could not be reached for comment.
 "I'm proud of him," said his brother, Mark K. Tilsen Jr., adding that, "Nick Tilsen is an upstanding member of the Oglala Lakota community. He wants to live in a post-petroleum future, and that's what he has devoted his professional life to. This is an act of activism on his part, so we can have clean drinking water — as well as to stand up to the corporate myth that we need oil to live."
If it is built, the $3.7 billion Dakota Access pipeline will pump nearly half a million gallons of light crude oil from the Bakken Shale in North Dakota across South Dakota and Iowa to its existing oil networks in Illinois. It is currently routed near the Standing Rock Sioux Reservation, whose tribal members have protested the pipeline as a potential threat to ancestral lands and drinking water from the Missouri River.
Officials from the Texas company building the pipeline, Energy Transfer Partners, say it is safe, and they said Tuesday they have no plans to slow or halt its construction.
At 8 a.m. on Wednesday, law enforcement officers in Morton County were dispatched to a Dakota Access pipeline construction site north of Almont, N.D., near Exit 120 of Interstate 94. The spot is roughly 40 miles west of Bismarck, and 73 miles northwest of the Oceti Sakowin and Sacred Stone protest camps in Cannon Ball.
When they arrived at the construction site, Morton County authorities found Tilsen and two other individuals, whose names have not yet been released, secured to construction equipment to block its use.
Tilsen had wrapped his arms around one of the hydraulic piston of an excavator and linked his hands within a thick PVC pipe, a device commonly used by demonstrators and referred to by law enforcement as a "sleeping dragon." According to Rob Keller, spokesperson for the Morton County Sheriff's Department, officers had to cut through the PVC pipe to remove Tilsen from the excavator.
Tilsen was arrested on a felony charge of reckless endangerment and three misdemeanors: criminal trespass, disorderly conduct, and obstruction of government functions. Morton County officials stated that though Tilsen was arrested on Wednesday, his formal charges would not be filed until today. Possible sentences for reckless endangerment include the maximum punishment of five years in prison and/or up to $10,000 in fines.
Officers also arrested five other individuals in separate protest-related incidents on Wednesday.
"The Morton County States Attorney's office will pursue felony charges against the protesters who attached themselves to equipment due to the seriousness of the crime," said Morton County Sheriff Kyle Kirchmeier in a statement released on Wednesday. "Law enforcement officers are put in a dangerous situation when freeing these individuals."
According to Keller, there have been a total of 66 arrests in Morton County over the last few months in relation to the ongoing protests against the Dakota Access pipeline.
The departments of Justice, the Army, and the Interior issued a joint statement on Sept. 9 asking Dakota Access to voluntarily pause all construction within 20 miles east or west of Lake Oahe, north of Cannon Ball, N.D. The construction area where Tilsen and others were arrested does not fall within that zone.
"The idea that is being sent out there is construction has halted. It hasn't," Mark Tilsen said. "The pipeline is still being built."
As proposed, the Thunder Valley community development will draw its drinking water from the Mni Wiconi rural water system, whose source is the Missouri River. The Dakota Access pipeline is planned to cross the Missouri River, posing a threat to drinking water for many communities if it were to rupture, according to those opposed to the project.
Cecily Englehart, spokesperson for Thunder Valley, released the following statement in reaction to Tilsen's arrest.
"We as an organization firmly oppose any projects that contribute to the continuation of chronically destructive development projects in Native communities and stand in solidarity with the Standing Rock Sioux Tribe."