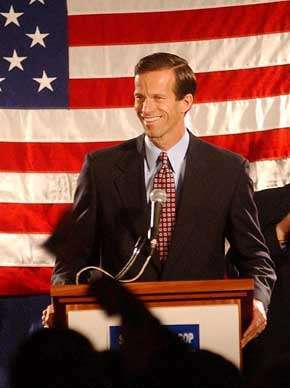 Republican Rep. John Thune will not challenge his narrow defeat by Democratic incumbent Tim Johnson in last week's U.S. Senate election.
Thune told reporters Wednesday morning that although there were irregularities in the Nov. 5 election, they were not enough to make up for Johnson's 524-vote margin.
"Therefore, I see no reason to subject the people of South Dakota to a long, drawn-out, painful and protracted struggle over 524 votes," Thune said.
The totals after the official canvass this week showed Johnson finishing with 167,481 votes (49.62 percent), Thune with 166,957 (49.47 percent) and Libertarian Kurt Evans with 3,070 (0.91 percent).
The margin was well within the 0.25 percent margin that entitles the loser to a recount under South Dakota election law.
Thune said his office had received about 1,000 calls from South Dakotans urging him to seek a recount.
But he said he would neither seek a recount nor mount any other legal challenges to the election results. The state Republican Party also "is not planning to pursue any other action at this time," state party chairman Joel Rosenthal said Wednesday.
Thune said some irregularities came to light in the election, including polling places that stayed open longer in some places than in others and reports of fraudulent absentee ballots and voter- registration cards being turned in before the election.
A woman who worked as an independent contractor for the South Dakota Democratic Party has been accused of forging voters' names on absentee- ballot applications. When Democratic Party officials told her some applications were not filled out correctly, she filled out new forms and traced the voters' signatures on them, law enforcement officials have said.
A man working for the United Sioux Tribes project aimed at increasing the number of American Indians registered to vote has been charged in Pennington County with submitting fraudulent voter-registration cards.
But Thune said a recount would not deal with all of those issues and would be "highly unlikely to change the outcome."
Secretary of State Joyce Hazeltine said Tuesday that the vote canvass showed three counties had slight discrepancies but that they amounted to fewer than 100 votes.
Attorney General Mark Barnett said last week that his office received no complaints about voting problems during the Nov. 5 election.
"I'm not accusing anyone of stealing the election," Thune said Wednesday. But he said he hoped state officials and the South Dakota Legislature would resolve voting and registration issues before the next major election in the state.
Thune, who voluntarily vacated his U.S. House seat after three terms, said he was not sure what he would do in the future.
Asked whether he would challenge Democratic Sen. Tom Daschle in 2004, Thune, 41, said he was not ready to make a decision about future runs for office or other options. But he added, "I've enjoyed serving the people of South Dakota and would enjoy the opportunity to do so again at some point down the road."
He said he has spoken to President Bush since the election but had not been offered a position in the administration.
Thune had considered running for governor this year, and most political observers in the state concluded he would have won that prize relatively easily.
But Bush and others in the administration helped persuade the popular congressman to challenge Johnson for his Senate seat, partly to help dislodge Daschle as majority leader.
Ironically, the Republicans did regain control of the Senate, despite Thune's loss.
Thune said he had no regrets about seeking the Senate seat. "Our work was not in vain," he said, referring to Republicans strengthening their grip on Congress.
"Our campaign was right, and the cause was just," Thune said of his own race. "We just came up a little short this time."