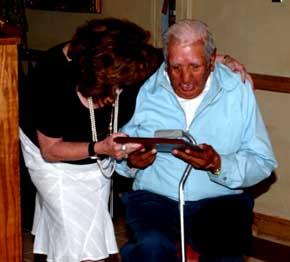 RAPID CITY - After the song and drumbeats faded and the political speeches were finished Wednesday, Lakota code talker Clarence Wolf Guts sat with head bowed in front of the TV cameras and said he would do it all again.
"As old as I am, if I had to do it again, I'd give it a good try," the 82-year-old Pine Ridge native said in a whisper, leaning against his cane.
Wolf Guts, who now lives at the South Dakota veterans home in Hot Springs, gave it more than a good try with his Army service during World War II. He helped develop a communications code based on the Lakota language and transmitted critical messages to commanders in the field.
That service by Wolf Guts was lost to the public for most of his life. Only in recent years have he and other code talkers been recognized for their service.
Wolf Guts, the last known living Lakota code talker, received his most recent honor Wednesday from Howard Dean, chairman of the Democratic National Committee. Dean presented Wolf Guts with a plaque from the South Dakota Democratic Party, saying he was a "true American hero" who reflected the proud tradition of American Indian service in the United States military.
"I think one of the things maybe people may not know is the extraordinary number of Native Americans in the armed service of the United States," Dean said. "In fact, Native Americans have the highest percentage of participation of any ethnic group in the entire country in defending America."
That service often comes with a profound price, Dean said.
"We might also add that Native Americans have had a disproportionate number of casualties in Iraq and Afghanistan," he said.
Indian people gathered around Wolf Guts during an honoring song by Jenny Ghost Bear, B.J. Brave Heart and Luke Bell of the Cante Tinza Lakota drum group of Rapid City. As their drumbeat and chants filled the lobby of the hotel, other American Indians joined Dean in a circular honoring march around Wolf Guts.
Dean said he was moved by the ceremony and honored to have the opportunity to recognize an American Indian war hero.
"This is actually one of the most meaningful things I've ever done as the Democratic chair," he said. "Clarence Wolf Guts is a true American hero for what he did."
Dean received a matching plaque from South Dakota State Democratic Party chairwoman Judy Olson Duhamel, who invited Dean to South Dakota as part of a DNC outreach to Democrats in all 50 states. Dean also met with tribal leaders, toured Sioux San Hospital and took questions from reporters briefly after the ceremony.
You have free articles remaining.
In response to a reporter, Dean said the Democratic Party is trying to give Indians a greater role in the party through a candidate training and recruitment program aimed at producing candidates for public office at all levels.
As a medical doctor, the former Vermont governor said he is particularly committed to improving health care for American Indians. That could start with better funding for the Indian Health Service, he said.
"I believe that the Indian Health Service has not been properly funded," he said. "I believe that every American ought to have a decent health-care system."
Dean also said the federal government must settle a lawsuit over mismanagement of tribal trust funds. A proposal pushed by U.S. Sen. John McCain, R-Ariz., to settle the suit for $8 billion is more than reasonable considering how badly tribal trusts were abused, Dean said.
Dean was challenged by Duane Martin, speaking on behalf of Strong Heart Society for civil rights, for having closed meetings with tribal leaders rather than meeting with Indian people in public. Martin said tribal leaders do not represent a majority of tribal members and have failed to meet their needs.
Dean said his goal is to do what he could to help see that more tribal needs are met.
"Hopefully, meeting with elected tribal leaders is a step in the right direction," he said.
Dean said he believed that his meetings with tribal officials would be fruitful. And he said he would take his plaque from the ceremony back to his home in Vermont as a personal keepsake to remind him of an exceptional man.
"Clarence Wolf Guts, you have continued the extraordinary tradition of your people in defending America, and we appreciate that deeply," Dean said.
Wolf Guts said he appreciated Dean's words of support for him and for American Indians and their needs.
"It's good to hear him talk about helping us," he said. "He's doing all right."
As for his personal war experience, Wolf Guts said, he was simply doing what his comrades did.
"We did what we could to be free," he said.