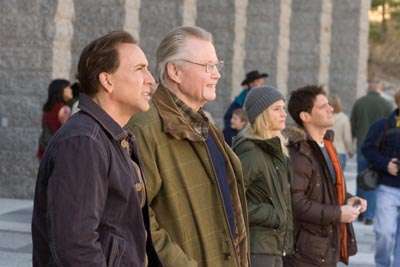 South Dakota tourism officials hope today's release of "National Treasure: Book of Secrets" will draw people to a few of the Black Hills' treasures such as Sylvan Lake and Mount Rushmore National Memorial, both featured in the film.
"It's great to get that kind of national exposure," said Bill Honerkamp, president of the Black Hills, Badlands & Lakes Association. "You can't line up or purchase that kind of exposure, and I think it will draw people to this area."
"National Treasure: Book of Secrets" will be released today at the Carmike Theater on Knollwood Drive in Rapid City.
The movie is a sequel to "National Treasure," released in 2004.
It stars Nicolas Cage as Ben Gates, the main character of the 2004 film.
Lesa Jarding, film and media relations representative for the South Dakota Office of Tourism, said filmmakers spent slightly more than two weeks filming in the Black Hills at the end of April and beginning of May.
She said she heard the scenes shot at Mount Rushmore will play a large role in the conclusion of the movie but did not have more information about it.
Gerard Baker, park superintendent at Mount Rushmore, said there are scenes in the film featuring the Hall of Records on top of the carving.
Baker said those scenes were not filmed in the actual Hall of Records, but in a set built to resemble the hall. That set was placed in a studio at Mount Rushmore for easy filming access.
"The set they built was really amazing," Baker said. "They set it up right here in the old sculptor's studio."
He said the film features scenes around a lake on top of Mount Rushmore.
"There isn't really a lake on top of Mount Rushmore," he said.
It was part of the Hall of Records set built for filming.
Jarding said producers ended up shooting more of the film in the Black Hills than they originally planned.
"They were planning to spend approximately two days in South Dakota, but once they got here, they discovered what South Dakota had to offer and took advantage of the scenery here," Jarding said. "That was excellent news for us, of course."
In addition to monuments and landmarks, Black Hills residents who see the movie may recognize the more than 100 local people who were cast as extras (See the story on page B1).
Honerkamp said he has no doubt that South Dakota will be portrayed positively in the film.
He said that exposure in a movie can be a crapshoot because if the area is portrayed in a negative light, it yields negative results for the tourism industry.
"I don't think that will be the case here," Honerkamp said.
"National Treasure: Book of Secrets" was produced by Jerry Bruckheimer and directed by Jon Turteltaub.
The film also stars Diane Kruger, Jon Voight, Helen Mirren, Ed Harris and Harvey Keitel.
"I think it's going to be great for tourism," Jarding said. "We're going to be seen on the big screen, so we hope that will spark an interest for visitors who were maybe thinking about visiting South Dakota but needed that extra push so they can get here and take advantage of what our state has to offer."
What: "National Treasure: Book of Secrets"
When: Today, Saturday, Sunday and Monday at 1 p.m., 1:30 p.m., 4 p.m., 4:25 p.m., 7 p.m., 7:20 p.m., 9:55 p.m. and 10:10 p.m.
Where: Carmike Stadium 10, 230 Knollwood Drive, Rapid City
When a missing page from John Wilkes Booth's diary surfaces, claiming Ben Gates' great-great-grandfather was involved in the assassination of Abraham Lincoln, Gates sets out to prove his grandfather's innocence. His journey takes him from Paris to London and back to the United States.