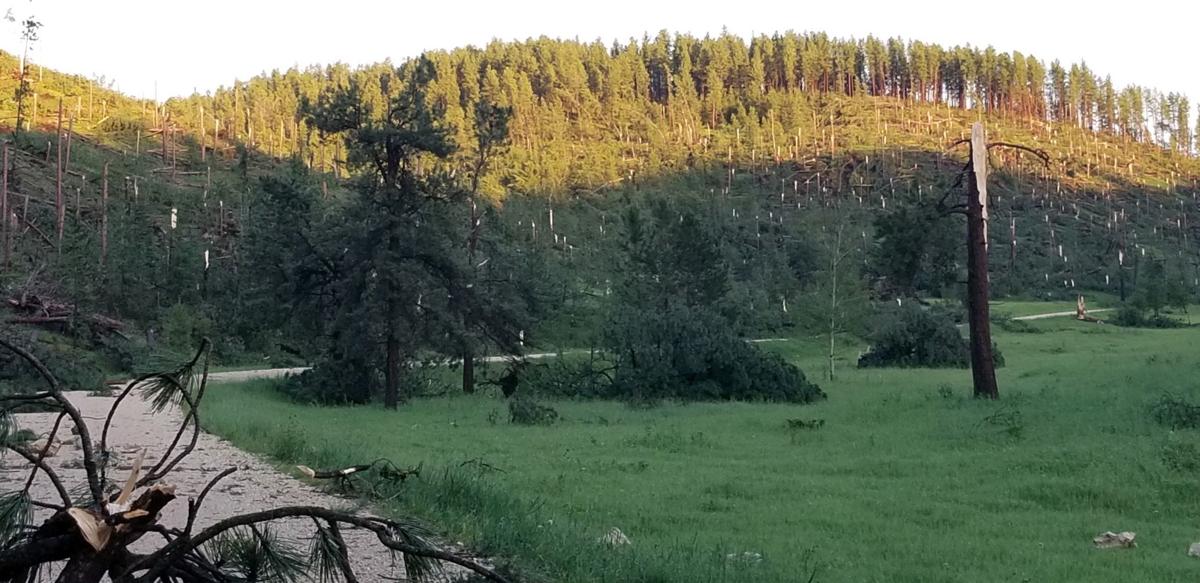 The National Weather Service has determined that a Monday tornado that crossed the Wyoming state line into the northern Black Hills had winds up to 120 mph and was classified as an EF2 on the Enhanced Fujita Scale.
The Enhanced Fujita Scale rates tornadoes based on their wind speed and can range from an EF0 to an EF5 rating.
According to a report issued Wednesday, the weather service said a tornado formed near Cement Ridge in Crook County, Wyo., and traveled seven miles through Lawrence County. The twister was on the ground for 20 minutes.
"The scope of tree damage, with a swath nearly half a mile wide at times, indicated that this was a significant tornado," a statement from the National Weather Service said.
The Black Hills National Forest Service is also examining the damage and removing downed trees from Monday's tornado.
"Until hazards are cleared and salvage operations are completed, Forest Service officials ask the public to refrain from cutting firewood within the impacted tornado area," a statement from the National Forest Service said. "Hazards still remain in the area from snags and twisted tree trunks, commercial timber sales are active in the area and additional salvage operations are being planned. Opportunities for firewood gathering will be made available later this summer or early fall."
Crews continue to open roads and trails as downed trees across them due to the tornado are cleared.
Another tornado earlier Monday impacted an area near New Haven, Wyo., the National Weather Service said, and traveled eight miles over unpopulated areas of Crook County. The weather service said because of the area, no damage could be viewed and they could not determine the strength of the tornado.
In other areas of the Black Hills, large hail caused damage to roofs and vehicles. The National Weather Service said tennis ball to baseball-sized hail were reported in Wyoming, the Black Hills and Rapid City.
"As the storm tracked eastward, it developed into more of a wind producer," the weather service said in a statement. "Winds up to 75 mph were reported across parts of south central South Dakota."
Get local news delivered to your inbox!
Subscribe to our Daily Headlines newsletter.