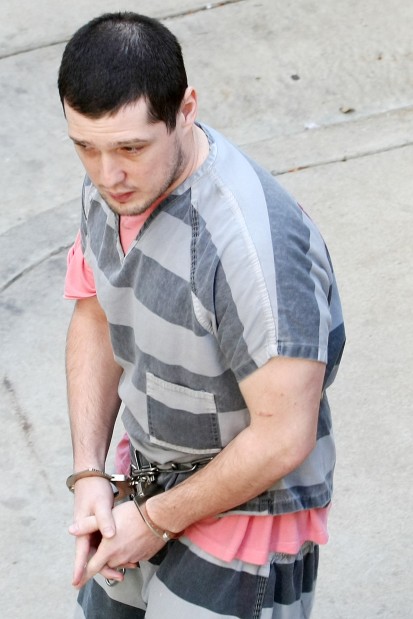 In a phone call on Oct. 7, 2011, Matthew Tornquist said some things that puzzled a state investigator.
That was the day Matthew Tornquist's mother, Catherine, had been reported missing. But when Matthew Tornquist talked by phone to Pat West, a special agent with the South Dakota Division of Criminal Investigation, Tornquist seemed less concerned about his mother's disappearance and more concerned about the DCI's involvement in his mother's disappearance.
It was Matthew Tornquist's second odd conversation that day with authorities. The first, between Tornquist and a deputy with the Fall River County Sheriff's Office, was the reason West was called in.
On such small clues did a case of a missing person turn into a first degree murder conviction.
On July 15, a Pennington County jury in Hot Springs needed only two hours of deliberations to convict Matthew Tornquist, 29, of his mother's murder. He was sentenced to life in prison without parole.
At Matthew Tornquist's Aug. 12 sentencing, Attorney General Marty Jackley, the prosecutor in the case, said the conviction was the result of "a model textbook case" of investigation by the state Division of Criminal Investigation and law enforcement officers in Fall River County where mother and son shared a mobile home outside Hot Springs.
Catherine Tornquist was 56 when she was last seen the evening of Oct. 4, 2011. Her body has not been found, which makes the murder conviction a rarity. 
In the trial, Fall River County Sheriff Rich Mraz testified that in the early hours of the investigation of Catherine Tornquist's disappearance, Matthew Tornquist gave a deputy inconsistent answers.
Mraz immediately asked for the DCI's help. West was the most available agent.  
"In this case we had a missing person, and we didn't know what we were looking for," West explained. "We went in with kind of an open glove to try to capture what we could."
After his phone conversation with Matthew Tornquist, West and DCI Agent Bret Garland did a follow-up interview with him in Rapid City. Both lawmen sensed he was hiding something, West testified in the trial.
Investigators sought search warrants for the mobile home, Matthew Tornquist's car and his dorm room at the National American University in Rapid City. Over the next year, investigators used eight warrants to search the mobile home.
The discovery of blood on Catherine Tornquist's mattress and bed was the turning point.
"We knew there was foul play involved," West said. "We shifted gears from a missing person to a homicide investigation."
An application of a blood-illuminating agent in her home revealed a path of blood from her bed in the living room through the kitchen and out the door. The blood trail continued down the steps before disappearing at the spot investigators theorize her body was rolled up a sheet of plywood and into the trunk of her son's car.
"It also opened up another chapter in this case and made us realize how Catherine was removed from the house," West said. "She wasn't carried out of the house. She was drug out of the house."
Texts messages Matthew Tornquist exchanged with his girlfriend the night of Oct. 4 were suspicious. Matthew Tornquist's claim that he saw his mother on the morning of Oct. 5 was refuted when his girlfriend testified that that morning, Matthew Tornquist was at her home more than 100 miles away.
A search of Matthew Tornquist's dorm room led to the discovery of several rifles hidden in the ceiling, including the Browning .22-caliber rifle with a makeshift silencer. The rifle was eventually identified as the murder weapon. A pair of jeans spattered with blood identified as Catherine Tornquist's was found on the bathroom floor.
Traces of her blood also were found inside the tubing of her breathing-assistance machine, known by the initials CPAP, for continuous positive airway pressure.
But blood wasn't the only evidence hidden in the CPAP.
In May of 2012, West learned the CPAP contained a small digital disk that recorded the machine's use. Investigators used a search warrant to extract information from the disk.
"That was a diamond in the rough for me and opened my eyes," West said. Investigators, he said, often think they've seen and know everything until a case as unusual as this one comes along.
The disk confirmed that Catherine Tornquist had followed her normal routine and gone to bed with her CPAP on. But it shut off shortly after 10 p.m. the night of Oct. 4.
"That is a time stamp of what took place that night," West said. 
But the prosecution still lacked what seems the most fundamental element of a murder trial: a victim.
Without a body, convincing the jury that this gray-haired mom had not simply decided to disappear was a significant hurdle, said Matt Brown, who at the time of Catherine Tornquist's disappearance was a Custer County deputy state's attorney. He was tapped to assist with the Tornquist prosecution. 
Throughout the case, Jackley's theme of "follow the gun, follow the blood, follow the money" guided the investigation and the presentation of evidence, Brown said. There was no doubt in anyone's mind that Catherine Tornquist was dead, he said. The defense's only option would be to pin the murder on someone else, so the prosecution had to focus the jury's attention on whom the evidence pointed to.
Investigators were careful to use search warrants at every step of the investigation to make sure evidence was preserved for use at trial, Brown said. 
"Because of the nature of the case, without a body, I think that everybody involved would say that this was a unique situation and a unique case," Brown said. "It's one, when you break all the pieces down and you put them together, they all fit. It is a testament to (the work of) law enforcement on all levels."
Investigators' meticulous work produced not only the silenced gun used to kill Catherine Tornquist and evidence of her blood both inside and outside the home, but also an expended shell casing and fragments of her hair embedded inside two .22-caliber hollow-point bullets, one found in her mattress and another in a pillow case in Matthew Tornquist's car trunk.
The prosecution was able to combine that physical evidence with Matthew Tornquist's Internet and book research on murder and his spending and gambling spree shortly after his mother's disappearance.
"There was no question at all that it was a good solid prosecutable case and that we would eventually get a conviction," Brown said.
A typical murder scene includes a body, a weapon and a suspect. Investigators had to uncover details to fill the gap left by the missing victim.
"There is no doubt that she was ambushed in her bed," West said.
South Dakota's last murder conviction without a body occurred in 1999 when Robert Anderson was convicted and sentenced to death for the kidnapping, rape and murder of two women, Larisa Dumansky in 1994 and Piper Streyle in 1996, both of whom disappeared in southeastern South Dakota.
In that case, investigators recovered a few of Dumansky's skeletal remains. Two hairs found in Anderson's vehicle contained enough DNA to link Anderson to Streyle's disappearance, according to Second Circuit Judge Larry Long, who was attorney general when Anderson was prosecuted. 
Anderson committed suicide while an appeal was pending.
Catherine Tornquist's final resting place remains unknown, but her son's location will be no mystery for the rest of his life. On Aug. 19, he entered the South Dakota State Penitentiary in Sioux Falls.
Get local news delivered to your inbox!
Subscribe to our Daily Headlines newsletter.