Getting entangled in the Trump-Russia investigations would be a strange twist of fate for most South Dakotans, but not Paul Erickson.
For him, it might have been predictable.
In a Dec. 3 news story, The New York Times identified Erickson as a potential connection between the Trump campaign and the Russian government. On Jan. 25, a member of the Senate Judiciary Committee addressed a letter to Erickson asking him to submit documents and schedule an interview as part of the committee's investigation into Russian interference in the 2016 election.
But before any of that happened, Erickson, 56, of Sioux Falls, had already spent much of his adult life in the orbit of the famous and infamous.
The highlights and lowlights of Erickson's past include performing as a warmup act for Ronald Reagan; making an anti-communist action movie with Jack Abramoff, who went on to disgrace as a corrupt lobbyist; working as a top staffer in a Pat Buchanan presidential campaign; lobbying for an African dictator; and representing penile detachment victim John Wayne Bobbitt.
Through it all, Erickson has used his charm, charisma and connections to build a reputation as "a sort of 'secret master of the political universe' known almost exclusively to the cognoscenti," in the words of conservative commentator Ralph Benko.
Meanwhile, Erickson has also piled up unpaid debts and antagonized some former friends and associates who dumped hundreds of thousands of dollars into one or another of his business ventures before finally taking him to court.
Lee Schoenbeck, a Republican former legislator from Watertown, is one of the people who has heard about that side of Erickson.
"He is the single biggest phony I've ever met in South Dakota politics," Schoenbeck said.
Because of those dual aspects of Erickson's persona, it's difficult to guess whether his role in the Trump-Russia saga is fact, farce or a mix of both.
According to The New York Times, Erickson sent an email to Trump adviser Rick Dearborn during the 2016 presidential campaign. In that email, Erickson reportedly touted his connections to the National Rifle Association and the Russian government and offered to arrange a back-channel meeting between Donald Trump and Russian President Vladimir Putin.
The Times said congressional investigators obtained the email as part of ongoing inquiries into Russian meddling in the 2016 election and potential Russian collusion with the Trump campaign.
Erickson, in recent phone interviews with the Journal, talked at length about his past experiences but declined to say anything on the record about the Trump-Russia investigations, other than to cast doubt on the Times report.
"Not all reports from the East are accurate," he said.
But the past has proven that with Erickson, just about anything is possible.
Erickson had some of his first brushes with notoriety in college. In 1980, while a student at the University of South Dakota in his hometown of Vermillion, Erickson was chosen to coordinate a youth campaign for Republican U.S. Rep. Jim Abdnor, who was challenging incumbent Democratic Sen. George McGovern in that year's general election.
The South Dakota media reported that Erickson was caught registering dozens of voters without proper authorization as a notary, and that he also used his position as vice president of the students' association to obtain a confidential list of student addresses and telephone numbers for the Abdnor campaign.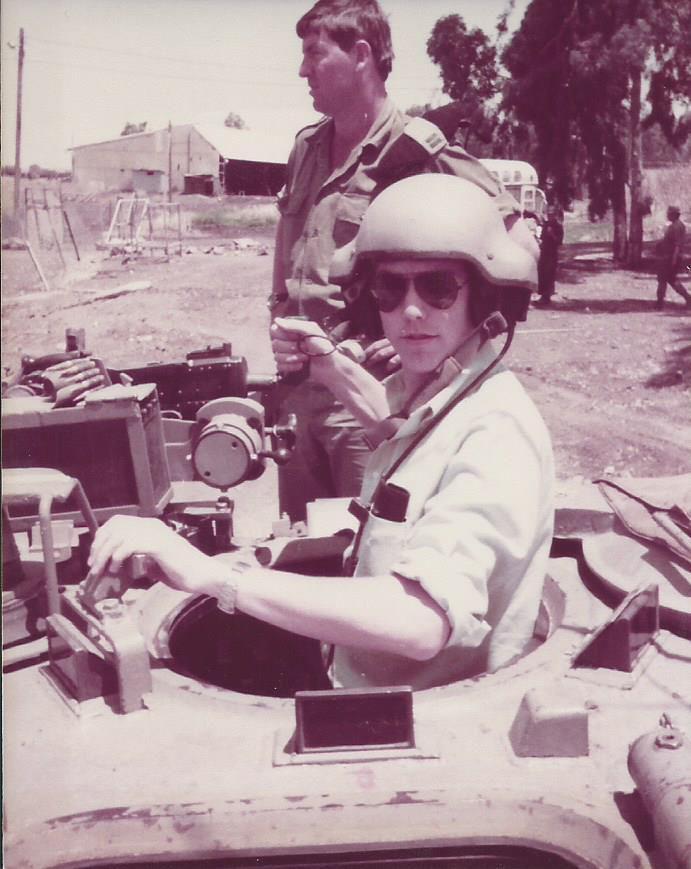 Erickson said those reports were not accurate, and said he later received apologies from some of the people involved in the stories.
"Knocking off a liberal icon like George McGovern was not going to be painless," Erickson said. "His supporters attacked everybody."
Erickson said he took a year off from school after his freshman year at USD to serve as a national director of the College Republicans. After spending that year visiting college campuses all over the nation, Erickson enrolled at Yale University in Connecticut.
While at Yale, Erickson served as the national treasurer of the College Republicans. The other national officers and staffers at that time included Grover Norquist, who later became the founder and president of Americans for Tax Reform; Ralph Reed, who later became the executive director of the national Christian Coalition; and Jack Abramoff, who became perhaps the nation's most notoriously corrupt lobbyist when he pleaded guilty in 2006 to conspiracy, fraud and tax evasion.
In Abramoff's autobiography, "Capitol Punishment," he recalled the college-aged Erickson as "a tall, thin raconteur, able to converse on topics ranging from congressional races to customs of the aborigines of New Zealand."
"To every college Republican who contacted the national office," Abramoff wrote, "Paul Erickson was by far the most impressive person they had ever encountered in politics."
Erickson's worldliness stemmed partly from his travels. According to Erickson, he spent his summers helping freedom-fighters around the world.
His adventures included traveling to Israel in 1982, where Erickson said he was leading College Republicans and College Democrats on a summer tour when he witnessed the launch of the 1982 Lebanon War, aka Operation Peace for Galilee.
In 1983, Erickson said, he helped acquire and transport supplies including tents, boots, medical kits, camels and mules to insurgents fighting the Soviets in Afghanistan. Erickson said he has recently been active in Afghanistan with the Marshall Plan Charities, a nonprofit devoted to redeveloping Afghan villages.
In 1984, Erickson graduated from Yale with a bachelor's degree in economics and political science. That summer, he and some fellow College Republicans attracted media attention and enlivened the Republican National Convention in Dallas by performing as the "Fritzbusters."
The gag involved dressing like characters from that year's popular "Ghostbusters" movie and performing a humorous sketch that was critical of Democratic presidential nominee Walter "Fritz" Mondale. The act played so well that it was later repeated at pro-Ronald Reagan rallies.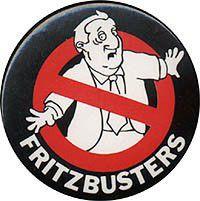 The rest of the 1980s and early 1990s were a time of diverse experiences for Erickson. He worked on the unsuccessful campaign of a Virginia lieutenant governor candidate in 1985; earned a law degree from the University of Virginia in 1988; executive-produced the 1989 anti-communist action movie "Red Scorpion," which was the brainchild of Abramoff and starred Dolph Lundgren of "Rocky IV" fame; and went to Nicaragua in 1990 to observe U.S.-backed Contra rebels putting down their arms after Soviet-supported President Daniel Ortega agreed to abide by the results of a popular election.
Erickson was propelled from one escapade to the next by the connections he forged in college.
"College Republicans meant that we knew everybody," he said. "We were the foot soldiers for every conservative politician, movement and campaign in the country."
In 1992, at the age of 30, Erickson heard that conservative commentator and former Reagan White House communications director Pat Buchanan was challenging incumbent President George H.W. Bush for the Republican nomination. Erickson joined Buchanan's campaign as its national political director.
Erickson said Buchanan needed help from amateur politicos, because established operatives did not want to risk working for a candidate who was mounting an inner-party challenge to a sitting president. Timothy Stanley, author of a Buchanan biography titled "The Crusader," wrote that Erickson was "the best there was at the price Pat could afford."
Erickson was motivated to help Buchanan because of a tax increase Bush had signed in violation of the president's famous "Read my lips: no new taxes" pledge.
"I was looking for the largest, bluntest object I could find to beat Bush around the head with," Erickson told Stanley. "And that was Pat Buchanan."
Some of the beating Erickson did was literal rather than figurative.
It was late January 1992 during the New Hampshire primary campaign when Erickson got into a parking-lot brawl with members of the Bill Clinton campaign team, according to an account in "The Crusader." After throwing one of several punches, Erickson slipped on some ice, landed on his face and suffered a broken nose.
Buchanan won 23 percent of the primary votes nationwide but conceded to Bush in March 1992. The next year, Erickson took a bizarre detour away from national politics to work with a man whose penis had been cut off and surgically reattached.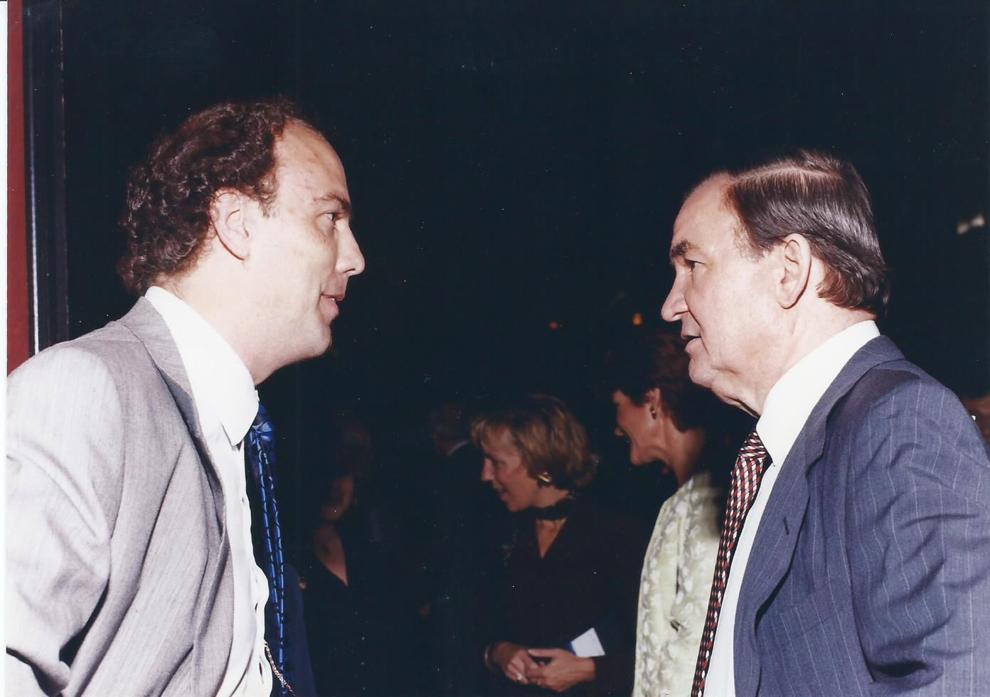 John Wayne Bobbitt was asleep on June 23, 1993, in Manassas, Va., when his wife, Lorena, used a kitchen knife to cut off his penis. She drove away in a car and threw the penis into a field, where it was found nearly two hours later by a cop and brought to a hospital where Mr. Bobbitt underwent a 9½ hour reattachment surgery.
One of the surgeons involved in the operation was David Berman, who realized afterward that Bobbitt, who was 26 years old at the time, would need help dealing with a growing media horde and with legal matters (Lorena Bobbitt would be charged but found not guilty of malicious wounding, and John would be charged and acquitted of rape).
In a recent interview with the Journal, Berman said he dined socially a day or two after the surgery with Jack Abramoff, Erickson's friend who lived relatively nearby in Silver Spring, Md. Berman said he and Abramoff discussed Bobbitt's need for representation.
Erickson said he was brought into the Bobbitt saga through his connection with Jack Abramoff's brother, Bob. Soon, reporters were referring to Erickson as Bobbit's "media adviser," "entertainment lawyer" or "agent."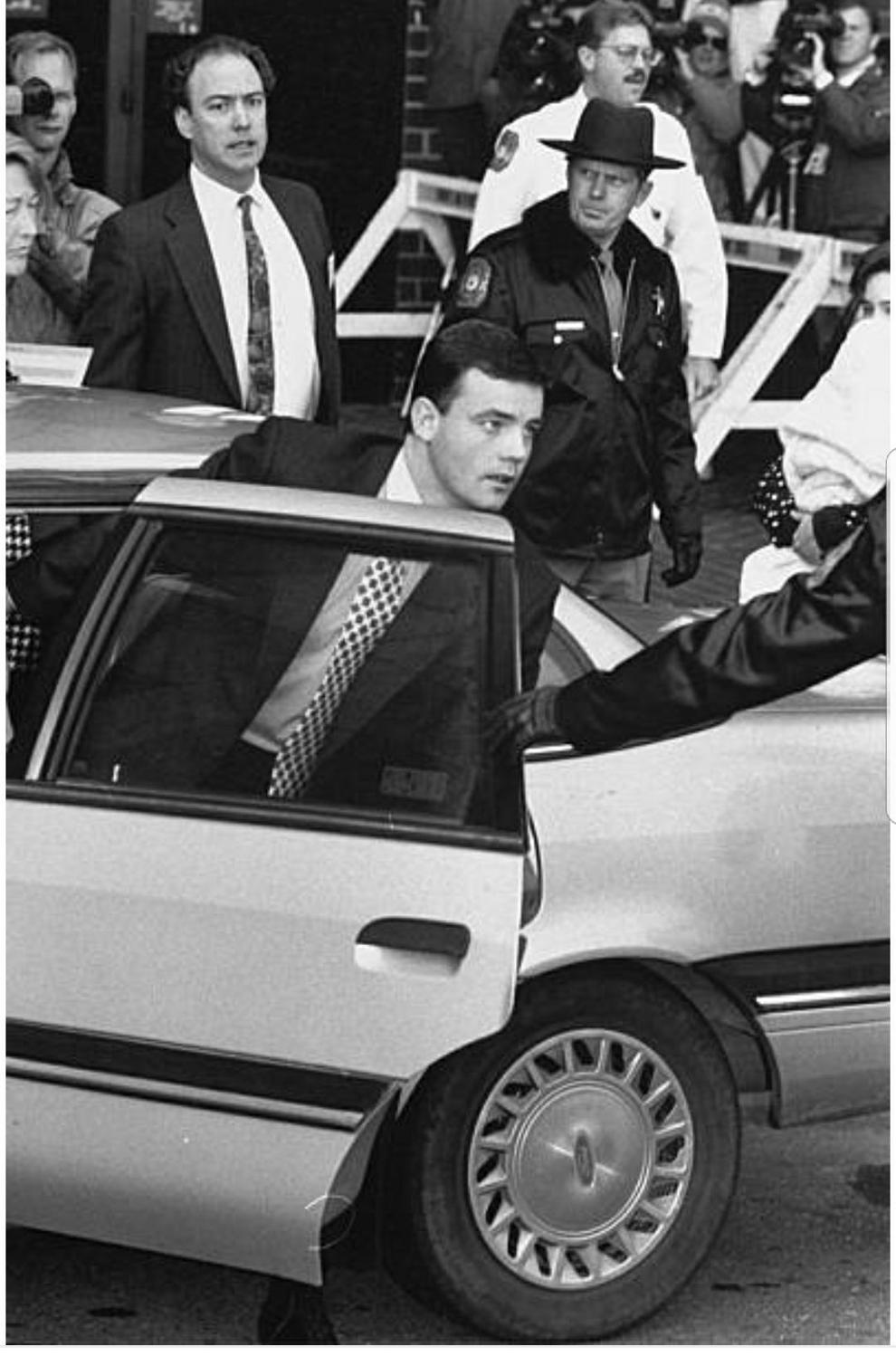 Media reports said Erickson booked Bobbitt on an international "Love Hurts" tour, during which Bobbitt sold T-shirts, autographed steak knives and made appearances on programs including "The Howard Stern Show."
"No one who has come to instant celebrity will have systematically exploited as many avenues as John Wayne Bobbitt," Erickson was quoted as saying at the time.
According to one news story from 1995, Erickson and Bob Abramoff each took 10 percent of Bobbitt's earnings. A separate news story in March 1994 paraphrased Bobbitt saying he had earned $200,000 to that point, which he said was insufficient to cover his medical and legal bills.
Erickson told the Journal he took no money from Bobbitt and viewed the work as a cause, both to protect a man he thought was wrongfully accused of rape and to stop national interest groups, such as the National Organization for Women, from using the rape allegation against Bobbitt to advance a political agenda.
"The case was a pretty deep dive into the sexual politics of America at the time," Erickson said.
After Erickson and Bobbitt parted ways, Bobbitt went to Las Vegas, where he hired new representation and veered into a stint in pornographic films.
Bobbitt, now 50, still resides in Las Vegas. He described Erickson in a Journal interview as "a very private and kind of very sneaky" person. Bobbitt suspects Erickson may have taken advantage of him financially, although Bobbitt offered no basis for that other than a general suspicion applied to everyone he's worked with since 1993.
"I've been taken advantage of pretty much for the past 25 years," Bobbitt said.
Berman, one of the surgeons who helped reattach Bobbitt's penis, remembers Erickson favorably.
"Paul was really good," Berman told the Journal. "He really looked out for John and protected John from himself. He did a good job, and I didn't think he was self-serving at all."
In 1994, Erickson registered a company called Erickson Associates Inc. in Virginia. The company obtained a $30,000 contract to lobby for the admission of Zairean President Mobutu Sese Seko into the United States, where he had been banned from entering since 1993 because of the corrupt and dictatorial nature of his regime.
Erickson was joined in the lobbying effort by Jack Abramoff. In later years, Abramoff wrote in a letter to the editor of the Seattle Times that Mobutu had agreed to turn his country over to democratic forces in exchange for being allowed into the United States. A short biography that Erickson uses for public appearances says that Erickson himself "orchestrated what was to be a democratic power abdication in Zaire, with Mobutu Sese Seko voluntarily ceding control to an elected president in 1997."
But according to The Washington Post's reporting at the time, Clinton administration officials said Mobutu merely wanted to sanitize his image by appearing to support U.S.-backed democratic reforms, so he could then stage controlled elections in Zaire and further consolidate his power.
Ultimately, the State Department rejected Mobutu's visa request, and he stayed in power until 1997 when rebels expelled him from Zaire and he died of cancer.
'Compass' points to court
According to Erickson, his decades of public political adventures have been paralleled by private business success, primarily in real-estate development.
"I've enjoyed 33 years of wildly diverse business ventures all around the world in industries ranging from hotels to housing to entertainment to energy," he said.
But when asked to name examples of those ventures, he did not name any, and instead expressed a desire to keep his public political activities walled off from his private business associates.
Public records in South Dakota include at least seven court judgments totaling $421,212 against Erickson or his companies since 2003. Some of the judgments appear to remain pending, and several of the court cases that produced the judgments include evidence of Erickson writing bad checks to creditors.
Two lawsuits — one filed in 2007 in Virginia federal court and the other in 2015 in South Dakota state court — reveal how Erickson apparently used a form letter to attract investments from friends and associates.
The 2007 lawsuit was filed by L. Brent Bozell III, a nationally syndicated conservative writer and activist. Bozell said in the lawsuit that he had been persuaded to invest $200,000 in Compass Care, which Erickson founded in 1996. The articles of incorporation said the purpose of the company was to "provide comfortable homes for the elderly, as well as others in need of attentive care, and to provide consulting services."
The 2015 lawsuit was filed by Dennis and Daniel Bielfeldt, a father-son developer team from Brookings, S.D. They had been persuaded by Erickson in 2009 to invest a combined $30,000 in a company called Dignity Medical Inc.
Court documents show that the investment letters Erickson sent to Bozell and the Bielfeldts contained some identical language.
"When compiling a 'friends & family' list for these types of transactions, it's VERY important to me that these people remain friends and family," one portion of Erickson's letters said. "Toward that end, I insist upon extending a personal guarantee for whatever amount people on these lists choose to put into play."
According to the lawsuits, Erickson predicted returns ranging from 25 to 100 percent. But neither Bozell nor the Bielfeldts received any returns, and both of their lawsuits alleged that Erickson reneged on his guarantee to refund their original investments.
Bozell's lawsuit said he eventually demanded and received a $200,000 check from Erickson, but the check bounced. Bozell sued for breach of contract and won a $190,000 judgment in 2008, but it's unclear if his attempts to collect the money ever succeeded. He did not respond to a Journal interview request.
The Bielfeldts sued for deceit, fraud and breach of contract. While the lawsuit was in progress, Erickson's first and second attorneys both withdrew. The first attorney revealed in a court document that Erickson wrote him a bad check, and the second said Erickson had failed to fulfill his obligations to the attorney's firm.
The Bielfeldts reached a $30,000 settlement agreement with Erickson in May 2016, but after he paid them $10,000, the Bielfeldts reported that Erickson's subsequent checks bounced. The Bielfeldts finally won a $40,874 judgment against Erickson in January 2017, and court records indicate the judgment is still active.
Daniel Bielfeldt told the Journal he has since talked to a number of people who had similar experiences with Erickson.
"Early on, I thought he was one of the most impressive people I've met," Bielfeldt said. "He's an incredible speaker. He has an aura about him that engenders confidence in those around him. I asked him early on to be my mentor in business, so it was really hard realizing you've mostly been lied to."
Another significant judgment against Erickson, for $115,417, was won in 2003 by Bluestem Capital Partners, the venture capital firm of Steve Kirby, who is a Republican former lieutenant governor of South Dakota. Court documents show Bluestem had lent Erickson money for Compass Care that he failed to pay back in time. It's unclear from the court record whether Erickson has paid the judgment, and Kirby did not return a message from the Journal. 
Erickson, who is single and has never married, told the Journal he is successful and has offices and homes in New York and Los Angeles in addition to his apartment in Sioux Falls.
"My business career is not defined by three of four small lawsuits," he said.
Erickson is now under scrutiny for his reported 2016 email to the Trump campaign, and for a web of connections to Russian officials and the National Rifle Association.
Since at least 2013, Erickson has been associated with 29-year-old Maria Butina, founder of a Russian pro-gun rights group called the Right to Bear Arms. In 2016, Erickson and Butina co-founded a South Dakota-based company named Bridges LLC. The incorporation papers say nothing about the company's purpose.
According to The New York Times, Butina is a former assistant to Alexander Torshin, who is a deputy governor of the Russian central bank and a key figure in Putin's United Russia Party. Multiple media outlets have reported that Erickson has attended gatherings with Butina, Torshin and other figures including former NRA president David Keene.
After the publication of the Times story in December, the McClatchy DC Bureau reported in January that the FBI is investigating whether Torshin illegally funneled money to the NRA to help Trump win the presidency.
Thus, the email that Erickson reportedly sent to the Trump campaign in which Erickson touted his NRA and Russia ties and offered to connect Trump and Putin has caught the attention of some Trump-Russia investigators.
One of the authorities who is interested in Erickson is Sen. Dianne Feinstein, D-Calif., who is the ranking Democrat on the Senate Judiciary Committee. On Jan. 25, she addressed a letter to Erickson asking him to turn over a list of documents and schedule an interview with the committee. 
Erickson refused to speak on the record about the Feinstein letter. A committee spokesman declined to tell the Journal whether Erickson has complied with the committee's requests. The spokesman said Feinstein is not publicly discussing document production or interviews.
Meanwhile, people who know Erickson are watching the news to see where he'll pop up next. Among that group is Casey Phillips, a South Dakota native who runs a political consulting firm in Virginia. Phillips was a College Republican at Augustana University in Sioux Falls during the early 2000s, and he said Erickson was often "around" and told many tales that sounded incredible but turned out to be true.
"He's a connector," Phillips said. "He likes to put people in touch with people. He's a person that's at the center of relationships all over the place."
Could Erickson have been at the center of relationships between Russia and the Trump campaign?
"Nothing would surprise me," Phillips said. "He could show up on the front page of The New York Times again tomorrow and I'd just be like, 'Oh, there's Paul.'"