Gov. Kristi Noem sent letters Friday to both the Cheyenne River Sioux Tribe and Oglala Sioux Tribe demanding that their checkpoints for COVID-19 related travel be removed from state and U.S. highways.
If their checkpoints are not removed within 48 hours, the state will take legal action, according to a press release sent from the governor's office.
The Cheyenne River Sioux Tribe first implemented checkpoints April 2, the Journal previously reported. Checkpoints are at both ends of U.S. Highway 212, which runs across the reservation.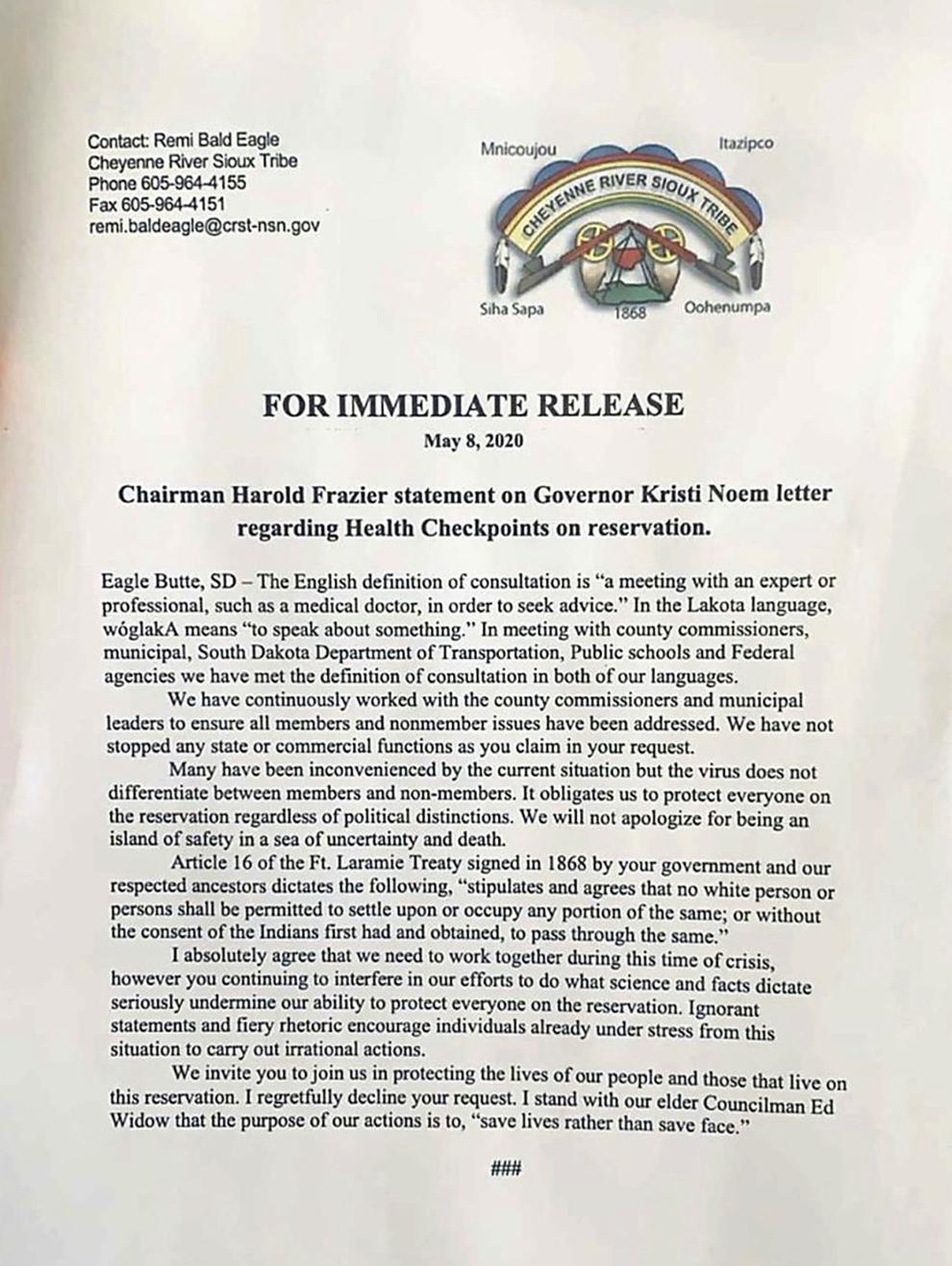 Remi Bald Eagle, spokesperson for the tribe, said the tribe has seen Noem's letter and dispersed it to council members but hasn't reached a group consensus for comment yet.
Every vehicle will be stopped, and drivers will be asked where they are coming from and going, Bald Eagle previously said of the checkpoints.
Commercial drivers and South Dakota residents were allowed through, but out-of-state and non-commercial visitors will only be allowed to pass if they provide proof that they live on the reservation or are a tribal member.
The tribe also temporarily banned non-residents from hunting or fishing on the reservation.
The Oglala Sioux Tribe first implemented checkpoints in mid-March, the Journal previously reported and suspended travel for all tribal officials March 8. President Julian Bear Runner asked non-tribal members to refrain from coming onto the Pine Ridge Reservation until travel restrictions are lifted.
"In order to further protect the health and general welfare of the Oglala Lakota Nation, I strongly recommend the general public coming from off the reservation to visit to postpone your visits until a time deemed necessary that the travel suspension is lifted," he said in a release.
Chase Iron Eyes, spokesperson for President Julian Bear Runner, said Noem's order is completely without authority.
"We'd be interested in sitting down (with Gov. Noem) to learn the legal, theoretical bases for (her) aggressive assertions," Iron Eyes said. "They can sit down and talk with us like human beings, but they don't do that. They threaten us with violence or legal charges."
The U.S. Department of the Interior's Bureau of Indian Affairs (DOI) issued a memorandum regarding South Dakota tribal government authority to close or restrict travel on state and U.S. highways on April 8.
The memo makes it clear that tribes must consult and enter into an agreement with the state before closing or restricting travel on state or U.S. highways, according to the governor's office.
"Neither consultation nor agreement among the tribal and state government occurred," according to a press release from Noem's office. Regardless, both tribes "established checkpoints on state and U.S. highways to control and restrict non-tribal member travel."
"We are strongest when we work together; this includes our battle against COVID-19," said Governor Noem. "I request that the tribes immediately cease interfering with or regulating traffic on US and State Highways and remove all travel checkpoints."