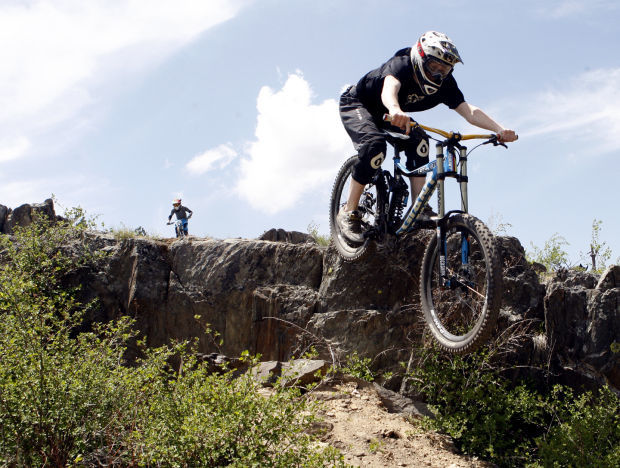 Recreational trail advocates who have been frustrated by a lack of new trails in the Black Hills National Forest now have a way to make proposals.
Previously, there was no process designed specifically for the consideration of trail proposals, which led to conflicts between trail advocates and forest managers.
The conflicts intensified in recent years as unauthorized trails proliferated and attracted more use, due in part to smartphone apps that allow users to trace their routes and share the information with others.
A flash point arrived in 2016 when Ruth Esperance, the forest's Mystic District ranger, threatened to criminally prosecute builders of unauthorized trails. The threat provoked a backlash among recreational trail users, especially in the mountain biking community, who accused forest officials of longstanding inaction on trail proposals.
To resolve the dispute, forest managers sought help from their citizen advisory group, the Black Hills National Forest Advisory Board. The board appointed a non-motorized trail working group, which conducted a public survey and did other work that led to Thursday's release of the new Non-Motorized Trail Strategy.
Friday, two members of the nonprofit Black Hills Trails organization said they plan to submit a proposal during the next few weeks to add the existing — but unauthorized — Storm Mountain trails near Rockerville to the forest's official trail system.
The Storm Mountain trails are perhaps 15 to 20 miles in length and were built years ago by rogue trail enthusiasts. Despite being unofficial trails, they receive frequent use by the public.
"We're hoping this will be the first proposal to move forward under the new process," said Samuel Greear, executive director of Black Hills Trails.
Once submitted, the proposal will be subjected to the new five-step review process, which includes the consideration of numerous factors, including the estimated cost of trail construction or re-routing; the potential effect of the project on the environment; and the plan for the trail's long-term maintenance. The five-step review will be conducted in private by Black Hills National Forest officials.
The forest supervisor will then decide whether to advance the proposal to a public review process, which would be conducted under the terms of the National Environmental Policy Act, known as NEPA.
Depending on the complexity of the proposal, the NEPA process could include a formal environmental analysis, which could cost an estimated $50,000 to $100,000 and could be billed to the proposing entity — in this case, Black Hills Trails. At the end of the NEPA process, the forest supervisor will make a final decision on the proposal.
Neither the new trail strategy nor a set of newly created trail-proposal forms includes a deadline for a final decision. Black Hills Trails board member Kevin Forrester identified that as a potential weakness of the new strategy.
"It gives you a bunch of paperwork to fill out," Forrester said, "but it doesn't come with any timeline expectation."
Annie Apodaca, recreation and lands program manager for the Black Hills National Forest, said the entire process from initial proposal to final decision is likely to take several months, or longer. Sufficient time for a review is necessary, Apodaca said, to avoid building trails that cause environmental problems such as erosion, to avoid building trails that are unsafe for public use, and to avoid building trails that lack a viable plan for long-term maintenance.
Apodaca is hopeful the new strategy will help forest officials enforce those protections while still providing opportunities for trail enthusiasts to propose new trails and receive a decision. Forest officials know they might receive a flood of proposals from individuals, Apodaca said, but they are hoping for fewer and well-researched proposals from groups of trail advocates.
Besides the five-step review process, the new strategy includes a compilation of trail statistics. The Black Hills National Forest already has 341 miles of non-motorized trails, the strategy says, plus at least 120 miles of unauthorized trails that were built by the public without approval from forest managers. Other local, state and federal agencies in the Black Hills have an additional 314 miles of non-motorized trails.
There is public demand for more trails, and trail advocates including Greear and Forrester hope to make headway under the new strategy. They are eager to test the new proposal process but are also concerned that it might not be applied consistently across the forest's four districts, that proposal costs borne by nonprofits such as theirs might prove unfair or excessive, and that proposals could still get bogged down in bureaucratic limbo for years.
Apodaca said she views the release of the new strategy as a turning point in the sometimes contentious relationship between trail advocates and forest officials.
"I have high hopes that great things will happen," she said. "We have a great trail system, and I hope this makes it even better."