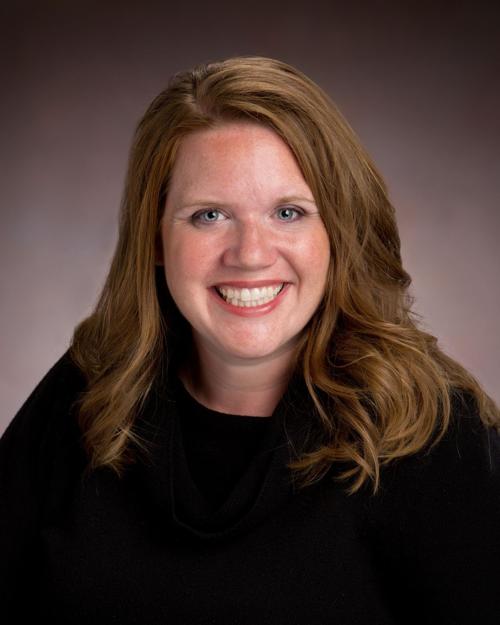 Morgan VonHaden leads a team at the South Dakota Statewide Family Engagement Center that created digital resources to help families, educators and students of all ages with learning during COVID-19. On Wednesday, VonHaden received a national award from the Coalition on Adult Basic Education.
COABE, an organization dedicated to advancing the field of adult literacy, honored VonHaden with its 2021 Local Excellence in Advocacy Award during its online national conference. The award recognizes an individual outstanding advocate.
"It's such an honor to get this award," said VonHaden, project director for the Rapid City-based South Dakota Statewide Family Engagement Center. "I have about 14 staff throughout the state that have developed these amazing resources we share with schools and adult learners. … My team has been knocking it out of the park since COVID-19 happened. It's cool we're getting recognized at a national level."
Stephenie Rittberger, adult education coordinator for Career Learning Center of the Black Hills, nominated VonHaden for the Excellence in Advocacy Award.
"(The center's) family engagement work has reached so many instructors, students, their families, and their communities in every corner of the state," Rittberger said. "All of these initiatives were possible because of the collective support of the Statewide Family Engagement Center and the wonderful efforts of Morgan. This is work that cannot be achieved by small programs working alone."
The Statewide Family Engagement Center is one of six divisions that comprise Black Hills Special Services Cooperative. The center was created in 2018 to focus on literacy and learner needs "from cradle to career." Its mission is to ensure all students have the support they need to achieve their academic, career and life goals.
When the COVID-19 pandemic began, VonHaden said she and her team adapted their outreach to address the changing needs of learners, educators and families.
"In a matter of three days, our team said, 'We can do this,' and we started developing a daily digest that would bring together thousands of different resources being pushed out in communities to help during the pandemic. It was geared for families but we discovered educators and adult learning centers were using this resource," she said.
"We saw that there was so much information out there when it came to learning for families. We wanted a way to combine resources that was not overwhelming, and to get the information to families, educators, and partnering organizations," VonHaden said. "We saw an incredible jump in visits to our website."
Home Learning Daily Digest, which began as a two-month project, was so well liked it continued weekly through last summer and now is a monthly resource. The summer digests included "road trips" through South Dakota, national parks and around the world.
"Just because the world was shut down, we brought opportunities and learning to our families," VonHaden said.
"Both parents and teachers have called the digest 'a lifesaver' when it came to meeting the needs of learners during the pandemic. Feedback from educators and families has emphasized the need for support in helping each group better communicate with the other, especially around remote learning experiences," she said.
In September, the Statewide Family Resource Center launched the FamJam podcast, which can be heard on Audible, Apple iTunes, or on the center's website at sdsfec.org/fam-jam-podcast/.
"We tackle tricky topics such as attendance, mental wellness, building relationships, and even talking about transitioning into kindergarten and then out of high school," VonHaden said. "We have also developed social media campaigns focused on different topics, including social-emotional learning topics and kindergarten readiness."
Specifically for older teen and adult learners, the Statewide Family Engagement Center launched Financial Fridays, a series of virtual financial literacy presentations developed through the Career Learning Center of the Black Hills, VonHaden said. The videos can be viewed at clcbh.org/ and cover a range of topics such as budgeting in a time of crisis, getting ready for college, filing unemployment claims, stimulus payments and more.
VonHaden and her team also organized a virtual graduation ceremony for 19 students who completed their GEDs. The ceremony was viewed about 300 times.
"In general, our dream is that ultimately all kids are going to graduate from high school," VonHaden said. "It doesn't matter if it's a traditional student or someone 60 or older who wants to get their diploma."
Another new pandemic project was the Ultimate College and Career Resource Guide, a "one-stop shop" to assist those who are transitioning into college or the work force while also navigating personal finance and other responsibilities of adult life.
VonHaden credits partnership and support from the South Dakota Community Foundation that equipped the Statewide Family Engagement Center to create new resources.
"We're going to continue developing and building resources whenever we hear there are gaps in service. I want educators to know if they need support and resources, we're here," VonHaden said.