On the 13th of each month, Caitlynn Merhoff takes the day off from work to remember her baby boy and treat herself to something special, like a manicure or fancy dinner.
Zachariah Cunningham was born Sept. 13, 2019 and died one day before turning six months old.
"This is his day and I want him to know that I'm happy on his day," Caitlynn said Wednesday at her Box Elder home. "I don't want to sit and be upset, so I'm thinking about him all day long. I talk about him. That's what I want to do that day. I want to talk about him in a happy way."
"It's not a distraction, it's more so doing it in his honor," the 21-year-old added.
Zachariah died in Caitlynn's arms on March 12, nine days after he was rushed to the Rapid City hospital and later flown to Sioux Falls for a brain bleed.
Prosecutors say James Cunningham, Zachariah's father and Caitlynn's ex-fiance, admitted to becoming angry and punching Zachariah that day.
Air Force prosecutors outlined their evidence against James at a June 22 hearing. A judge later found there was probable cause to continue the case, according to an Ellsworth spokesman. Motions will likely be heard in mid-December before a February trial.
James has been released from Ellsworth's jail but is not allowed to leave the base, Caitlynn said. She said he's been working in cleaning and maintenance.
Caitlynn said she had a difficult childhood in Alabama, but she was close with her mother and Caitlynn realized she wanted to have children at a young age, just like her mother did. 
"All I ever wanted to be was a mom," Caitlynn said.
Caitlynn moved to the Rapid City area in March 2017 to be with her high-school sweetheart who was stationed at Ellsworth. They broke up and Caitlynn later met James. They were close friends until they started dating in November 2018.
Caitlynn said they had a strong bond and seemed to skip the dating period and go right into living like a married couple.
They decided to have a baby a month after they began dating. Caitlynn learned she was pregnant on Jan. 8, 2019, seven days before James had to deploy. James returned 32 weeks into Caitlynn's pregnancy.
"Obviously, I'm biased because he was my son, but he was the best baby," Caitlynn said. He was the "happiest baby you've ever seen in your life."
She said Zachariah had a "bubbly" personality, he screeched when he was happy and played bashful by hiding his face when he saw her. Zachariah loved bath time, being in his jumper, and playing with the family dog.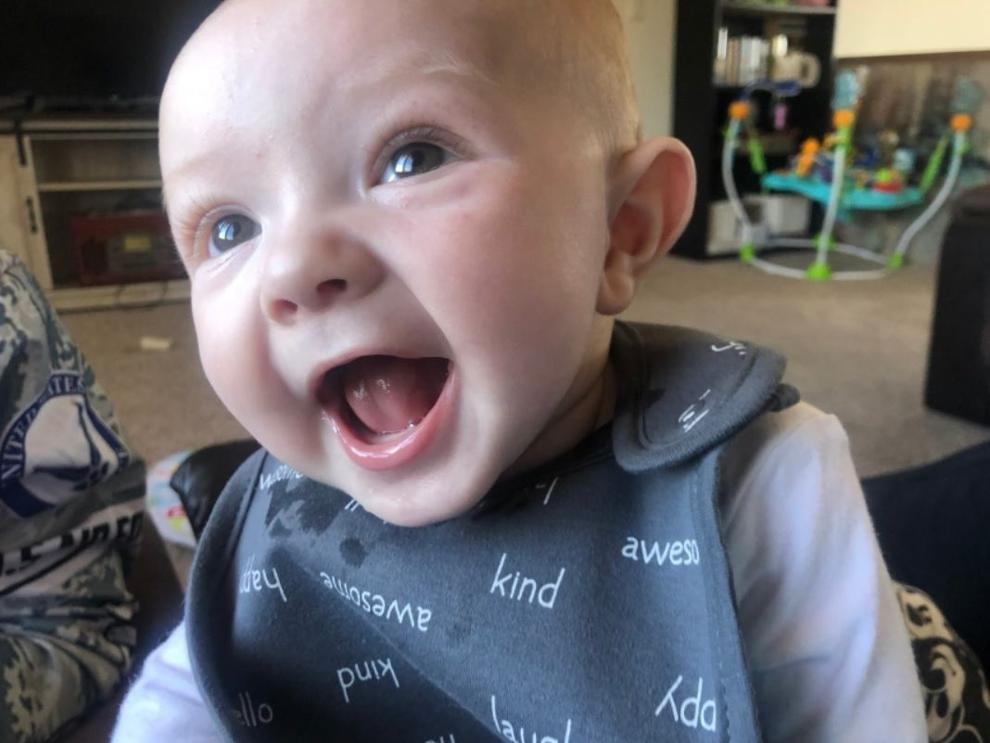 James was "the epitome of a perfect father, he was everything that I wished I had in a dad," Caitlynn said. "Zachariah was his favorite thing in the whole world."
Caitlynn said James never abused Zachariah or her, that they never even argued.
She and James volunteered at a soup kitchen on March 2 and worked on planning their wedding after putting Zachariah to bed that night. The next morning she kissed them goodbye as James left to take Zachariah to day care before heading to the base.
Caitlynn said she spoke with James later that day and he was "super upset" after learning he had to leave for a training since it would mean being away from her and Zachariah. James left work to pick up Zachariah and sent Caitlynn a Snapchat of them smiling together. 
Caitlynn later texted James to ask if he wanted to bring Zachariah to eat at the restaurant she works at so her co-workers could meet them. She said James responded that he should stay home since Zachariah had a stomach ache.
Three minutes later, Caitlynn said, James called to say Zachariah was on his way to the hospital. He said he put Zachariah to bed and Zachariah started gurgling before going limp and becoming unresponsive.
Caitlynn said she was "freaking out" and immediately went to the hospital where a police officer explained that Zachariah had a bruise on his head, a brain bleed and couldn't breath on his own. 
"I had this weird gut feeling … I just couldn't look at James," Caitlynn said. "I didn't know why because usually you lean on your person, but I couldn't talk at him, I couldn't look at him."
An officer brought the parents to the police station in the same patrol car, but they were interviewed in separate rooms. Caitlynn said she was asked many questions before an officer said she could leave. Caitlynn said she was upset to learn James was going to be held for more questions and didn't understand why they were treating him like a criminal.
Caitlynn flew with Zachariah to Sioux Falls on Sanford Children's Hospital's plane. They arrived and got in an ambulance, which is when a detective called to say James was going to be arrested because he admitted to hitting Zachariah in the head.
"I just lost it. I was in shock," she said. "I took my ring off and threw it in my purse. There was no question about it. I could never be with somebody that did this."
Caitlynn said she had no one to support her when the neurosurgeon said Zachariah wouldn't make it through the night. 
"That was the hardest, being alone, hearing that," she said. 
Zachariah ended up living through the night and Caitlynn was joined the next morning by a friend from Rapid City and her mother, who flew in from Alabama. 
"He just kept beating all the odds" by starting to blink, react to pain, eat and go to the bathroom, Caitlynn said. 
But doctors said Zachariah had minimal brain activity and she needed to decide to take him off life support or have him undergo surgeries to prepare him for a life on machines. 
"I'm not ready to make that decision, I'm 21 years old," Caitlynn remembers thinking.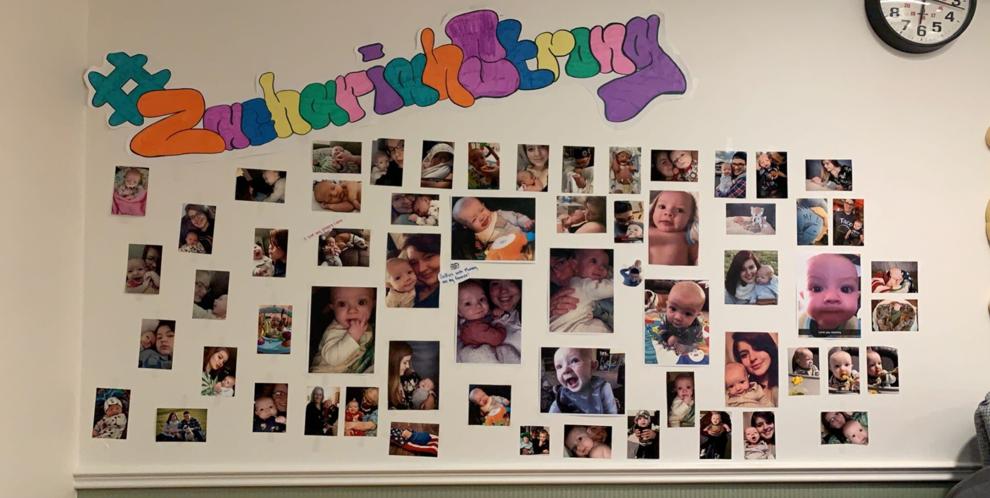 Caitlynn said she prayed for Zachariah to get better but also for God to help her make a decision: "Please steer me in the correct way, please tell me what is the right thing to do, give me a sign."
Caitlynn said she got that sign when doctors told her on March 11 that they believed Zachariah was brain dead but needed more tests to confirm it. 
"I held him and I just knew in my heart that this was it," Caitlynn said. "Before that I was believing there were miracles and at this point I was just like, I know he's gone."
"My prayers were answered. I didn't have to make a decision, but it's just the outcome nobody would want," she said. 
Doctors confirmed at 6:19 a.m. on March 12 that Zachariah was brain dead, Caitlynn said. Friends and family members said goodbye as hospital staff printed Zachariah's hands and feet onto pages filled with poems. 
Caitlynn, her mother and an uncle stayed in the room as doctors took off most of Zachariah's medical equipment. Caitlynn cradled and sang "Jealous of the Angels" to Zachariah before doctors took him off life support. Caitlynn then put Zachariah over her shoulder, unable to look at his face, and repeated the song. By the time she stopped singing, he was gone. 
Caitlynn said James is now saying his confession was forced and that what really happened is that he placed Zachariah on a counter and looked away for 30 seconds before Zachariah fell and hit his head. 
Caitlynn said she can't be sure what to believe unless she saw the confession video herself. But she said even if it was an accident, James would be guilty of another crime like child abuse or manslaughter. 
"Whatever happened, you're not innocent," Caitlynn said she told James. "You still killed our son."
Caitlynn said she tries not to think about James and what he did, but when she does, she gets angry.
"I felt enraged" when Ellsworth prosecutors described his confession, she said.
Caitlynn said she's staying in Box Elder because she has wonderful friends. She said she will always be grieving for Zachariah and he's already made her a different and better person. 
"Anytime I'm doing anything, I'm like, what would Zachariah think of this. If he's watching me right now, would he be proud of me? Anything I do, I'm pushing myself to make him proud."