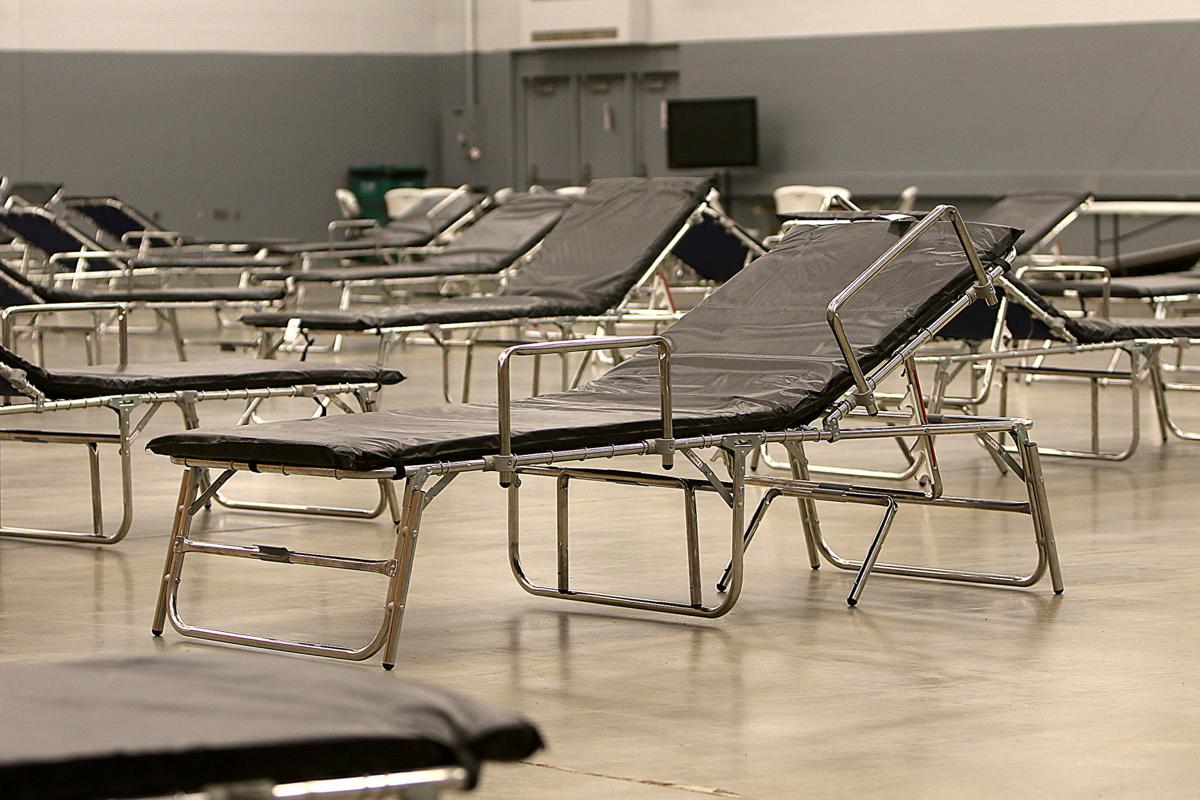 The Journal will refer to the women as Emma and Victoria to protect their medical privacy.
"I like it here, they take our temperatures, our vitals every hour" and give us medicine if we need it, Emma, a 28-year-old from Rapid City said on Wednesday. "The food is good," she added.
It's "outstanding" and "the staff is amazing," Victoria, a 33-year-old from Rapid City, said Wednesday. 
The temporary 100-bed shelter at the Rushmore Plaza Civic Center opened May 5. It's a collaboration between Rapid City, Pennington County and multiple medical and nonprofit organizations. And it's managed by Norma Rendon, director of Where All Women Are Honored, a nonprofit that uses Lakota values during its domestic and sexual violence prevention work and at its shelter for survivors.
Emma said the 100 beds are well spread out and residents must stay at least six feet away from each other. She said she's been spending her time watching TV and chatting with family on social media.
Victoria also mentioned the hourly vital checks and "great" food at the shelter. Staff "sanitize everything we come in contact with" and wash our bedding every day and our clothes every-other day, she said. 
The shelter has free WiFi, a TV with unlimited movie options and a small outdoor space, Victoria added.
Victoria said she arrived at the shelter on April 10 and had been working at the front desk of a motel. She said she began to feel sick May 20, got tested May 22 at Monument Health, and learned she was positive the next day.
"I had a really bad headache and then what kind of felt like a sinus congestion" but no fever or breathing issues, she said.
Emma said she arrived at the group home more than a month ago and had been working as a hotel housekeeper. She said she never felt sick but learned she was positive Monday morning after a mass-testing event at the group home.
All 26 adult residents were tested over the weekend and the two of them who tested positive were both asymptomatic, said Lysa Allison, executive director of the Cornerstone Rescue Mission.
"I was kind of shocked about it," Emma said. "I just thought to myself, I don't even have the symptoms, I don't feel sick."
But on Tuesday "I had the chills, body aches, headaches and everything smelled gross to me," she said.
Victoria and Emma both said they took precautions to prevent contracting the virus because either they or their loved ones are high risk.
Emma said she has pulmonary fibrosis, a disease that causes lung tissue to become thick and stiff, making it more difficult for the organs to work.
"I always washed my hands, I always wore a mask" at the group home and spent most of my time in my dorm, not common areas, Emma said. "I washed my hands every time I got done cleaning a room" at work, where we wore masks and gloves.
Victoria said her father has a bad heart, her mother — who drove her to work — has an autoimmune deficiency, and some of her coworkers are elderly. She said she wore masks at the shelter and work, and frequently washed her hands.
Victoria said thinks the group home needs to "be a little more aware of the virus and take more action."
Allison said it's still unclear where residents contracted the virus and the group home tried to prevent it by stopping new admissions in April to help with social distancing, providing masks, and conducting regular cleaning.
Victoria said she had to stay inside a dorm with her roommate instead of an empty room after she returned from testing. And she said she had to stay with her roommate after telling staff she was positive before she was transferred to her own dorm. 
Allison said Victoria was transferred to her own room once staff knew she was positive. Both she and Victoria said the roommate never contracted the virus.
Victoria also said staff didn't let her receive a care package. Allison said the care package was delivered after cleaning supplies were removed because residents can never keep cleaning supplies, medicine and other items in their dorms.
Victoria said staff and her parole officer were mad after she complained on Facebook, and she feels she was "kicked" out as an act of retaliation.
Allison said people weren't kicked out of the group home, they were sent to a hotel room paid for by Oyate Health Center or the emergency shelter to protect themselves and others. She did confirm she told Victoria she couldn't come back to the group home.
Emma and Victoria both have plans to move elsewhere once they're recovered and released from the group home. Emma said she plans to move in with her mother while Victoria said she recently saved enough money to pay the deposit on a new apartment. She said she plans to move in with her oldest daughter and granddaughter. ​
Concerned about COVID-19?
Sign up now to get the most recent coronavirus headlines and other important local and national news sent to your email inbox daily.