There is an outbreak of the coronavirus among inmates at the women's minimum security prison in Pierre after active cases jumped from 15 to 102 between Tuesday and Wednesday morning. 
Active staff cases at the prison, called the Pierre Community Work Center, increased from one to three, according to data posted on the website of the Department of Corrections.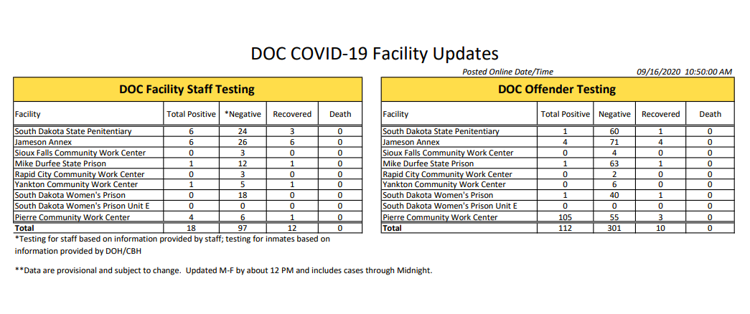 It appears there may have been a mass testing event among the inmates because the negative cases also increased from 13 to 55.
The positive cases mean most women in the unit are infected with the virus since there were 140 inmates housed there as of Aug. 31.
It's unclear how the virus entered and spread through the facility because the DOC spokesman could not be immediately reached on Wednesday evening.
Each DOC inmate has three cloth masks and DOC staff are required to wear masks at work. The masks were made by inmates who were paid 25 to 50 cents per hour.
Volunteers and in-person visitors were barred from visiting state prisons on March 12, and inmates at the Pierre and other work centers stopped going to their community jobs on March 17.
It's unclear if these policies remain in place because the DOC's coronavirus information page has not been updated since May 19. The DOC did not announce the outbreak at the women's minimum security prison on that web page or to the media. 
Correctional facilities represent some of the largest hot spots in the country but South Dakota's prisons had avoided outbreaks until Wednesday. 
Cases at the other South Dakota prisons remain low where seven inmates have recovered from the virus. Staff at the other prisons self-reported 14 active cases and 11 have recovered.
Concerned about COVID-19?
Sign up now to get the most recent coronavirus headlines and other important local and national news sent to your email inbox daily.