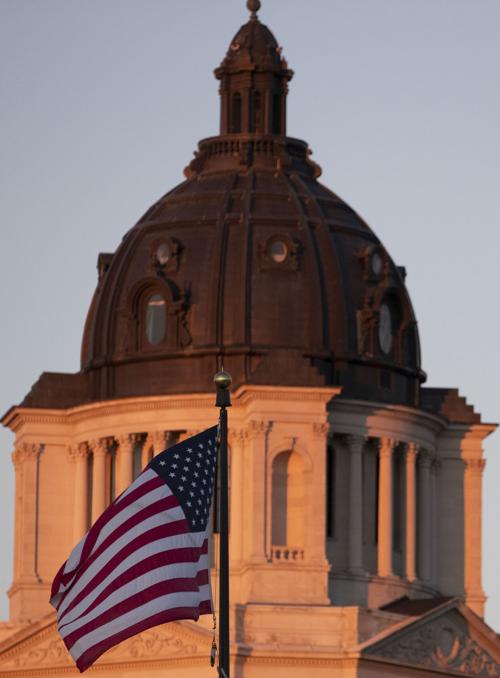 Regulating legal marijuana, figuring out how to spend hundreds of millions of dollars in one-time money and managing the spread of COVID-19 at the capitol will make South Dakota's 96th Legislative Session unlike any other.
Amidst the backdrop of a once-in-a-century pandemic and an acrimonious end to the Trump administration, South Dakota lawmakers will head to Pierre next week to conduct the state's business.
"The likelihood is we're probably going to raise more questions this session than we'll actually answer," Rep. Steve Haugaard, R-Sioux Falls, said Thursday during a legislative forum hosted by the Sioux Falls Area Chamber of Commerce. "There is so much new ground that's come up in the last 10 months, but we're going to be forging ahead."
Cannabis regulation
Legislators saw their session workload multiply when voters signed off on a pair of ballot measures legalizing both recreational and medical marijuana. They're bracing for lots of committee meetings, floor debates and public input as they craft a regulatory climate that includes licensing for commercial marijuana operations and other public safety provisions.
"As legislators, it's safe to say we're going to learn far more about marijuana than we ever imagined that we would in the coming two months," Rep. Mark Willadsen, R-Sioux Falls.
While the Republican-dominated legislature wasn't enthusiastic about the passage of legal pot, many lawmakers have said since the election they don't intend to impede the will of the voters.
Still, the legislature has a role in ensuring proper laws are in place to keep legal marijuana out of the hands of youth, altering the state's driving while intoxicated laws and establishing rules for buying, selling and growing marijuana.
Former Sioux Falls Police Chief and Rep. Doug Barthel, R-Sioux Falls, said he is a bit worried on how legal marijuana will impact not just the youth but other aspects of public safety.
"I have no intention of trying to go against the will of the voters," he said. "But I do have some concerns, so certainly I'm going to be watching that closely to make sure we have regulations in place."
The voter-approved measure legalizing recreational cannabis could be nullified through a legal challenge. But both Gov. Kristi Noem and the legislators who have traditionally opposed loosening the state's pot laws have conceded some form of legalized marijuana — even if only medical — is inevitable and will require action from the state.
Managing COVID-19 and a record-setting surplus
Much has been made about how 105 lawmakers, dozens of lobbyists, the governor's staff and any other number of potential spectators can convene at the capitol safely during a pandemic.
And each year, both the House and Senate create temporary rules for their respective changes. Typically, it's a simple house keeping procedure that doesn't generate much attention. That's not the case this go-around.
As at least one legislator, Rep. Linda Duba, D-Sioux Falls, has expressed a desire to serve 100% remotely, meaning she'd attend committees and floor votes from outside of the Capitol building and use technology to cast votes. But whether that will be allowed depends on what rules get passed.
Indirectly related to the pandemic is the massive amount of one-time money the state has at its disposal this year. When the federal government sent South Dakota more than $1.25 billion in COVID-19 relief funds through the CARES Act, it allowed the governor to use a portion of those dollars to offset some state expenses already anticipated in the state's pre-pandemic budget.
And that will free up what will likely amount to more than $250 million in one-time general fund dollars to be used about anyway the Legislature desires.
Noem's already asked to use $5 million to buy a new airplane for the state, another $100 million to build out the state's broadband internet and $50 million for a needs-based scholarship, among other uses.
Lawmakers also have plans of their own for that money.
Sen. Larry Zikmund, R-Sioux Falls, said he has a bill that would allocate $3 million to improve the road that leads to the state Veterans Cemetery currently under construction northeast of Sioux Falls. And Haugaard, a member of the House Appropriations Committee, said he'd like to see the legislature revisit the Coronavirus Relief Fund (CRF) grant program that uses CARES Act dollars to aid businesses and individuals financially injured as a result of the pandemic.
While those dollars were intended to stave off economic decline and keep business open, millions remains in state coffers because of a slower-than-anticipated processing of applications or too finite of qualifications.
"The CARES Act funds were really intended to help citizens and business and not the focus be state and local governments," Haugaard said. "We need to find appropriate places for that to go."
Session officially kicks off Tuesday at the capitol when Noem gives her State of the State address at noon from the House chamber.