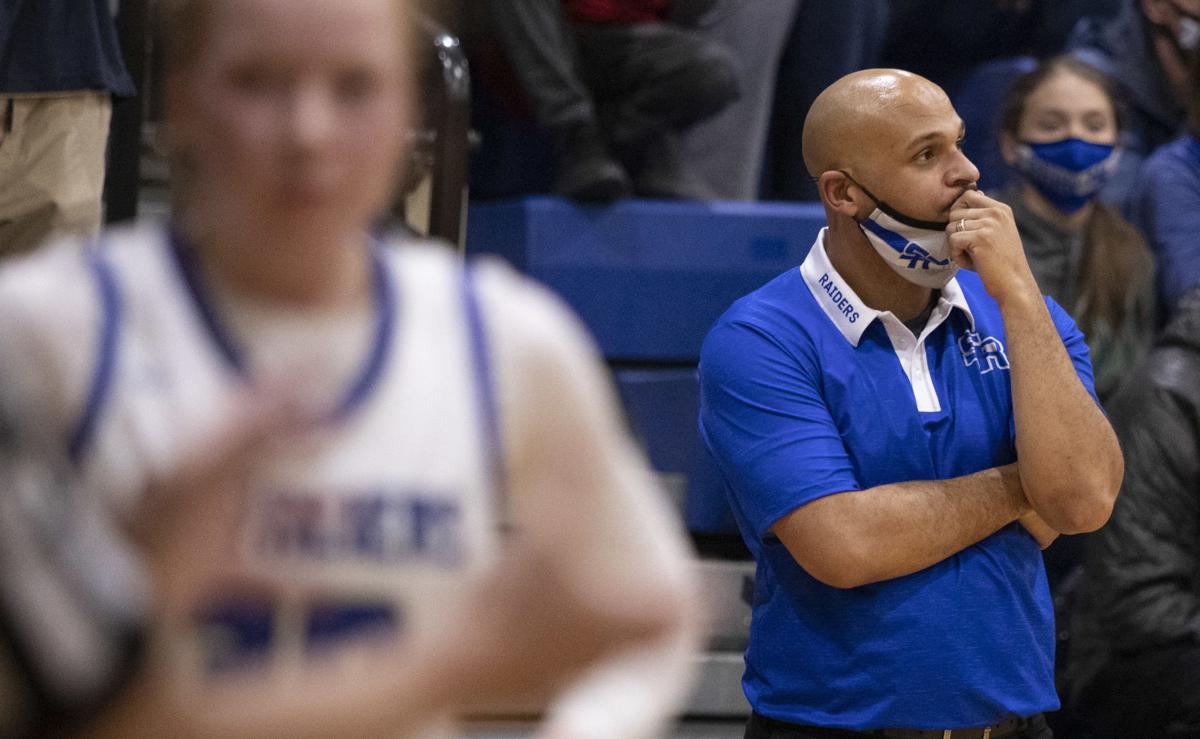 Michael Brooks guided the Rapid City Stevens girls' basketball team to a surprising second-place finish in the Class AA State Tournament last season, but he won't return to the Raiders as head coach for the 2021-2022 season.
Brooks, the Raiders' head coach for four seasons, said Wednesday afternoon that his not returning to the program came down to a personnel decision that the Rapid City Area Schools made, although he asked them to reconsider.
"I gave them some great reasons and really wanted an opportunity to stay, either in the role that I had applied for and that I had gained in April, or have a different type of role, and they told me that it was not something that could happen at this time," he said. "Unfortunately, that is my job and basketball is my passion, so that kind of sets us up for not a lot of great success as a family here in Rapid City if I can't have the opportunity to do what I want to do."
Brooks finished 71-25 in his four years at Stevens, including last season's 17-6 record. His Raiders qualified for the state tournament in all four of his years at the helm.
"We thank Coach Brooks for his service at Stevens High School," Stevens activities director Jared Vasquez said. "We wish him and his family the best."
Stevens went into the 2021 tournament as the sixth seed, but moved into the title game after knocking off Harrisburg 39-27 and Brandon Valley 51-45. Stevens fell to a strong Sioux Falls Washington squad 43-26 in the title game.
After his first three seasons, Brooks stepped down and was an assistant coach for Raider head boys' basketball coach Chris Stoebner.
The Stevens girls went 19-1 during the 2019-20 season under interim head coach Travis Swartz. There was no state tournament because of the Covid pandemic. Brooks returned as head coach in 2020-2021, with Swartz serving as his assistant once again.
Brooks, who came to Rapid City Stevens after serving as head coach at NCAA Division I Bradley University, said he enjoyed his time at Stevens and thanked former principal John Julius and Vasquez for the opportunity to rebuild the program.
"It was an amazing venture. Travis Swartz has been a consistent man on the sidelines for the boys and the women over the last, how many years? Without him, we'd all be lost at times. I'm just sad that I won't be able to continue on that path," he said.
Even after the graduation of four seniors from last year's squad, the Raiders return some more young talent that should put them in the running once again this upcoming season.
Despite the disappointment with how things have turned out, Brooks said he is excited for this team and the future of the program.
"They worked and did things in the summer and sacrificed to put themselves in position to be successful for many years. That was the goal to create a program," he said. "Last year every senior went on to play college basketball. You look at this next graduating class and there could be four or five more go on to play college basketball. When you have those kids earning a higher degree and pursing their passion, getting involved in the community, then I think program is moving in the right direction. I look forward to seeing how those girls continue to make the program move in the right direction."
Brooks hopes to coach again, but admitted that it would be very difficult for him to coach at this level in the Rapid City area.
He said his heart is still with the Raiders.
"I love the Raiders. I will miss them tremendously, and I don't want to coach against them or anything," he said. "I want them to have all of the success in the world. Sometimes there are situations that happen where you have to look forward, and my family, we have to look forward. And that possibly means that there could be a different adventure and different places for us to seek our next opportunity to be successful."
Brooks said they are going to look at every opportunity with their family-first approach that he said they always do, and make sure they land in a spot in a community and family atmosphere that is accepting and loving.
"Somewhere we will be looking forward to building our next dream," he said. "That is the great thing about life, there is a new day and opportunity. It's like basketball and turnovers. There is always something that happens, but it is how you react to them. We're going to react our way and continue to move forward."
Vasquez said they are in the process of hiring a new coach for the 2021-2022 season. Stevens opens Dec. 10 at Pierre.
"We have a solid staff of assistant coaches in place," Vasquez said. "The job has been posted and we are eager to start the process to hire a new coach."