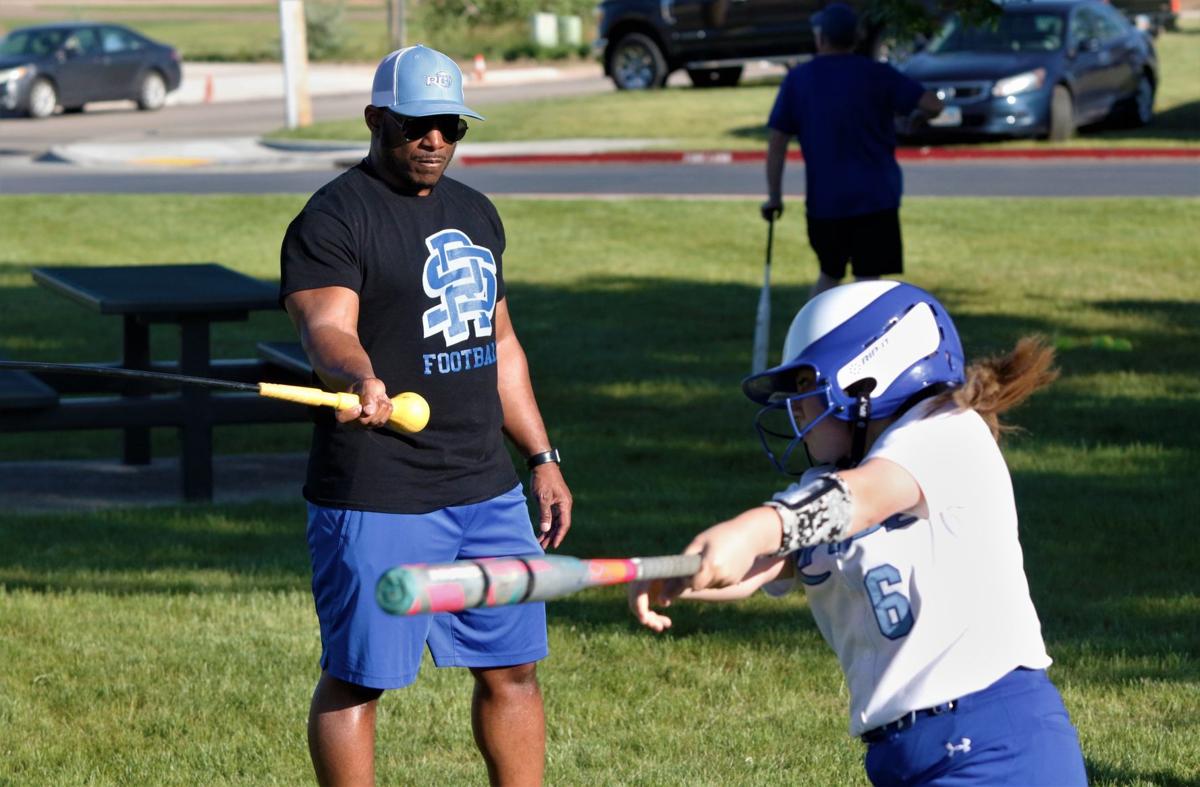 Football has been in Michael Scott's blood since he was a small boy growing up in Waycross, Ga.
The game enabled him to become a star on the field and gave him a college education at Tuskegee University, which led him a professional football career, first in the Canadian Football League (Toronto Argonauts), as well as a couple of training camp opportunities in the National Football League.
He came to Rapid City to play indoor football the Black Hills Red Dogs for two seasons and then the Sioux Falls Storm.
After several years of coaching on the youth level and last season as a Rapid City Stevens assistant, Scott will move up to become the Raiders' head football coach, as it was announced on Wednesday.
It's a coaching dream come true, he says.
"I've had people sending text messages and calling me and saying those kids are so lucky having you, but I am the lucky one," he said Thursday before leaving to help coach his daughter's softball team. "I've been given an opportunity to continue to be around a game that I have played since I was a kid, a game that I love, and a game that helped me get an education on the college level.
"It's a game that has taught me brotherhood and taught me how to sacrifice for the greater good of the team. I am very fortunate and I am blessed."
Scott, 43, said it's a chance to give back to the young players in this game, and teach them some of the things he said he has been fortunate to learn.
"When I started coaching youth football, and the kids were responsive to my coaching style, it just fed the hunger that I would give anything to coach on the high school level," he said. "When the opportunity presented itself, I was like, 'This is awesome.'"
Possibly one of the most important rewards for Scott as a coach, he said, is the life-long friendships he has established throughout the years with his players.
That, he said, goes back to the first youth team (Steelers) that he coached. He has players from that team that are now 24 or 25 years old, and he says they still talk, text and get together.
"They say, 'Coach, thank you for everything you have done.' But I say, 'Thank you. If not for kids like you, I wouldn't be doing what I am doing now,'" he said.
Before coming to Stevens last season as an assistant, Scott also coached locally with two stints in the Rapid City Midget Football Association, which includes serving as a board member for over 12 years with the organization, as well as coaching at Southwest Middle School.
Scott said that while he doesn't have any head coaching experience on the high school level, he has been able to build relationships with many current Raiders.
"It's a great opportunity. I am thankful that I was even considered and given a chance to interview," he said. "I look forward to trying to continue to build on a lot of things that Steve (Svendsen) brought to Stevens, and hopefully help these young men and women become good people," he said. "At the end of the day, a coach's success is based on winning, but for me, how successful are those individuals when they aren't on the field? At some point the game passes you by."
Scott, who still holds some school rushing records at Tuskegee University, was a running backs coach for the Raiders last season and also worked with the kickoff return unit. He was also the offensive coordinator for the junior varsity squad.
"We have a solid base. I was a running back, and I would like us to keep the ball on the ground a little more, but also utilize the receivers that we have, and we have some talented kids back this year," he said.
He said he isn't planning any major overhaul to the Raiders' offensive or defensive schemes, but just adding and building on to the current playbook.
"I think we'll be creative and I think we will put the ball in our play-makers' hands and give them the opportunity to make big plays for us. That's the goal offensively," Scott said. "The defensive coordinator and I have talked about the scheme — what I like to see and what he likes — and we both feel excited."
Scott, who works in the financial industry, first came to Rapid City in the mid 2000s to play for the Red Dogs. He credits former Red Dogs owner, Dr. George Jenter, for not only bringing him to town, but the friendship they have maintained.
"He took a chance on this little guy who had played in a small school down South. Granted I had professional experience, but he took a chance and he told me, "I want you to be the face of the organization,'" he said. "Up until this year he was my personal doctor. I can't tell you how much I love the guy. He is one of the more caring people I have had the honor of coming in contact with."
Be the first to know
Get local news delivered to your inbox!