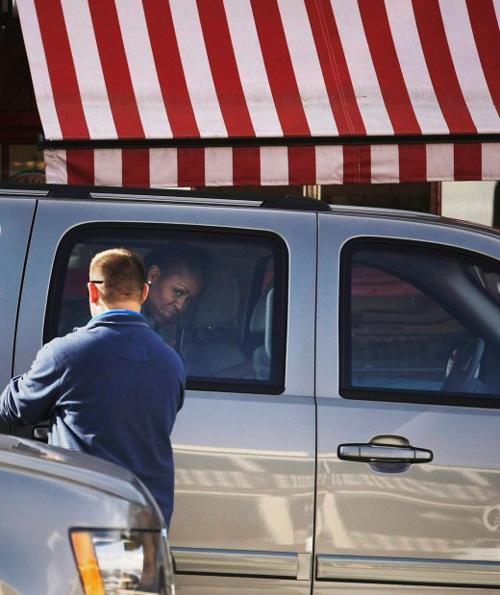 KEYSTONE -- First Lady Michelle Obama and her daughters, Sasha and Malia, showed a hankering for history Wednesday during a brief visit to Mount Rushmore National Memorial.
Then they showed a bit of a sweet tooth by stopping at the Turtle Town old-fashioned fudge and ice-cream shop in Keystone, where manager Deb Splinter served them ice cream and other treats.
"It was nice, really nice seeing her and the girls," Splinter said at about 4:30 p.m., a few minutes after the Obamas and their security detail left the shop on Keystone's main street. "We had fudge and ice cream, and we all sat and visited. The girls were very sweet."
The Obamas arrived at the shop at about 3:45 p.m., following a visit to Mount Rushmore that restricted access to parts of the memorial and required visitors during that period to go through a security checkpoint where one officer wore a U.S. Secret Service shirt. The Obamas had flown into Ellsworth Air Force Base earlier in the day and rode in a gray Suburban that was part of a motorcade of about 10 vehicles.
Pennington County Sheriff Kevin Thom said after the Obamas had departed Wednesday that Secret Service agents were in town days in advance preparing for the visit. The Secret Service worked with the sheriff's office, the South Dakota Highway Patrol, the Rapid City Police Department and the state Division of Criminal Investigation, as well as the National Park Service, on security, traffic control and transportation during the stop.
Thom said the route to and from Mount Rushmore was chosen based on traffic, construction and safety.
"We've gotten pretty adept at dealing with these kinds of visits, because we've had a number of dignitaries in Rapid City and at Mount Rushmore," Thom said.
Thom said he wasn't sure how the Turtle Town stop in Keystone came about.
"There was White House staff in town over the weekend, so I expect there was input from them," he said.
Splinter said she is accustomed to seeing traffic restrictions on the route to Rushmore through Keystone when big-name visitors pass through. So when deputy sheriffs showed up outside her store, she "figured something was up." She had no idea it was the first lady and her daughters until the motorcade pulled up out front later.
"I'd had a strange call earlier asking if we were open and when we closed," Splinter said. "And they asked if they got here at 3:30 they'd be OK. I said sure."
But nobody turned up at 3:30. And when 3:45 arrived, Splinter decided to close. She had taken out the trash and was cleaning up when the Obama caravan pulled up.
They spent more than 30 minutes in the cozy eating area of the store. Meanwhile, two gray Suburbans waited outside the front door, along with other SUVs, as Secret Service agents stood in the street watching people and traffic and scanning the rooftops.
Members of the Rapid City-Pennington County special response team stood nearby, and deputies and state troopers managed traffic. A van marked DCI Bomb Squad pulling a trailer drove past the shop heading back toward Rapid City.
Across the street from the shop, Christopher Hoskin and Theresa Parson of Bremerton, Wash., smiled and snapped pictures. And after the Obamas moved quickly from the store to the Suburban and left with the motorcade, they marveled at their good fortune.
"What are the odds of that – us being at the same place at the same time they were," Parson said.
International visitors Mirjam Doek of Carman, Manitoba, Canada, and her brother Bert Doek, of the Rotterdam area in the Netherlands, also were taken by the chance to catch a glimpse of the Obamas and snap some pictures.
"It was exciting and interesting," Bert Doek said. "The states are so big, and I'm here in this little place and the first lady comes. I want to tell my family."
South Dakota Tourism Secretary Jim Hagen wants to tell more people than that. Hagen said the Obamas' stop at Mount Rushmore was timed perfectly for the state's new marking campaign, called Your American Journey.
The campaign addresses "Americans' penchant for taking journeys and discovering historic places and spots of unimaginable beauty," Hagen said.
Hagen said South Dakota already ranks high on the list of travels spots, and the Obamas' visit will enhance that.
"People are talking about our state," he said. "The fact that she would stop here will create even more national buzz for us, and that's awesome.'
Hagen said it is an honor when any president or first family member visits.
Barack Obama had campaign events in South Dakota and the Black Hills during the 2008 campaign and paid a visit to Mount Rushmore.
Journal reporter David Montgomery contributed to this story.
Be the first to know
Get local news delivered to your inbox!