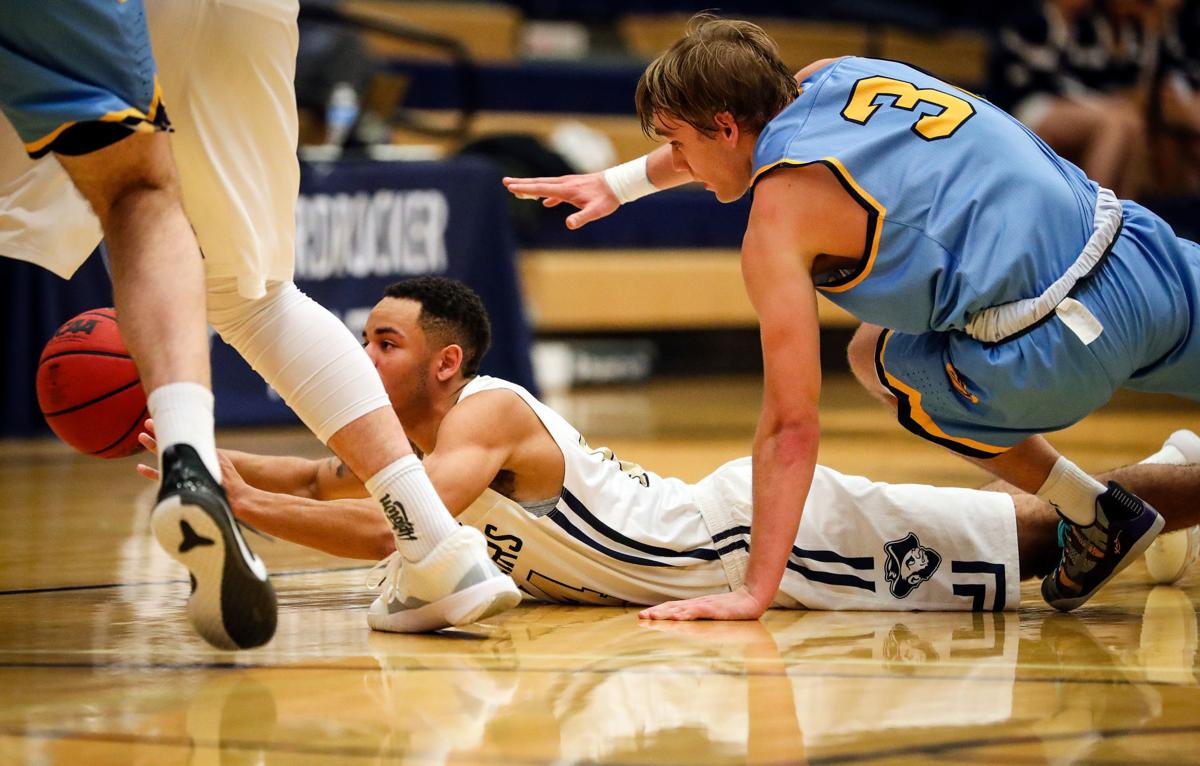 The South Dakota School of Mines men's basketball team looks to keep climbing in the Rocky Mountain Athletic Conference standings, hosting Chadron State College Friday and MSU-Denver Saturday.
The Hardrockers, who have won four straight games, are now in a tie for fifth place in the RMAC at 10-7, and stand 13-10 overall.
Mines, which has won seven of its last nine, welcomes Chadron State at 7:30 p.m. and MSU-Denver  the following night at 6 p.m.
"As a staff we can control what we can control, and the only thing we can control is to try to collect wins as we go along," Mines coach Eric Glenn said. "The only way to do that is to focus on the next game, so our next focus is Chadron State. These next two games are all we are worrying about, how we are going to play these teams."
The 'Rockers came back from a 21-point first half deficit to defeat New Mexico Highlands, 101-94, last Friday and then crushed CSU Pueblo on Saturday, 73-44.
Senior Allec Williams continues to lead he team in scoring at 15.7 points per game, followed by sophomore Mitchell Sueker at 13.9 per game. Sueker is the reigning RMAC Defensive Player of the Week with 37 points and 20 rebounds in the two wins.
Senior Logan Elers is also hitting in double figures at 11.3 points game, followed by senior Jack Fiddler at 9.2 ppg.
The Eagles have had a tough go of it this season at 3-20 and 2-15 in league play, although they have been competitive in many of those contests.
Brian Rodriguez-Flores leads the team averaging 16.7 ppg., while Jacob Jefferson contributes with 11 ppg. and Colby Jackson adds 10.6 ppg.
MSU Denver, which is at Black Hills State Friday, is 12th in the conference standings at 6-11, and 9-14 overall. Druce Asah paces the Roadrunners dishing in 12.2 ppg., while Garret Carter and Mitch Lombard are both scoring around 9 ppg.
"I know they (MSU-Denver) are going to come up here wanting to give us a little payback for what we were able to accomplish at their place just two weeks ago (80-51 Mines win)," Glenn said. "I'm sure everything is fresh in their mind and I'm sure they will try to do some things to take away where our success was against them, and we're going to have to try to look in the crystal ball and figure out what those things are, and guess right, and be able to adapt as we go along."
You have free articles remaining.
Black Hills State saw its 13-game win streak snapped last Friday night by CSU-Pueblo, 68-67, on a last-second layup, but bounced back and beat New Mexico Highlands 73-66 Saturday.
With the split, BHSU dropped back into a first-place tie with Dixie State at 14-3 in league play and stand 17-6 overall.
Freshman Joel Scott constitutes his outstanding rookie season with the Jackets at 17.7 points and 6.3 rebounds per game. Junior Trey Whitley is at 14.7 points a game, followed by senior Tyler Oliver at 14.4 and senior Stefan Desnica at 10.3 per game.
Mines, BHSU women look to keep winning
The South Dakota School of Mines women's basketball team has won seven straight and 10 of its last 11 games, and will also look to move up in the league standings.
The Hardrockers are 12-9 overall and 10-7 in the RMAC, giving them sole possession of seventh place.
Last week the Hardrockers pulled off a season sweep of New Mexico Highlands and CSU Pueblo with wins at the King Center. Mines dominated the Cowgirls, 81-53, and then out-lasted CSU-Pueblo, 61-58.
The 'Rockers are led by sophomore Ryan Weiss at 16.4 points a game and senior Anna Haugen 14-point averages. Weiss set a school record last week for 3-pointers made in a season with 73. The old record was held by teammate Sami Steffeck at 72. Steffeck still holds the Hardrocker record for most 3-pointers made in a career at 232.
Chadron State comes into Rapid City on a five-game skid and 3-14 league mark, standing 5-21 overall. Taryn Fox leads the team, averaging 15.2 ppg. and Melisa Kadic is scoring 9.2 ppg., while Jori Peters adds 8.9 ppg.
Bree Wellington leads MSU-Denver at 10.2 ppg., while Mariah Schroeder, Morgan Lewis and Jaiden Galloway are all averaging around 8 ppg.
Black Hills State is also coming off of a weekend sweep of Highlands (85-51) and CSU-Pueblo (98-78) after splitting their previous four league games.
The Yellow Jackets stand sixth in league play at 11-6 and are 14-8 overall.
Junior Racquel Wientjes continues to pace BHSU at 17.0 points a game and 5.3 rebounds per outing. Junior Morgan Ham is scoring 14.7 points a game and senior Abby Switzer is at 6.1 points per game.