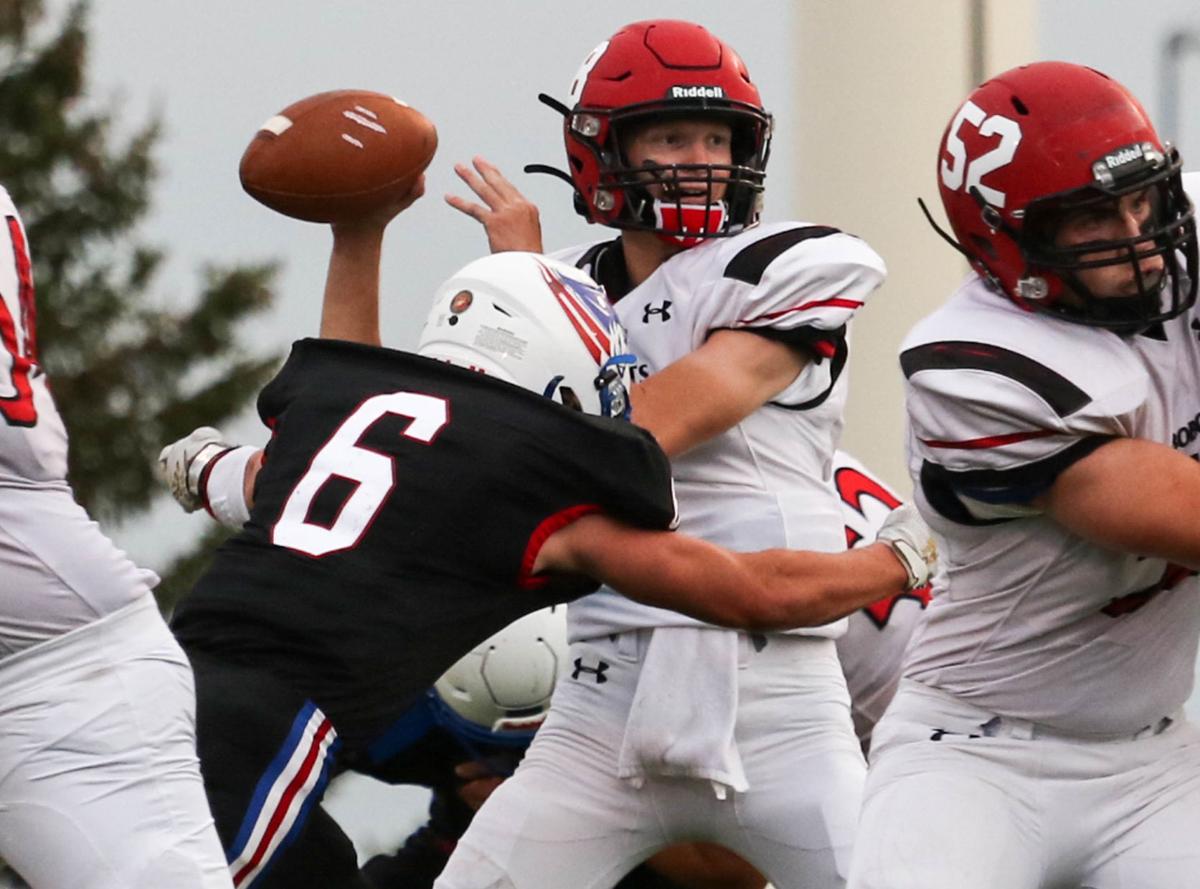 BOX ELDER — The game turned against the Douglas Patriots almost from the start against a Brookings team, last year's Class AA state runner-up, that was reeling from a lopsided loss in its season opener.
The result was a big 42-0 win for Brookings Friday night on Dave Broadie Field at Patriot Stadium in a game where all of the points were scored in the first half.
It was a tough night for the Patriots in their home opener, as they fell behind 28-0 at the end of the first quarter and 42-0 at halftime. Douglas had problems throwing the football with five interceptions, including two that were returned for touchdowns.
"They (Brookings) are a good football team and they are going to continue to get better," Douglas head coach Dan Maciejczak said. "They are a younger team that is building up from a runner-up state championship, and we're still learning to play football at a fast pace. The beginning is putting us in some bad spots where we are missing some angles and missing some tackles. I think when we can clean that up, we're going to get a lot better."
Brookings, meanwhile, found its game after opening the season on the losing end of a 47-21 score to top-ranked Tea Area.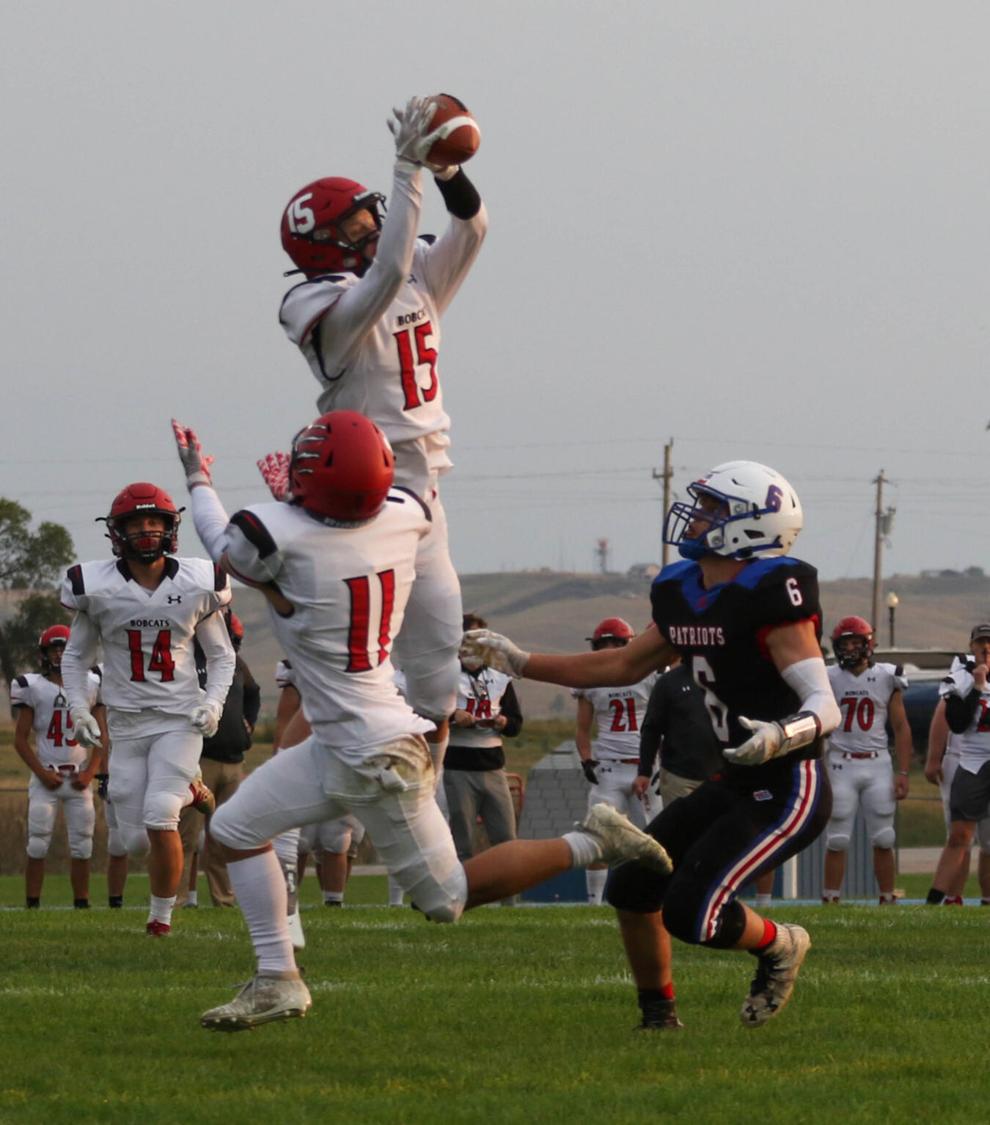 There was no slow start for the Bobcats this time around.
"We played a tough team last week and we were down for a little while there," Brookings head coach Brady Clark said. "I was like, 'hey, how are we going to respond?' We wanted to come out tonight and respond just like we did here. It was great to see the guys sticking together and just playing football, doing our jobs and having fun."
Things couldn't have gotten out to a worse start for the Patriots basically from then opening kickoff when Brookings' Eric Dang took the short kick down to the Patriot 15-yard line. Two plays later, quarterback Justin Cofell snuck the ball in from 2 yards out for the first score.
Brookings got the ball right back on an interception by Lincoln Hardin and returned it to midfield. It only took five plays for the Bobcats to get into the end zone again, this time from 6 yards out by Israel Caldron.
Brookings made it 21-0, still with 6:35 remaining in the first quarter, when Jaxton Eck ran back the second interception by Douglas sophomore quarterback Jacob Thibeau, from about 30 yards.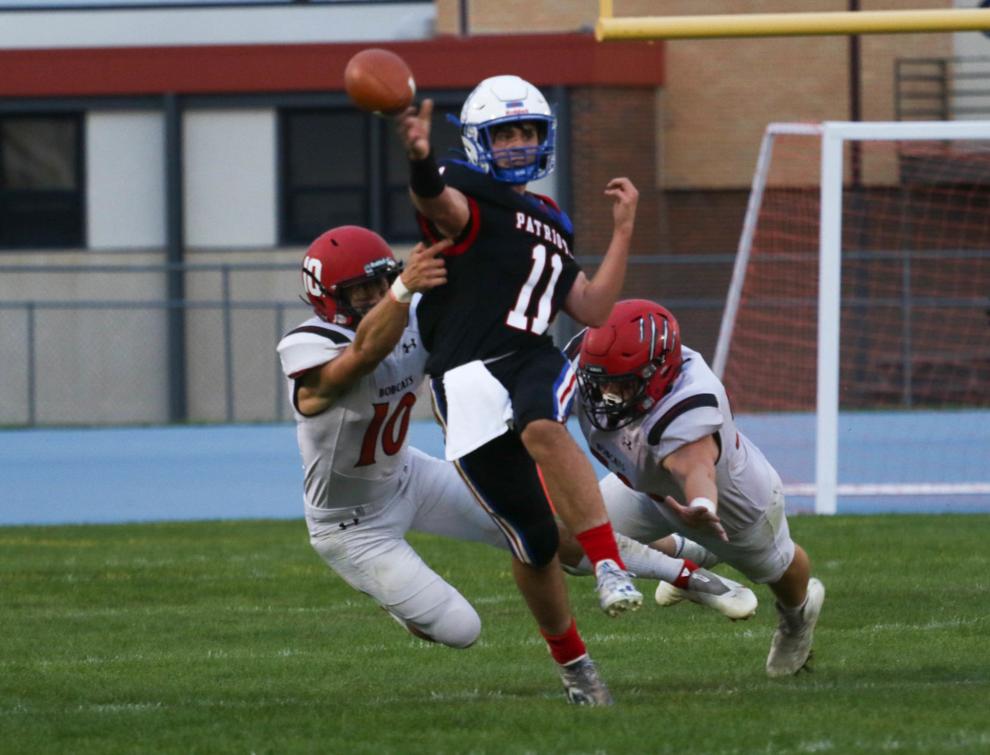 Douglas junior Anthony Moser recovered a Brookings fumble a couple of minutes later but the Patriots were not able to do anything with the football.
Late in the first quarter after a Douglas punt, Brookings drove just 38 yards and scored on a 21-yard TD run by Caldron to make it 28-0.
Brookings added two scores in the second quarter, the first on a 35-yard interception return by Hunter Gray and the second on a 23-yard run by Gray.
"Turnovers are huge and we have to take advantage of those when we get the opportunity," Clark said. "We were able to score on a couple of those, which is great. We needed to respond and we needed to respond in a strong way."
With a running clock, there were just six possessions between the two teams in the second half, and the Patriots showed some signs of life behind the running of senior Payton DeWitt. The Douglas defense did a better job of holding down the Bobcats, albeit it against their reserves who played a good chunk of the final two quarters.
"The thing about our kids is they are not quitters and they work hard. They want to be good. We're out-sized a little bit in AA, we're a little smaller than most of the AA schools in most spots," Maciejczak said. "The kids aren't going to quit and we're going to work hard as a coaching staff to get things fixed."
Thibeau and fellow sophomore quarterback Matthew Denekamp combined to go just 3-of-17 passing for 54 yards and five interceptions.
DeWitt unofficially finished with 113 yards on 26 carries.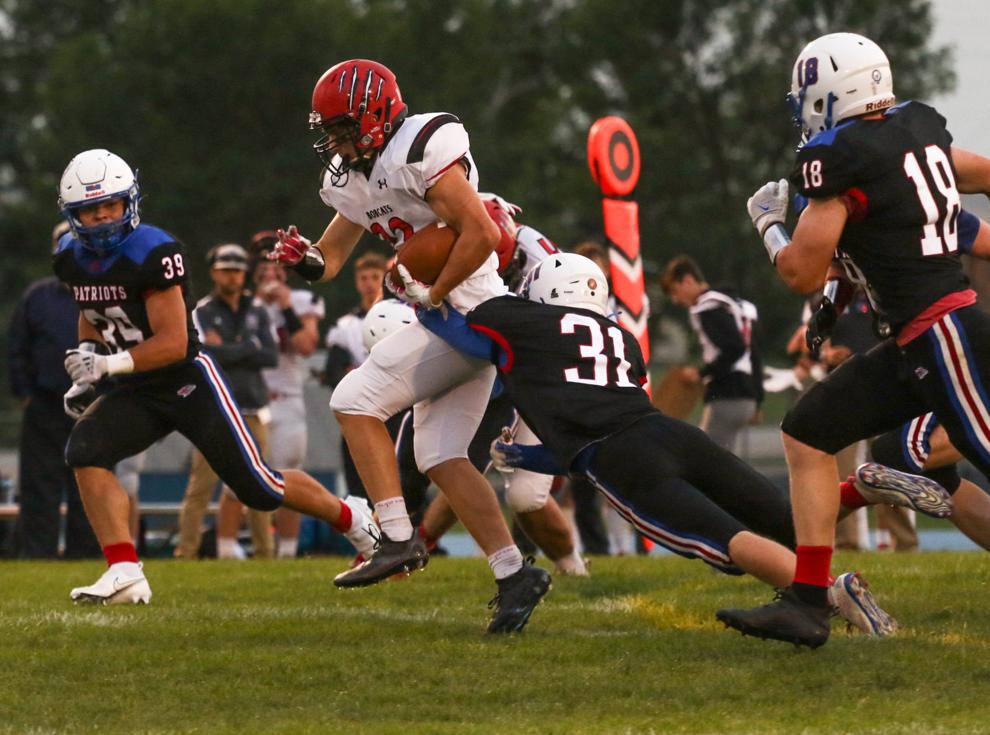 The Bobcats finished with 201 yards on 23 carries, led by Caldron with 70 yards and Gray with 63 yard. Cofell was 2-of-6 passing for 29 yards.
"We really stress to our linemen that it doesn't matter who we put behind you, we should be able run the ball still," Clark said. "We really believe how good they can be, and this team can be too. It was nice to see that."
The Bobcats stay on the road next week, but a lot closer to home when they face the Arrows in Watertown.
"Watertown is a big rival for us," Clark said. "This is my second year, so I haven't played them yet, and I am excited for that. We'll heal up and get back to work."
Douglas, 0-2, will have a road game as well, but just down the road as it faces Rapid City Central at O'Harra Stadium.
"Our kids are excited for the experience, I'm excited for the experience," Maciejczak said. "The last time we played them was when my older son was a senior. We'll prepare and get ready and keep busting our humps, and hopefully get on the winning side."