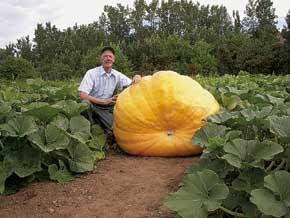 WINDSOR, Nova Scotia - Anyone who spends much time with garden catalogs will recognize the name Howard Dill - four-time world champion pumpkin grower and developer of the world's largest pumpkin, the famous Dill's Atlantic Giant.
I met Howard Dill in September when we were vacationing in Nova Scotia, one of Canada's Maritime provinces. My mind was on our next seafood dinner as we tooled down the road near Windsor; it certainly was not on pumpkins. Then, pow! There it was - a sign advertising Howard Dill's farm, just minutes ahead. I had been reading about Dill and his pumpkins for years in catalogs but it had never dawned on me that he lived in Nova Scotia.
I love pumpkins, I grow them every year, although I have never believed we could spare the room to plant an Atlantic Giant. So nothing would do but that we visit the farm.
Early the next morning, we drove into the farmyard, and there was the great man himself, kneeling in a small garden behind his house, picking string beans. His daughter, Diana MacDonald, greeted us and introduced us to Howard, who said sure, he would be happy to tell us about his pumpkins.
Five generations of Dills have been raised in the handsome old farmhouse where Howard has lived all his life and where the Atlantic Giant was born. As a young man there, Howard was fascinated with his father's prowess in growing several varieties of large pumpkins. He began wondering what would happen were he to combine some of the characteristics of these plants into a single plant; maybe he could grow a pumpkin larger than any of the others.
Howard had no formal education in agriculture, but he understood plants and he was a keen observer. After eight years of study and selective breeding, an orange monster arose from his pumpkin patch. It was the Atlantic Giant, which, in 1979, won Howard his first world championship with a pumpkin that weighed 438-1/2 pounds.
The Giant won again in 1980 in Philadelphia and Circleville, Ohio, with 459 pounds. And in 1981, Howard broke his own record with a 493-1/2 pound Giant that was entered in the Guinness Book of Records. The year 1982 saw a 445-pound Giant.
By now, huge pumpkins were getting to be a pretty big deal, and a competition in Washington state offered a top prize of $10,000 and a trip to Hawaii. Howard entered - and lost.
The winner, Norm Gallagher, grew a 612-pound pumpkin. Howard got some satisfaction out of the contest, however; the winning pumpkin was an Atlantic Giant. Gallagher had bought the seeds from him, paying $10 for seven seeds. And, Dill deadpanned, Gallagher was kind enough to share. He sent him $10.
In fact, every world record since Dill's win in 1979 has been set by an Atlantic Giant. He said that every year, competitors are getting smarter and smarter about raising the monsters, and the pumpkins are getting larger and larger. The 2003 winner hit a staggering 1,385 pounds. Its grower, Steve Daletas from Oregon, visited Howard this spring and told him that during its heavy growing period, his Giant would gain 30 pounds a day. But Daletas' record fell early this month when Alan Eaton of Richmond, Ontario, produced an Atlantic Giant weighing 1,446 pounds.
Atlantic Giant seeds travel to growers around the world, and pilgrims from around the world come to Windsor to worship at the pumpkin patch of the master and to ask his advice. When we were there, a dapper little gentleman from London had a sea of questions. He went away with answers, and a packet of seeds taken from Giants in the 700-900 pound range.
In London, he lamented, he grew pumpkins in his greenhouse, and never was able to raise one larger than a No. 3 soccer ball.
Pumpkins grow well in Rapid City, although this odd, cool summer saw them later and smaller than usual.
It was the same in Nova Scotia; cool weather retarded the crops, causing the Dills no small amount of worry. But they did get some big ones.
To grow a Giant, be prepared to sacrifice your yard, and maybe your neighbor's yard too, to the enormous, sprawling vines. For competition, Howard advises, allow 25 to 30 feet each way between plants. Test your soil - you want a Ph of 6.5 to 7. Your county agent should be able to advise you how to amend the soil to reach those numbers.
Diana MacDonald said the pumpkins must have lots of good organic feed, such as well-aged cow manure. And not just any cow manure, Howard added.
"Use manure from dairy cows, not beef cattle. Dairy cows have a controlled diet of two squares a day of good, high-protein food. With range cattle, you never know what they are eating."
Top quality seed from large parents is also a big factor in big pumpkins. People who order seeds directly from Dill at his farm get seeds that he has personally selected. They vary in price according to the size of their parents.
You may wonder how these enormous globes are moved. Well, Howard has solved that problem. He has designed a special tarp, with handles around the edges, onto which the pumpkin is carefully ooched. Then, six or seven stout men can load it into a truck with few problems. If you hit the jackpot with your Giant next year, Howard will be happy to sell you one of his tarps.
Books have been written about growing champion pumpkins, so we are not going to try to tell you how here, except to feed them, water them and love them.
A good start would be to contact the folks at the Dill farm and request one of their brochures.
Call them at 902-798-2728; the fax is 902-798-0842, or write: Howard Dill Enterprises, RR#1, 400 College Road, Windsor, Nova Scotia, Canada BON 2T0.
There it is, hulking in your yard, a Halloween monster for sure. What do you do with it? A great jack-o'-lantern, obviously. Hillary Rodham Clinton might like to see it. Howard said she has fallen in love with the Atlantic Giant.
Your friends and neighbors might like to look at it in your yard instead of traveling to Disneyland, where the Giant is one of the attractions. If you get a good one, your local TV stations might be interested; after all, the Giant was featured on a segment of "Inside Edition." And don't forget the county fairs.
The folks in Windsor have the best idea of all, Diana said. On Oct. 10, 1999, the world's first-ever pumpkin regatta took place there. Five giant pumpkins, weighing between 605 pounds and 821 pounds, were successfully raced across Lake Piziquid. They had been hollowed out and occupied by people who paddled them.
The regatta has become an annual event, and last year, Diana and her sister-in-law, Tanya Dill, rode double in one huge Giant. There are three classes in the regatta: paddled, motor driven and experimental.
Howard recalled that, shortly after the Sept. 11, 2001, terrorist attacks on the United States, one of the Windsor regatta pumpkins was painted like the American flag.
"It received huge cheers," Howard said, as he told of Canadians' sympathy and feelings of friendship for the United States that had surged after the attacks.
This year, Diana said, "one of our Giant pumpkins was driven to Cooperstown, N.Y., to compete in their first-ever pumpkin regatta. We supplied the pumpkin and the rower, and we will be competing against the Cooperstown mayor's daughter. Since Cooperstown is the home of baseball and Windsor is the home of hockey, it is hockey against baseball - just to keep in the spirit of things.
"Also, HGTV of Colorado came to film a presentation on our regatta this year, and National Geographic World magazine came to take pictures. I believe they have a spot in their magazine which features extreme sports, so I guess you could categorize pumpkin paddling as an extreme sport," she laughed.
Ed Martley, proprietor of Top Dog Publishing Co., in Rapid City, is a part-time copy editor for the Rapid City Journal. Contact him at emartley@aol.com