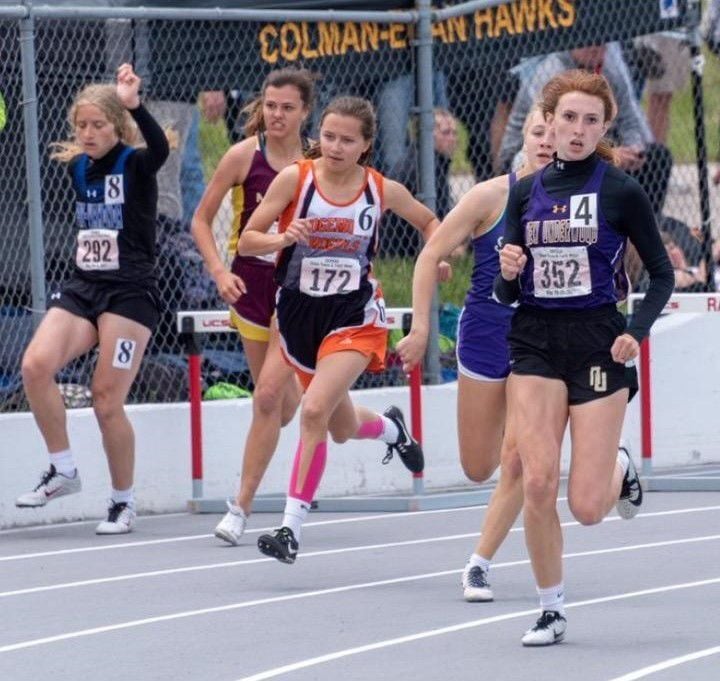 When the season began in late March/early April, Morgan Peterson of Edgemont ran the 300-meter hurdles for the first time. In her fifth and last race of the season Saturday, she became a state champion, winning the event at the Class B South Dakota State Track and Field Championships at O'Harra Stadium in Rapid City.
"I was kind of in shock, like, 'Did I just win this thing?" she said.
She became the first Edgemont athlete to win a state title in track since the 2009 season when Lacy Stevens won the triple jump.
"Once I finished the race and processed that I actually won, Coach (Joe Martin) came up to me and said I was the first one (from Edgemont) to win a state title since that year. It was pretty cool," Peterson added.
Martin said he probably buys a program every year at the state meet for $5 because it says Edgemont, the 1958 state team champions and 1959 runners-up.
"Any good news like this is great," he said. "It happened 12 years ago, and hopefully it happens sooner the next time. But you never know."
Peterson was ranked fourth in Class B in the event going into the state meet, and was able to take advantage of a mishap by state leader Portia Wiebers of New Underwood, who clipped a hurdle and fell.
Peterson also got off to a good start, something she said she hadn't done the last time she ran in the regional meet.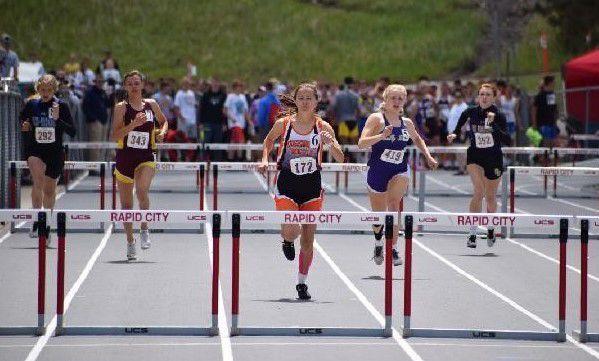 "I knew I needed to have a better start, and I felt like I had a lot better start," she said. "I was coming around the corner about fourth, so I passed a few people and the one girl (Wiebers) fell and that's when I thought, 'Here's my chance, I need to go.."
She took the lead with a few hurdles to go and won the race in 47.23 seconds, with Mackenzie Hemmer of Colman-Egan second at 48.02.
"She was coming down the last stretch looking strong," said Martin. "I think she went from fifth to second going up to the final hurdles. She took advantage of maybe once in a lifetime opportunity. She went hard all of the way."
Although she had run the 100 hurdles in the past — and finished eighth at state Friday — tripling her effort in the event's distance was going to be a change and something she would have to learn in a hurry.
In her first race this season, she ran it in 54 seconds. The second race she was two seconds faster and the third she was four seconds faster, setting an Edgemont school record.
"I didn't know how to run it at the beginning, but I figured it out and had some bigger competition, which made it easier to figure how to run it," she said. "I knew Portia Wiebers had been running the race int he past, so she was one who I wanted to run with in my heat so I had someone to chase and someone to compete with."
Coming around the corner at state, just being there and feeding off the crowd with their cheering also helped.
The adrenaline and competitive nature came out for the best on Saturday.
"She (Wiebers) was quite a bit ahead of me in time, so when she fell it gave me motivation to strive to finish as hard and as fast as I can," she said.
The 300 hurdles begins on the opposite side of the track, and Peterson said that makes it hard because you can't tell where you are at compared to the other runners.
"Once you get around the corner and hit that straightaway, that's where you can tell where you are at and how you are going to finish," she said.
Peterson had a little state meet experience, competing in the 100 hurdles and relays as 8th grader, and again in 2019 in relays.
To say the least, Peterson, who also competes in volleyball and basketball, is on the go athletically. Just a few days after winning a state track title, she was back in Rapid City playing some summer league basketball.
"I'm busy all year around," she said. "I just want to work as hard as I can in practice and get as far as we can as a team for volleyball and basketball," she said.
Martin said that Peterson is a pleasure to coach.
"She works hard in the weight room and she listens real well and executes better than that," he said. "She is really determined. She has a look in her eyes sometimes that she is ready to go."