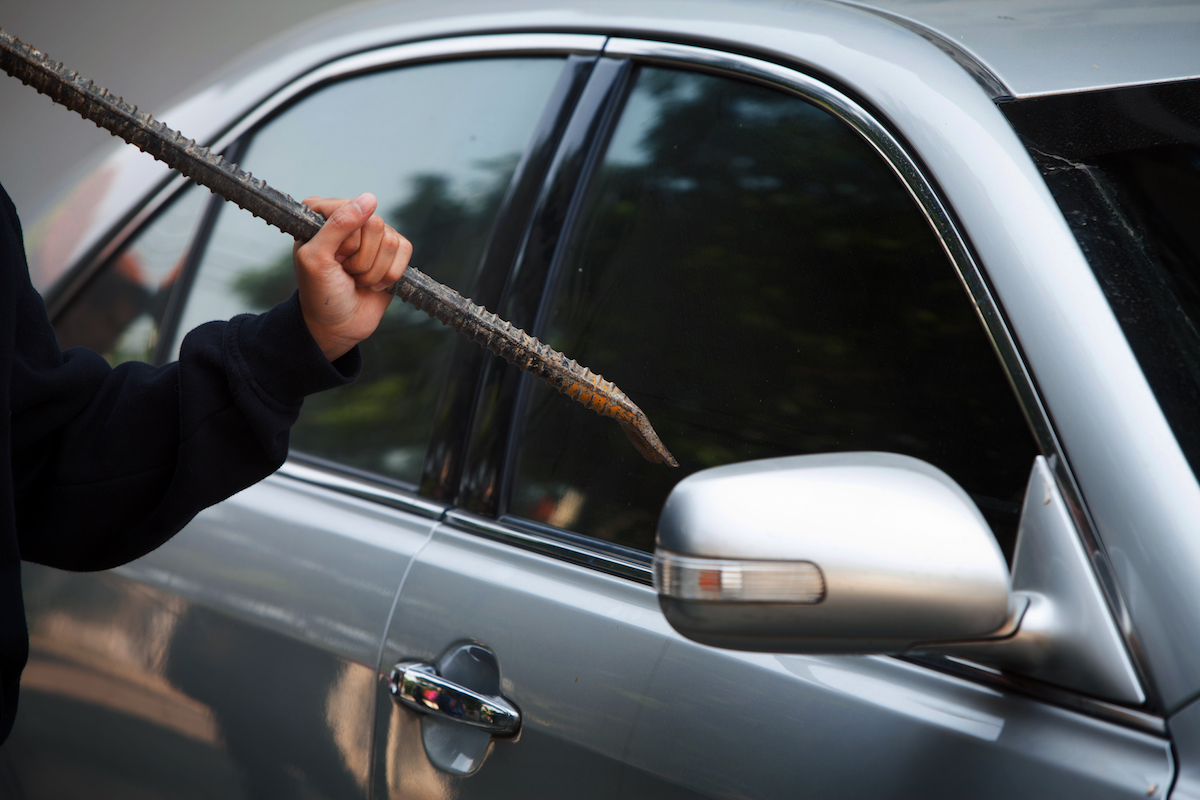 Credit: Shutterstock / photofriday
No matter how it's done, motor vehicle theft is a serious crime, and its victims can often face great financial and emotional distress. Fortunately, property and automobile theft have been trending down in the U.S. According to the Federal Bureau of Investigation, property crime (including car theft) decreased 3.0 percent between 2016 and 2017. Additionally, the National Insurance Crime Bureau (NICB) reported that overall, regardless of fluctuations in yearly rates, vehicle theft has declined considerably since the 1990s.
However, that doesn't mean that car theft isn't a persistent issue—particularly in certain metro areas. This past July, NICB released its annual Hot Spots report, which presents data on per capita auto theft across the country. Here, Insurify Insights presents NICB's top 20 rankings for the metropolitan statistical areas (MSAs) with the highest motor vehicle theft rates. Since this is a population-based study, the sizes of these MSAs differ greatly, ranging from major metropolises to areas with far smaller populations. Also included in this report is data from the FBI's newly released 2017 Uniform Crime Reporting statistics on property theft in these MSAs, although this data has no bearing on the rankings presented here.
In the interest of public safety and awareness, this study also details how each MSA, through various safety initiatives, has been combatting car theft and preventing property crime. Insurify also includes some helpful tips on how to avoid motor vehicle theft, no matter where you live.
Insights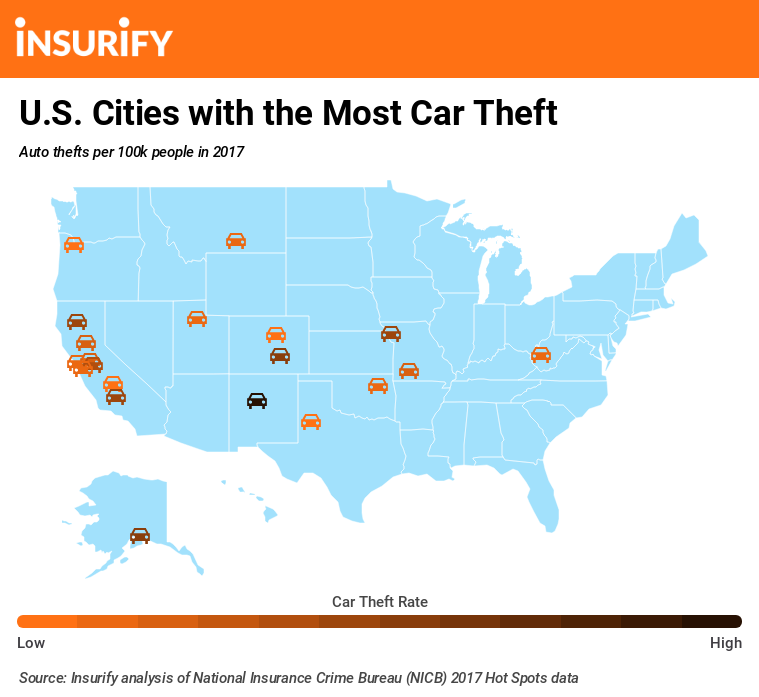 Western woes. The vast majority of MSAs on this list lies in the American West. Eastern cities and even larger Midwestern metropolitan areas do not appear often in the top 20, likely due to their high populations and lower rates of regular vehicle drivers.
High crime. Among all MSAs with property crime rates reported by the UCR's latest data that made this list, only one has a rate lower than the national average. That means that a majority of NICB's top-20 "hot spots" also see a higher incidence of property crime overall (including burglary, larceny-theft, and arson).
Methodology
The data scientists at Insurify, an insurance quote comparison website, compiled data from the National Insurance Crime Bureau's 2017 Hot Spots study, which reports which American metropolitan statistical areas (MSAs) have the highest rates of motor vehicle theft per 100k people in the year 2017. (Insurify's team calculated the average rate among all 381 MSAs reporting a car theft rate, and found the national average to be 218.6 thefts per 100k people.) They ranked the top 20 MSAs as reported by NICB, and then juxtaposed this metric with each MSA's proportion of property crimes per 100k people, courtesy of the FBI's Uniform Crime Reporting (UCR) data from 2017. The FBI's definition of property crimes includes motor vehicle theft as well as burglary, larceny-theft, and arson; the national average rate for 2017 is 2,632.2 crimes per 100k people. Each listing is classified by its MSA name as designated by the FBI. Except where noted, population figures for MSAs come from the UCR's 2017 population estimates.