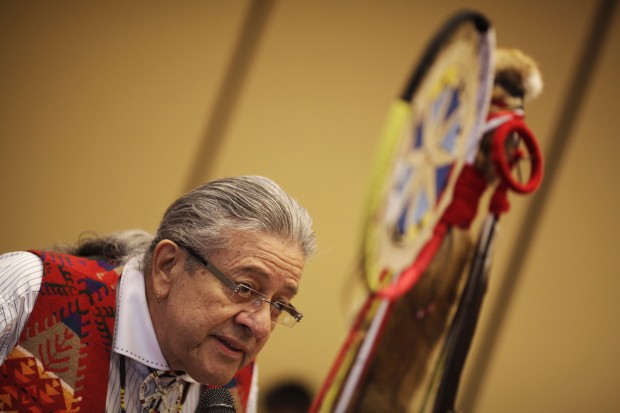 Leaders from 11 Native American tribes from South Dakota to Oklahoma walked out of a meeting with federal officials in Rapid City on Thursday to protest the proposed Keystone XL pipeline.
They then issued a direct challenge to President Obama: Talk to us directly or not at all.
The meeting was arranged amid mounting tension in Indian Country about the pipeline, which would pump oil from Canadian tar sands to Texas refineries. Although the pipeline would not go directly through any Native American reservation, tribes in proximity to its proposed path say it will encroach on their traditional lands and that the project is fraught with environmental risks.
To help ease those concerns, representatives from the Department of State, which is deciding whether to approve the pipeline, agreed to meet with tribal leaders on Thursday morning in the Hilton Garden Inn in Rapid City.
But before the talks could begin, tribal leaders walked out, upset that the government had sent what they considered low-level officials. In a press conference held by the tribes after the walkout, leaders took turns issuing angry statements against the project and the Obama administration.
"I will only meet with President Obama," said Bryan Brewer, president of the Oglala Sioux Tribe, who added that was the only true way to conduct nation-to-nation talks.
Other leaders listed a litany of environmental concerns with the proposed pipeline, from potential leaks that could contaminate ground water to the pipeline's contribution to climate change. Those same concerns have fueled protests by environmental groups across the country.
Casey Camp-Horinek, an elder with the Southern Ponca Tribe based in Oklahoma, compared the pipeline and other environmental damage caused by corporations to the disease and dislocation that had wiped out her people during European colonization.
"We find ourselves victims of another form of genocide, and it's environmental genocide, and it's caused by the extractive industries," she said.
Charles LoneChief, vice president of the Pawnee Business Council, also based in Oklahoma, said the public was still misinformed about the pipeline's environmental risks.
Unlike a traditional crude pipeline, Keystone XL will pump oil made from tar sands. To turn it into a transportable liquid, oil companies add chemicals that groups warn are highly toxic.
"That gets into our waterways, our water tables, our aquifers, then we have problems," he said.
Robin LeBeau, a council representative for the Cheyenne River Sioux Tribe based in South Dakota, pledged to protest against any construction, even if that meant standing in front of bulldozers.
"What the State Department, what President Obama needs to hear from us, is that we are going to be taking direct action," she said.
LeBeau said some younger Native Americans had warmed to the project because they believed it would provide construction jobs to reservations riddled with poverty and unemployment.
But LeBeau said such jobs were not worth the price of environmental and spiritual damage to traditional Native American land. She said the pipeline would run directly through her tribe's traditional burial grounds near Bridger, S.D.
LeBeau called on all Native American tribes to stand with the tribes against the pipeline.
"I believe this is going to be one of the biggest battles we are ever going to have," she said.
While not all 11 tribes were represented at the press conference, the morning meeting with the State Department included members from the Nez Perce based in Idaho; Southern Ponca and Pawnee based in Oklahoma; and Sisseton-Wahpeton Oyate, Yankton Sioux, Rosebud Sioux, Oglala Sioux, Standing Rock, Lower Brule, Cheyenne River and Crow Creek based in South Dakota.