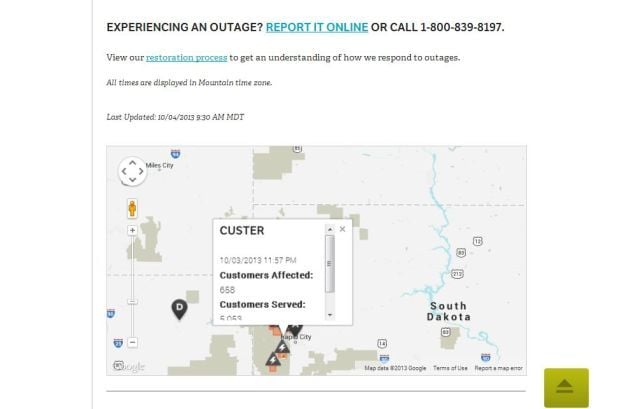 Nearly 9000 calls for power outages were received by Black Hills Power from late Thursday night to early Friday morning, according to officials at the company.
Over 5,000 customers were still without power Friday morning, according to Black Hills Power's website.
Nearly 700 customers in Custer were without power from midnight through Friday morning.  And over 1,500 were without power in Belle Fourche.
Spearfish residents were being hit the hardest, a total of 1,757 were without power early Friday. Most of those were reported around 9 a.m., but 455 customers have been without power since 4:30 a.m.
Deadwood was experiencing a lot of power outages as well. A total of 1,093 customers are without power, and about half of those were reported just before 1:30 a.m. Friday.
Fewer outages were reported in northwest Rapid City early Friday. About 100 customers in that area were without power . 
"It's been a challenge," Mutch Usera, senior manager of external affairs for Black Hills Power said Friday. "The stress from the snow is causing extreme weight and the lines can snap."
He said there are three key challenges with this storm: The leaves on trees and dead pine beetle trees, the  heavy snow and wind conditions.
He said the crews work to fix the issues that are the easiest and quickest to fix, and work there way to the hardest
"We have snow cats and ATVs that can get us in to some of those areas," he said. "Sometimes we have to wait until snow lightens so we can get in there and assess the damage in specific areas."
"That's why it's really hard to tell customers when restorations will take place," Usera said.