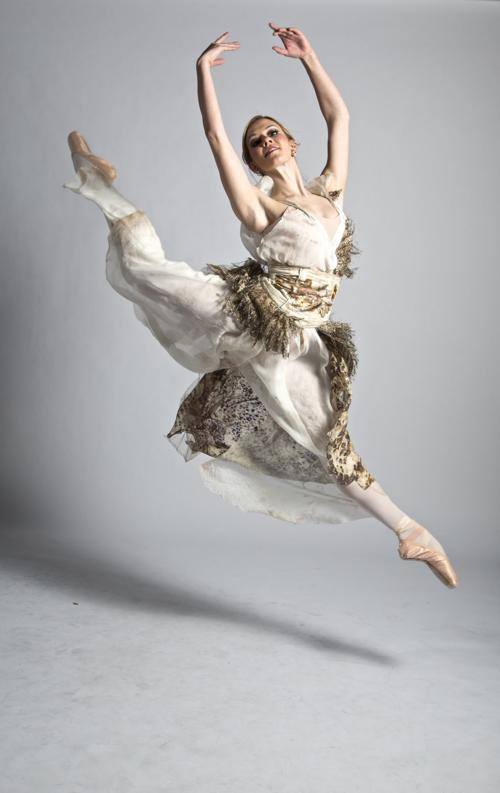 The COVID-19 pandemic has slowed, but not discouraged, Madeleine Scott from her dream of bringing dance to every part of South Dakota.
Scott, 24, is a trained ballet dancer and choreographer who launched South Dakota Ballet, the state's first professional ballet company. The nonprofit company marks its one-year anniversary in May. South Dakota Ballet is based in Sioux Falls but Scott's mission is to offer performances and classes statewide.
South Dakota is the last state in the nation to have its own professional ballet company, Scott said. She launched South Dakota Ballet in hopes that up-and-coming dancers will not have to move elsewhere to pursue the training they want, noting that many dancers who leave never return.
A native of Beresford, Scott started taking ballet classes there. At age 13, she went to Philadelphia to begin pre-professional dance training at the Rock School for Dance Education classical ballet school.
"There have been many times where I wanted nothing more than for my family to be able to see a certain performance … but there was not a company in South Dakota for me to dance in," Scott said. "I gave up my family, my friends, high school football games, you name it. Living far away in Philadelphia, I was lonely but I knew it was the sacrifice I had to make if I wanted to become a professional ballerina."
Scott's professional dance training includes the School of American Ballet, American Ballet Theatre, Chautauqua Dance Festival, Ballet West Academy Trainee Program, Ellison Ballet, Jose Carreno Dance Festival, Cecchetti Council of America Summer School, and private training. While earning her degree in ballet at the University of Utah, Scott began planning South Dakota Ballet. She has performed professionally with companies such as Ballet West, Aspen Santa Fe Ballet, L.E.D. Boise and Sacramento Ballet.
Scott hopes South Dakota Ballet will inspire, educate and connect those who dance, those who like to watch dancing, and perhaps even those who've never danced.
"East River folks are talking about (South Dakota Ballet) and I hope that West River communities will also see this as a huge accomplishment for our state," Scott said. "I want all dance studio owners statewide to feel involved. … I hope this will be an asset and something that complements other (dance training)."
While in-person events aren't possible now, Scott encourages anyone interested in dance to interact with South Dakota Ballet on Facebook and Instagram.
"Following us on social media is a huge component," Scott said. "We want people to send us a message about why you're excited to start building a community. That way we keep each other centered on the focus of dance."
She hoped to introduce South Dakota Ballet with a gala this summer featuring professional dancers from some of the nation's top ballet companies. Though the live event has been cancelled because of COVID-19, Scott said she wants to host a virtual event in June instead.
"I would still like to try to put something soothing together to bring inspiration and beauty to everyone. That is our responsibility as an arts organization," Scott said.
In April, Scott collaborated with professional dancers to offer online classes, and more will be coming.
"Accessibility is a huge priority. … We will be doing some different virtual workshops. That's one of the beautiful things coming out of COVID-19. In the face of crisis, we're sparked with great creativity, especially arts organizations," Scott said. "The stars of the gala were going to offer local classes. In place of that, we're brainstorming virtual events. Everyone can expect to see us forging on to offer opportunities."
When in-person classes and performances are possible again, Scott said plans are for South Dakota Ballet to offering training and performances.
"We intend to be a touring company across the state of South Dakota. We do intend to travel to Rapid City with our productions and we hope to do that as early as next summer. However, with COVID-19 that might have to be put off until summer 2022," she said.
Initially, Scott said the touring company will be composed of professional dancers from some of the biggest companies in the world.
"For the gala, we had New York City, Miami, San Francisco and Boston ballet companies and they have expressed their desire to come for longer," Scott said. "In the summer, there's no work (for dancers) so we would be filling a huge gap and accessing the best of the best."
"We also will be starting a training division for (advanced division) dancers here in South Dakota who are at all these studios (in the state). They would have a chance to audition and perform with the intention of funneling these dancers into our main company," Scott said. "One of our missions is to be advocates for dancers and provide amazing work conditions. I really think in South Dakota we're capable of doing that."
South Dakota Ballet is fundraising now to be able to pay dancers in its touring company, and to buy equipment such as a portable sprung floor that dancers can perform on safely, no matter where in the state they are.
Scott also wants South Dakota Ballet to have an outreach program tailored for people who have never experienced dance of any kind.
"Educational programming is huge. I really want to see that take off in West River and statewide," Scott said. "I hope this organization will really connect us as a state."
Concerned about COVID-19?
Sign up now to get the most recent coronavirus headlines and other important local and national news sent to your email inbox daily.