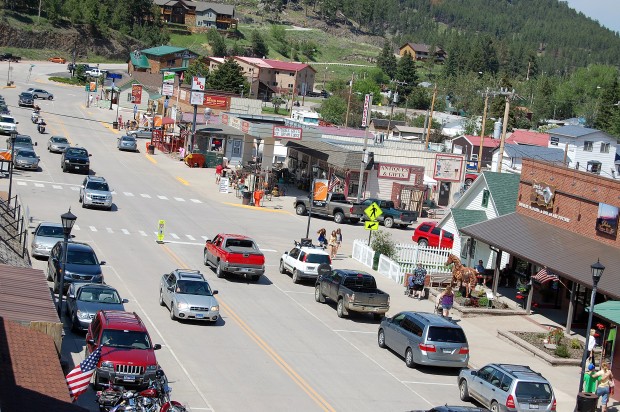 HILL CITY -- Business owners on Hill City's Main Street are used to the sound of gunshots ringing out in the early evening. Multiple times every week during the tourist season, the Dakota Wild Bunch Reinactors would stride out onto the pavement and wage a mock gun battle to entertain the crowds and raise money for charity.
So when Friday's Old West gun show went wrong, it took people a while to notice.
"We didn't really think anything of it, until everyone was standing on the corner," said Chelsea Walton, an employee at the TurtleTown ice cream shop just dozens of feet away from the incident, at the corner of Main and Elm streets. "We just happened to look out the window, and the ambulance was there, the sheriff was there."
Three spectators -- all of them out-of-state tourists -- were injured and were taken to Rapid City Regional Hospital. By Saturday evening, both Jose Pruneda of Alliance, Neb., and John Ellis of South Connellsville, Penn., had been discharged. The third victim, Carrol Knutson of Birchwood, Minn., was listed in fair condition.
Specific details about what went wrong remain unclear. Lt. Marty Graves of the Pennington County Sheriff's Office said the investigation is continuing and that more details would be released when they became clear. Graves said the incident appears to be accidental.
A member of the Reinactors, contacted by Facebook, said law enforcement had asked them not to talk about the incident until the investigation was complete.
Mark Raderschadt, assistant chief of the Hill City Fire Department, responded to the scene as an ambulance driver. Raderschadt arrived to see blood on the street and the bandaged victims being loaded into ambulances headed for Rapid City.
"A lot of people -- just kind of in shock and disbelief," Raderschadt said. "I didn't see a lot of ... anxious behavior, no panic. Just a lot of people wondering what was going on."
Shelley Bail, a waitress at the Hill City Cafe near the scene, said many people reacted not by running away but by running toward the incident to see what had happened.
Other witnesses laughed it off.
"People were kind of joking about it," Moni Matush, owner of the nearby Alpine Inn restaurant, said of witnesses who came into her restaurant after the incident. "I was almost sort of offended, thinking, 'I think this is serious.' People were kind of giggling about it, saying, 'They got shot at an Old West shootout in South Dakota.'"
The re-enactors had been performing their shootout on the streets of Hill City for years before Friday's incident. Recent years had been free of any accidents, but Friday wasn't the first time someone got hurt watching a Hill City gun show re-enactment.
Kyle Poulain, originally from Hill City and now of Clearwater, Fla., said he suffered a forehead wound while watching a show sometime around the summer of 2001.
"Me and a friend were sitting there watching it and got shot, right in between my eyes in the forehead," said Poulain, 23. "I pulled my hands away, and the blood just starts coming out."
The doctors told Poulain he had been injured by the wad inside the firearm, which had been propelled forward instead of disintegrating because there was too much powder in the barrel.
At the time, Poulain said he and his parents didn't make an issue of it.
"They were afraid if we made a big deal out of it, it would hurt the city because they get a lot of tourists from it, so they didn't pursue it any more," he said.
Poulain said he wasn't sure if it was the Dakota Wild Bunch or a different group of re-enactors who had been performing when he was injured.
The gun battle re-enactments performed multiple times daily in Deadwood are by a professional group, the Deadwood Live Gunslingers, not volunteers like the Dakota Wild Bunch.
Randy Christensen, director of the Deadwood Live Gunslingers, said his group follows an exhaustive list of safety precautions to avoid injury.
"We don't come close to the audiences," Christensen said. "We have a safety director that choreographs any time we are using a firearm."
The Deadwood Live Gunslingers stay 25 feet back from the audience, well beyond the 15 feet that Christensen said is "safe as can be."
The Deadwood group also has a dedicated "loading captain" who loads all of the guns, rather than members loading their own.
It isn't clear what safety precautions were taken by the Dakota Wild Bunch, who declined to comment until the completion of the investigation.
The Hill City gun battle scheduled for Saturday night did not take place, and the future of the re-enactments is in question. Brenda Nolting, president of the Hill City Chamber of Commerce, said that as far as she was concerned, "there won't be another shootout."
On their Facebook page, the Dakota Wild Bunch wrote that there would be no more shootouts in light of the incident, though that post was taken down at some point Saturday evening.
"Our primary concern is for the people that were injured and their families," Nolting said. "We're just waiting to find out what happened."
Be the first to know
Get local news delivered to your inbox!