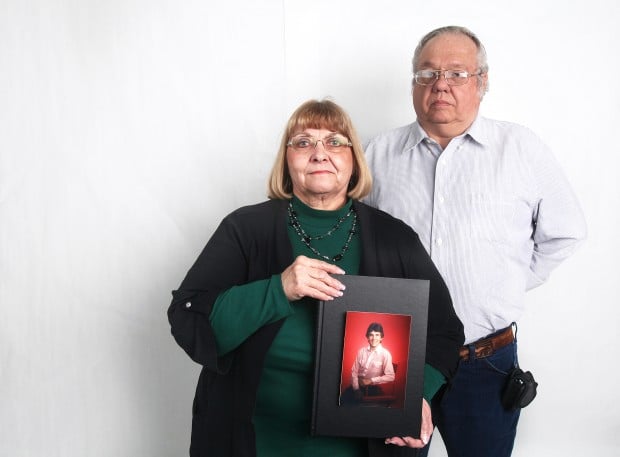 Ed and Peggy Schaeffer are planning today – the anniversary of their son's death – to place a token of remembrance near the building where he lost his life after walking into a burglary at a doughnut shop on West Main Street.
To his parents, Donnivan Schaeffer will always be their smiling, curly-haired 22-year-old son.
Although a jury sentenced him to death in 1993, the man the Schaeffers refer to as "the perpetrator" has remains alive due to repeated appeals that have tested the couple over and over again.
"You don't know how much faith you have until you need it," said Donnivan's father, Ed Schaeffer. "He was a good kid."
For parents, they said, there is no closure when a child is suddenly taken away by a violent act.
"That does not exist," Peggy Schaeffer said, speaking about the younger of their two sons. "He's always with us. There is never any end."
After their son's murder, the Schaeffers said they existed for months in a "frozen mode."
Then there was the stress that came from watching the trial and sentencing.
"One little screw up and we would have been back to trial again, but everything that Dennis Groff did was absolutely right on or they would have been able to get a new trial," Ed Schaeffer said.
Peggy Schaeffer recalls sitting through the trial scanning the defendant's face for any sign of remorse.
On the trial day the mother refers to as "picture day," when crime scene photos were shown, a brief smile passed across Rhine's face, she said. That is when she realized "there is no remorse. We're not going to get it."
You have free articles remaining.
While the Schaeffers welcomed the jury's death sentence, the verdict suddenly thrust them into new positions as only the second victims in the state waiting for an execution.
Donald Moeller was sentenced to death for the 1990 rape and murder of 9-year-old Becky O'Connell. Moeller also awaits his fate on Death Row.
Over the past two decades, the couple has attended every hearing held in South Dakota that concerned Rhines' appeals.
They have testified numerous times before the Legislature, most recently this year during the consideration of a bill limiting defendants' habeas corpus appeals that have helped their son's killer delay his execution. The Legislature approved the bill and it was signed by Gov. Dennis Daugaard.
When 7th Circuit Judge John Konenkamp issued the death sentence, the Schaeffers were told appeals could take up to 15 years.
The state has not had a lot of experience in dealing with death penalty cases, which may have slowed the legal process, Peggy Schaeffer said.
South Dakota has five men on Death Row – Moeller, Rhines, Briley Piper, Eric Robert and Rodney Berget.
The Schaeffers have accepted that the legal system gives preference to defendants' rights.
"But we can't get mad about it, because that's the way the system works," Peggy Schaeffer said. "You have no control there. You have to let the system work itself out."
As recently as last week, the state attorney general's office filed a motion to dismiss Rhines second habeas corpus appeal.
Should the latest appeal go beyond July 1 when the new law limiting habeas appeals takes effect, Attorney General Marty Jackley believes Rhines' appeals finally will be exhausted.
And then, a judge can set a new execution date that could ultimately give Donnivan Schaeffer's his family the justice they have sought for 20 years.