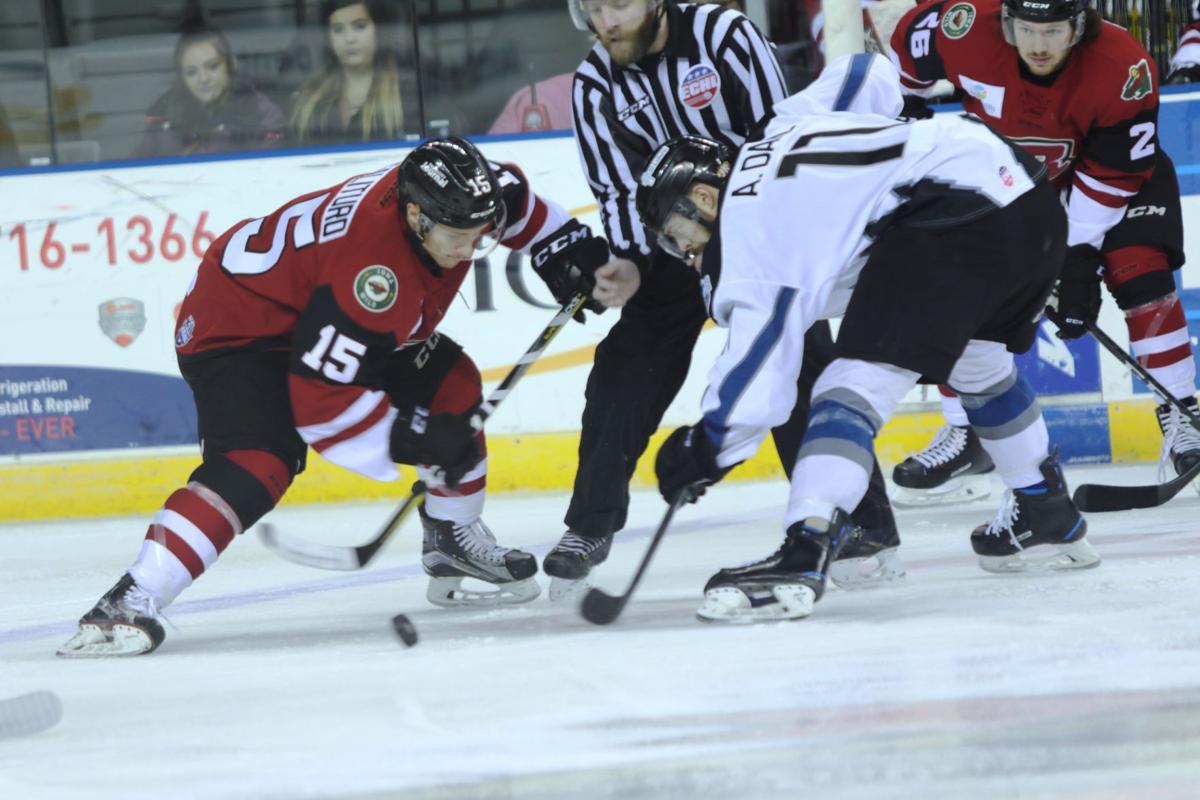 After taking two of three from Mountain Division leader Allen last week, the Rapid City Rush stumbled a bit on Monday night falling 3-1 on the road to seocnd-place Utah in the first of a two contests before finishing up with a pair of games over the weekend at third-place Idaho.
The lack of offense in the Monday night loss — and a total of five goals in the last five games — prompted a couple of trades on Tuesday and Wednesday as the Rush seek to hang on to its current fourth and final playoff spot in the division, while looking to earn a spot in the ECHL Kelly Cup playoffs for the first time since the 2014-15 season.
On Tuesday, the Rush acquired centerman Dante Salituro from the Worcester Railers in exchange for forward Tyler Poulsen and defenseman Myles McGurty. And on Wednesday, Rapid City signed forward Garrett Milan from the SPHL's Pensacola Ice Flyers.
"We needed some offensive help, so to get a guy like Dante, who is almost at a point a game clip guy at the ECHL level, is huge for us," Rush coach Danny Tetrault said. "I coached him two years ago (Salituro tallied 23 goals and 48 points while appearing in 53 games with the Rush in the 2017-18), and he's familiar with my system and is super-pumped to be back in Rapid City. He's a great skater and a strong centerman, which we needed as well."
Salituro is expected to center an explosive line with Rush captain Peter Quenneville and Brennan Saulnier.
"I've known Dante for quite a while, actually going back to our days in Travers City (junior hockey) together, so I know his game well," Quenneville said. "He's got a good shot, good hands and can make plays. He's a dynamic player who can buzz around the ice so we are excited to have him. He will bring some much-needed creativity and offense."
Heading into the final 20 regular-season games (19 after Wednesday night's 2-1 overtime loss in Utah to the Grizzlies), the Rush are hoping to regain the offensive firepower and mojo that characterized early season play, a situation complicated since by injuries and frequent player movement.
"Guys have been in and out of the lineup for the last month or so and with Salituro coming in hopefully we will get some continuity in our lineup," Tetrault added. "We haven't had set lines with guys moving in and out of the lineup and that has affected us offensively and made it hard to get some chemistry going on the power play."
Though newcomer Milan's specific spot in the Rush rotation is uncertain, the left-handed shooter comes to the Rush after having led the Ice Flyers in virtually every offensive category.
Shoring up the defense down the stretch, particularly in terms of third-period goals allowed (a 74-53 disadvantage in the final frame), will be critical though Rush assistant coach, Jeremy Gates, pointed out that inexperience sometimes plagues the young Rush squad.
"I think it has to do with the fact that we don't have any veterans on our team, and it continues to be a learning process for us," Gates said. "There have been times when our goaltending maybe hasn't been the best, but overall the goaltending hasn't really been a major concern for us. I really think it comes down to dialing up the little details and maintaining the work ethic. Back checking, going hard to the net. Do those things consistently and rewards will come. Just be consistent and do the little things and we will be back to playing out best hockey."
Quenneville shared that same optimism.
"I think we have a chance to have a top six and a sold bottom four with guys playing in their right positions and able to play their own game," the captain said. "Offensive guys doing their thing. The guys who are physical playing with energy and getting into people's faces. When we do that everybody's game kind of meshes. And now by adding the depth we haven't had in a while should make us an exciting team down the stretch."
Be the first to know
Get local news delivered to your inbox!