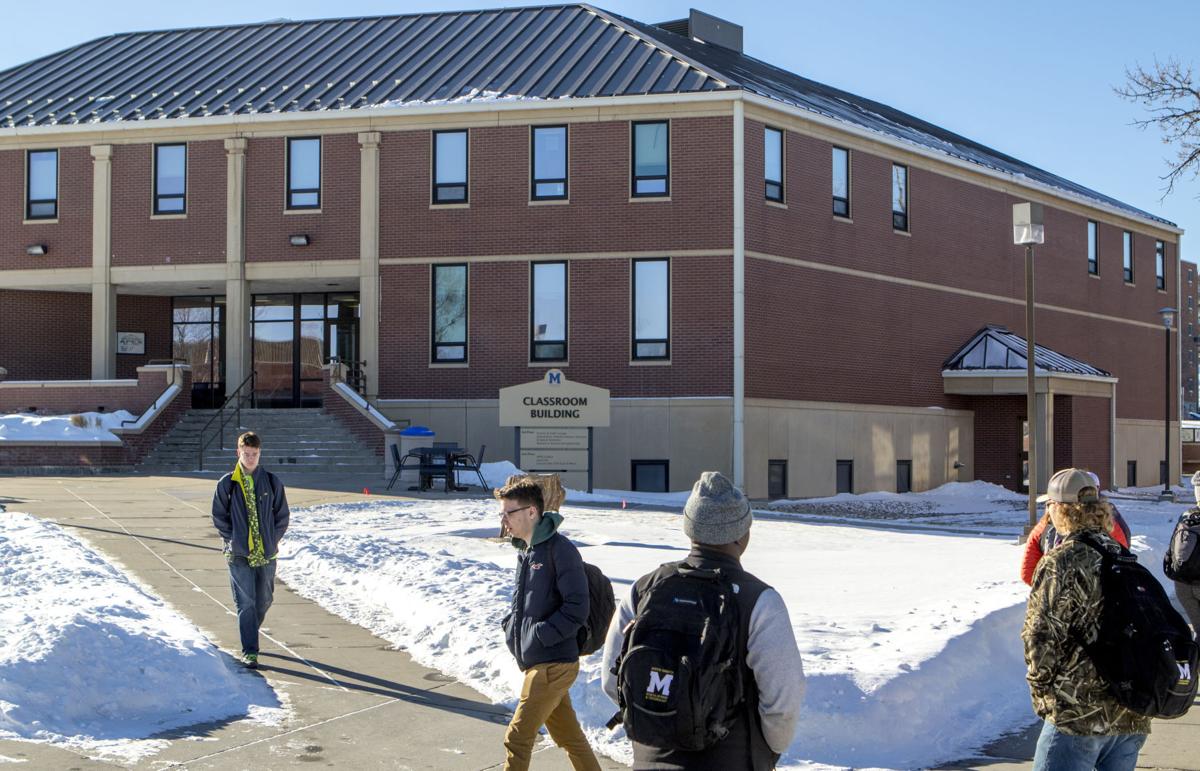 White supremacist posters have appeared in recent days on the campuses of Black Hills State University and South Dakota School of Mines & Technology as part of a national recruitment campaign orchestrated by a group called Identity Evropa.  
The Southern Poverty Law Center — a nonprofit that monitors and combats hate groups in the U.S. — classifies Identity Evropa as one of several white nationalist hate groups associated with the so-called alt-right that have begun targeting college campuses recently.
"They're trying to bring young people, educated young people, into the movement," said Mark Potok, senior fellow at the Southern Poverty Law Center, adding that there have been 66 recorded appearances of white supremacist posters in the past year.
Potok said his group has seen a rise in white nationalist activity since the election of President Donald Trump. Attacks or threats against Jewish cemeteries and community centers also have spiked recently, according to national media reports.
"The alternative right is essentially a rebranding for public purposes of the white supremacist movement. These groups tend to be more suit-and-tie-groups that avoid the Klan robes and swastika armbands."
Campus officials have decried the Identity Evropa posters in recent days.
"We are not sure who posted them," said Corinne Hansen, director of university and community relations at BHSU. "It's disappointing that groups of hate would come to our campus. Black Hills State University is better than that."
A spokesperson for the School of Mines said in a written statement that the posters "were posted without following the process for approval and have been removed."
On Friday evening, School of Mines President Heather Wilson sent an email to all students that said, "no poster hung in the dark of night will change the fundamental decency of who we choose to be."
"The appropriate response to an objectionable idea," Wilson said, "is a better idea articulately conveyed. It is to reach out to our friends and colleagues and students and let them know — very explicitly — that we are glad they are here."
The posters at BHSU and the School of Mines included images of Greek and Roman statuary with captions like, "Serve your people" and "Protect your heritage." In a picture posted on Twitter, Identity Evropa identifies the location of one of the posters as BHSU, though the buildings in the background are on the School of Mines campus.
"The fact that the social media pictures showing these posters misidentified the university suggests to us that they were not posted by Mines students, or anyone who knows Rapid City," read the statement from Mines.
A spokesperson for Identity Evropa said he knows there is support for the group's message in South Dakota.
"We have quite a few members in South Dakota," said Reinhard Wolff, director of administration of Identity Evropa, in an email to the Journal.
The purpose of the posters, Wolff said, is to "counteract the Leftist, anti-White indoctrination that passes for 'education' in contemporary American universities."
Potok said one goal of poster campaigns is to stir controversy for its own sake.
"They get a hell of a lot of bang for their buck when they do this," Potok said of the posters. "You get up at 2 in the morning and paste some posters and almost invariably it causes a big hubbub in the community and local media. It seems like they're doing more of this fliering than any real bona fide organizing on college campuses. Their main strength seems to be provoking outrage."
Wolff said Identity Evropa is engaged in a "culture war" to create a U.S. that is "90 percent white."
"We would also like to enjoy freedom of association and put an end to all anti-White hate speech, rhetoric, and policies," he said, adding that he has high hopes President Donald Trump will help accomplish this vision.
"Aside from the mass re-migration of illegal aliens, we would like Donald Trump to limit legal immigration to reflect America's traditional demographics — in other words to, other white countries."
Identity Evropa has become a national group since its founding in March 2016 by Nathan Damigo, a 30-year-old undergraduate student at Cal State Stanislaus. According to a story in the Los Angeles Times, Damigo once said to an ethics class at Cal State that he sees Native American reservations as a kind of ideal that white people should aspire to.
"Even though horrible things did happen to the indigenous people … there was land set aside where they could be who they were and express themselves how they wanted to, and they could have a form of government that reflected them," Damigo said. "And I think that is something that we want."
A former Marine corporal, Damigo is reported to have adopted white nationalist ideology while imprisoned for five years for armed robbery. In November 2007, he was charged with pressing a gun to the head of a cab driver he thought was Iraqi and robbing the man of $43, according to press reports.
Damigo, who did not respond to multiple requests for comment, often dresses in suits and keeps his hair slicked back in an undercut style that Wolff said is referred to by members of the alt-right movement as "the Spencer" in a nod to the white-nationalist Richard Spencer of the National Policy Institute, another alt-right group.
The clean-cut Damigo and Spencer are typical of a surface level rebranding trend in the white supremacist movement that Potok says is on the rise.
"Nathan Damigo and people like him are doing their very best to pretend they are real intellectuals struggling with real problems," Potok said. "Nathan Damigo is a guy who dresses up old-line Klan ideology in the fancy robes of academia. I think what people need to understand is that this is old wine in new bottles. The fact that these guys are wearing three-piece suits and have nice haircuts shouldn't fool anyone into thinking that their ideas are any more legitimate than those of the Ku Kux Klan in the 1960s."
There are 917 hate groups in the U.S, a number that rose for the second year in a row in 2016, up from 892 in 2015, according to information on the Southern Poverty Law Center website.
"I think we've seen a kind of unleashing of the forces of the radical right," Potok said. "These people believe they have been brought into the mainstream by the Trump campaign in ways that seemed impossible for decades."
Wolff said his group decries violence, but as the number of hate groups like Identity Evropa has risen, so too has the number of hate crimes, especially in the month following the election of Trump. In the 34 days following Trump's victory, the Southern Poverty Law Center recorded 1,094 hate-related incidents from around the country.
"With every wave of immigration in America," Wilson said in her email, "some have promoted the fiction that the only ones who belong here, the only ones who really contribute to this remarkable country, the only 'real' Americans, are people who look and sound and speak and pray like the person we see when we look in the bathroom mirror in the morning. But when we set aside our fears and our pride, and look around us, we know that's just not true."  
I think what people need to understand is that this is old wine in new bottles. The fact that these guys are wearing three-piece suits and have nice haircuts shouldn't fool anyone into thinking that their ideas are any more legitimate than those of the Ku Kux Klan in the 1960s.

— Mark Potok, senior fellow at the Southern Poverty Law Center