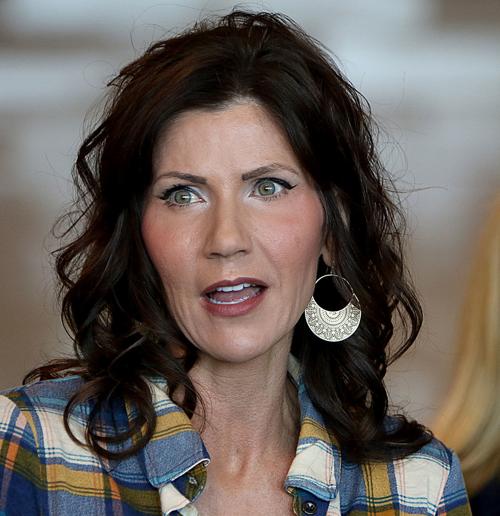 SIOUX FALLS — South Dakota Gov. Kristi Noem is developing a plan to use some of the $1.25 billion in federal coronavirus relief funds to pay state employees' March salaries and balance the budget, in case the Trump administration doesn't allow her to use the money to plug revenue shortfalls.
Liza Clark, the commissioner of the Bureau of Finance and Management, told lawmakers Wednesday that the Republican governor is considering using the relief funds for highway patrol troopers, judges and prison nurses, among others, as well as hazard pay bonuses for state employees who have been under stress as they responded to the pandemic. That would allow state government officials to put the money for those salaries towards making up losses in tax revenue, Clark said.
Noem has not released a complete plan on using the funds as she awaits further guidance from the Treasury Department on how to use the money. It has already stipulated that the expenses have to be related to the coronavirus response, cannot be already accounted for in the budget and have to come from March.
Noem said Tuesday she would prioritize health care, small businesses, education and local governments.
"In the meantime, we're trying to find ways that they have given us a lot of leniency," Clark said.
Noem's plan didn't sit well with some lawmakers.
Taffy Howard, a Rapid City Republican, called the hazard pay bonuses for state employees "ridiculous" because those employees did not have to risk exposure to the virus.
She said she was frustrated because the administration is doing "everything possible to spend every single penny of that $1.25 billion" when national debt is climbing.
Clark said employees have worked long hours over holidays as they scrambled to respond to the coronavirus.
Michael Saba, a Sioux Falls Democrat, was concerned about a lack of oversight on how the funds are being used. The state planned to launch a website to detail expenditure. Saba said he has not had access to much information from the state.
Meanwhile, Monument Health, the largest hospital system in the western part of the state, warned that they expect coronavirus infections to grow rapidly in the coming weeks. It said the region has experienced a low number of infections so far, but as people adhere less to social distancing, a surge is likely.
"Monument Health is prepared for this potential surge, but it will certainly stretch capacity from both a space and staffing standpoint," it said in a statement.
Health officials reported four new deaths from COVID-19 statewide, along with 57 new cases. The new deaths bring the state's toll to 54. The people who died were in their 30s, 50s and 60s and came from Minnehaha, Todd and Brown counties.
An employee at a Jack Link's Protein Snacks plant in Alpena also died after contracting COVID-19, according to the company, but that death does not appear to be reflected in Wednesday's update. Health officials wait until a death certificate has been issued to announce a death, resulting in a delay of several days.
The state's tally of confirmed cases rose to 4,710 people, but health officials say the number of infections is likely higher because many people may not display symptoms or have not sought testing for mild symptoms.
For most people, the coronavirus causes mild or moderate symptoms, such as fever and cough that clear up in two to three weeks. For some, especially older adults and people with existing health problems, it can cause more severe illness, including pneumonia.
Concerned about COVID-19?
Sign up now to get the most recent coronavirus headlines and other important local and national news sent to your email inbox daily.