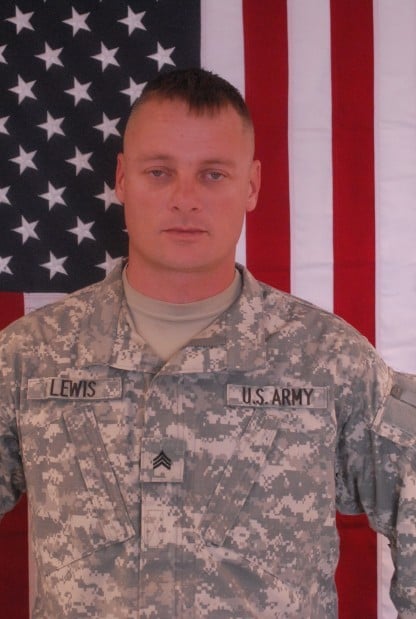 A Rapid City mother heard the ring of a doorbell this weekend that every military family dreads.
At the door were members of the Army's casualty notification team with news that her son Lex had been killed Friday while fighting in Afghanistan.
"I never dreamt I'd hear that sound and open the door to that news," his mother, Betty Lewis of Rapid City, said Sunday. "He was a wonderful son. I'm so proud of him."
Sgt. Lex Lewis, 40, of Rapid City was a cavalry scout with the 1st Squadron, 10th Cavalry, 2nd Brigade Combat Team, 4th Infantry Division, out of Fort Carson, Colo., supporting Operation Enduring Freedom.
Lewis died from injuries suffered Friday, when insurgents attacked his unit with small-arms fire in Farah province, Afghanistan.
The U.S. Department of Defense announced his death Sunday.
Lewis is the second service member from Rapid City to die in the wars in Iraq and Afghanistan, and the 24th South Dakotan killed since 2001, according to Defense Department records.
After attending Rapid City Central High School, Lewis, a Rapid City native, started his military career in the Navy and was stationed in Japan. After finishing an enlistment, he immediately enrolled in the Army in 1999.
"He absolutely loved the Army, and the Army life fit him well. He wanted to serve his country," Betty Lewis said Sunday. "He just liked being a soldier. He played Army when he was little boy all the time, and this is what he wanted to do."
After a first tour in Iraq from April 2003 to July 2004, Lewis returned to Rapid City, where he worked as a security guard at Ellsworth Air Force Base. Soon after, he re-enlisted in the Army and deployed on a second tour to Iraq, from September 2008 to September 2009.
Lewis was on his first deployment to Afghanistan with the unit that deployed only last month. He is the brigade's first casualty.
The 3,800-soldier 2nd Brigade deployed to Afghanistan in June, replacing the 1st Brigade Combat Team, according to a report in the Colorado Springs Gazette. It is working in Farah province, in western Afghanistan, near the Iranian border, to clear out insurgents. The unit has been working with NATO partners including Italy and Spain.
Lewis is survived by his mother, Betty, his wife, Molly Lewis, and a 6-year-old stepdaughter, Ariel, both of Colorado Springs, Colo. Lewis has a stepbrother, Frank McCormick of Kaysville, Utah, and a half-sister, Lacy, of Florida.
South Dakota governor Dennis Daugaard offered condolences Sunday afternoon after hearing of Lewis' death.
"It is a tragedy to lose Sgt. Lewis, and my deepest sympathies go out to his loved ones," Daugaard said in a prepared statement. "Many brave men and women risk their lives, every day, to protect our freedoms, and we grieve each time one of these heroes makes the ultimate sacrifice. Linda and I are praying for Sgt. Lewis' family, and for the safe return of all those who serve our nation overseas."
Lewis's decorations include the Army Commendation Medal, Army Achievement Medal, NATO Medal, Iraq Campaign Medal, Global War on Terrorism Expeditionary Medal, Global War on Terrorism Service Medal, Afghanistan Campaign Medal, South West Asia Service Medal and National Defense Service Medal.
Preliminary obituary information for Lewis appears on Page A8 of today's Journal. 
Arrangements are pending with Kirk Funeral Home for a service in Rapid City.