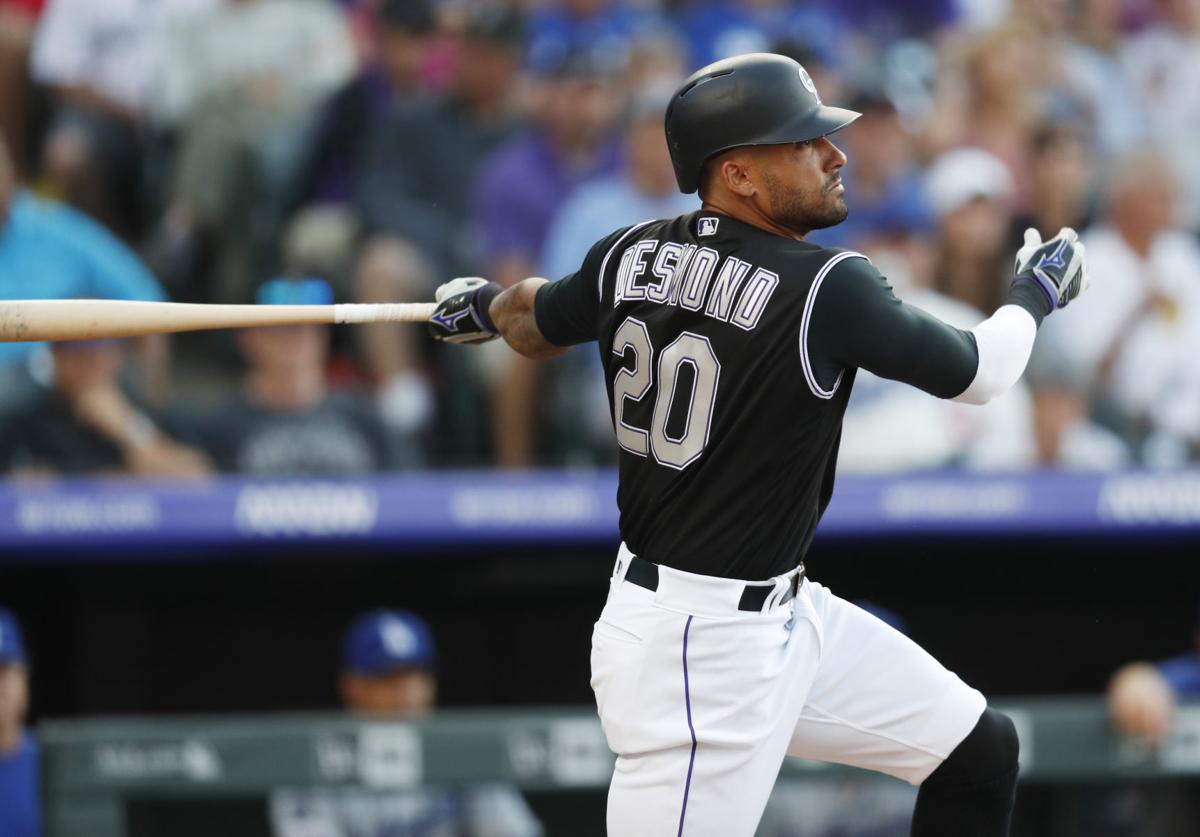 DENVER — Colorado Rockies general manager Jeff Bridich says he supports Ian Desmond's decision to sit out the 2020 season to focus on his young family and help rejuvenate youth baseball in his hometown in Florida.
Bridich says he had a pair of recent conversations with the 34-year-old outfielder who announced his decision in a lengthy and heartfelt Instagram post Monday night.
Desmond wrote that the "COVID-19 pandemic has made this baseball season one that is a risk I am not comfortable taking." The biracial slugger also mentioned a myriad of issues within baseball, including sexism, homophobia and socioeconomic concerns, as well as the racial reckoning that emerged after George Floyd's death while in police custody in Minneapolis sparked protests around the world.
"The conversations with Ian felt the exact same that his written words feel to me," Bridich said, "which is from the heart and honest. ... I did not know that he was going to write something as thoughtful and as comprehensive as (he did) but I'm not surprised."
Desmond, who hit .255 with 20 homers in 140 games last season, had been due $5,555,556 for the prorated share of his $15 million salary, part of a $70 million, five-year contract. He is owed $8 million next year, and his deal includes a $15 million team option for 2022 with a $2 million buyout.
Opting out this summer doesn't affect his 2021 status, nor does it affect his relationship with Bridich.
"Ian is extremely thoughtful in what he does, he's thoughtful in how he prepares as a professional athlete, he's thoughtful as a husband and a father ... he's thoughtful about things that are bigger than him," Bridich said. "And to this point, the reference has been the team or the clubhouse or the locker room, or things that affect the organization, his charity work, passion projects of his outside of the game of baseball.
"He's willing to devote a lot of time and energy and thought to all of the things that he does. And so when you have somebody like that who is a professional athlete who is in the thick of it every day and trying to do the very best that he can to hold up his end of the bargain as an athlete, a teammate, a performer and then he's always willing to think about other people on the team, in the organization and outside the organization, it's easy to gravitate to people like that."
Desmond complained about a lack of diversity in baseball and criticized the clubhouse atmosphere, saying it includes racism, sexism and homophobia. Bridich said Desmond didn't complain specifically about the Rockies' clubhouse, but Bridich did acknowledge the organization could be more diverse.
Minor leagues cancel 2020 seasons
ST. PETERSBURG, Fla. — Baseball's minor leagues canceled their seasons on Tuesday after Major League Baseball decided not to provide any players to its affiliated teams amid the coronavirus pandemic.
The National Association of Professional Baseball Leagues, the minor league governing body, made the long-expected announcement. The Professional Baseball Agreement between the majors and the minors expires after this season, and MLB has proposed reducing the minimum affiliates from 160 to 120.
MLB already had told clubs to retain expanded 60-player pools, of which 30 players can be active during the first two weeks of the season starting in late July.
"These are unprecedented times for our country and our organization as this is the first time in our history that we've had a summer without minor league baseball played," National Association president Pat O'Conner. "While this is a sad day for many, this announcement removes the uncertainty surrounding the 2020 season and allows our teams to begin planning for an exciting 2021 season of affordable family entertainment."
Be the first to know
Get local news delivered to your inbox!