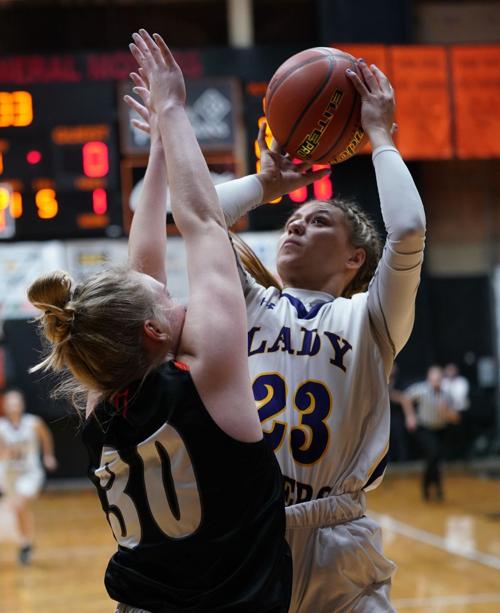 Dale Pine Jr. didn't want to see the Lakota All Star Boys and Girls Basketball Games go by the wayside for a second straight year, and he said that watching the state basketball tournaments on television lit a fire in him.
He just needed to find a gym.
Now in its second year, the all-star games will be April 24 at the Barnett Arena of the Rushmore Plaza Civic Center. The girls' game will tip off at 6 p.m., followed by the boys at approximately 8 p.m.
"It kind of came together in the last minute and it was simply by watching the state tournament," Pine said. "It took a lot of work, a lot of connections reaching out to people that I both knew and was meeting for the first time. I'm glad that we got it done, and I think a big testament is to the fact that there hasn't been a lot more for kids to do, especially for the Native kids on the reservation. That really helped get a good pool of talent."
Along with players from South Dakota, other players are coming from Wyoming, Nebraska, North Dakota, Kansas and even Florida.
The roster for Team Hehaka boys includes: Elijah Andrews of Wellington, Fla., Peja Cook from Lander, Wyo., Alex Cournoyer from Wagner, Jordan Eberlein from Rapid City Stevens, Cinch Hebb from Dupree, Dillan Hereford from Lander, Josef Long Soldier from Lakota Tech, Cyrus Makes Him First from Flandreau Indian, James Richards from Big Horn, Wyo., Ashaun Roach-Valandra from Dell Rapids St. Mary and brothers Julian Swallow and Micah Swallow from Rapid City Central.
Team Tatanka boys roster includes: Jarron Big Horn from Red Cloud, Cadell Brunsch from Hay Springs, Neb., Chuckie Cottier from Lakota Tech, Israel Defender from Marty Indian, Jakob Dobney from Vermillion, Kenyon Easter from White River, Spence Moran from Dupree, Colbe Scott from White River, Derek SoundingSides from Ft. Washakie, Wyo., Devon Spotted War Bonnet from St. Francis/Todd County, Tahj Two Bulls from Sioux Falls Washington, Jesse White from White Shield, N.D., and Alex Zephier from Dakota Valley.
The Team Anpo girls' roster includes: Talaiah Bear Killer from Bennett County, Jaden Ferris from Wyoming Indian, Wyo., Lacey Few Tails from Pine Ridge, Maria Gallardo from Tiospa Zina, Caleigh Little from Lower Brule, Francesca Ross from Mandaree, N.D., Quentina Standing Soldier from Crazy Horse, Inila Ware from Lander, Dorianna White from Wyoming Indian, Cheyenne Whiting from Little Wound and Caelyn Valandra-Prue from White River.
The Team Wicahpi girls' roster includes: Raven Barse from Corsica-Stickney, Maddie Cleveland from Winnebago, Neb., Chernessa Cournoyer from Marty Indian, Jolynn Fighting Bear from Wyoming Indian, Mahpiya Irving and Wakiyan Wi Irving, both from Royal Valley, Kan.; Zoe Long Solider from Bennett County, Amia Roach-Valandra from White River, Deja Roberts from Crazy Horse, Madison Wells from Lower Brule and Kenya Merrival from Rapid City Stevens.
This is the second all-star game, with the first in 2019 at the Loneman School in Oglala.
"The girls' game down to the wire and the boys' game went into overtime," Pine said. "We really wanted to keep the girls involved and get as many involved as possible, so we made sure we had a boys' and girls' game."
Tickets will be $10 for adults and $5 for students. Masks are required. There will be a 3-point contest and boys dunk contest following the girls' game.
The 1983 Pine Ridge girls' team and Devona Lone Wolf will be honored at halftime of the girls' game.
There will be a special presentation in honor and memory of Beau DuBray prior to the boys' game. The 1995 Red Cloud boys' team will be honored during halftime.