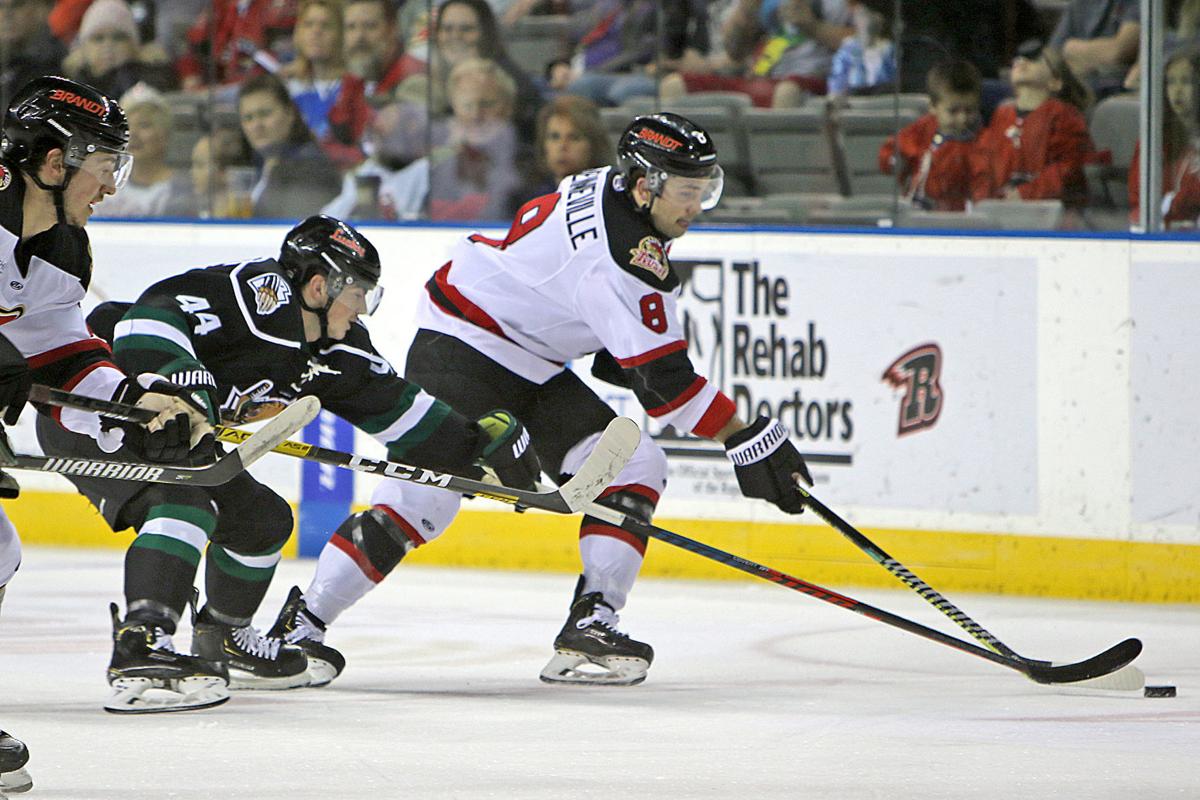 In continuance of what has been an unparalleled week in the world of sports in the United States and elsewhere, the ECHL announced on Thursday that due to health concerns related to the COVID-19 pandemic, all hockey operations have been suspended immediately until further notice.
"As the on-going developments regarding COVID-19 in North America continue and precautionary measures ensue to prevent the spread of the coronavirus, the ECHL has suspended the 2019-20 Season for the safety of our Fans, Players and Employees," the ECHL announcement stated. "The ECHL and its member teams continue to work with national and local health officials and local governance to monitor the situation. In the interim, we encourage those in the ECHL community to take precautions and stay safe during this time."
Todd Mackin, Rapid City Rush President, remained hopeful Thursday that league play may resume at some point, though emphasizing that health concerns are of utmost importance at this time.
"I'm hoping it will be," Mackin said. "That's the hope and the goal, but we have to follow the NHL lead on this, and when the NHL suspended play on their end, the ECHL quickly followed suit since the league has a lot of NHL contracted players who were also suspended. And, most importantly, we totally agreed with that decision since to do so is in the best interest of the general public."
Not only are games suspended, but as the ECHL announcement stated, all on-ice hockey operations are put on hold as well.
"The team will not be practicing. They will be in town though and will continue to be paid while discussions are on-going," Mackin said. "The guys understood, of course, it was tough for them. We were super-excited about this team and where we are at and where we are going, so it's crushing on that side given how hard our team and our coaching staff have worked to put this team together. I'm really heart-broken for the guys and the coaches. They know how good a team we have. They know the direction we were going. And they know this was a good opportunity to springboard toward next year. This was tough, but they understand the direction this country is going with this."
As to the possibility of league play resuming at some point in the future, with uncertainty running rampant at every level of public, private and governmental activity at present, Mackin could only speculate.
"In our discussions with the league and teams, we did not put a timetable on this (possible resumption of play) at all," Mackin said. "But if I had to guess, I would think that once April hits if no resolution is in order, then we probably are not going to be able to move forward with the season or playoffs."
Though particulars are lacking, Mackin stressed that the Rush organization will be working with the Rushmore Plaza Civic Center to work out the best possible arrangement for both organizations. And once the league schedule is clarified, will be reaching out to ticket holders with available options.
"I will be meeting with Craig (Baltzer, Civic Center Executive Director) on Monday to figure out our situation, and I'm confident that we can come to a resolution that works for both of us," Mackin said. "As for our fans, if we end up cancelling the season, we will offer refunds. And if the season resumes, we will reschedule the games and accommodate fans for the remaining six games. Season ticket holders will be able to either put the money toward next season, or be refunded as well. Obviously, we would appreciate if they can be patient through this while we follow the guidelines the league."
Concerned about COVID-19?
Sign up now to get the most recent coronavirus headlines and other important local and national news sent to your email inbox daily.