The Rapid City Rush peppered Kansas City Mavericks goalie Matt Ginn with 18 shots in the third period Friday night, while allowing only three.
One of their shots found the back of the net, as Peter Quenneville handled a backdoor pass from Tyler Coulter and snapped in the shot on a power play with 12:02 remaining in regulation.
The goal, Quenneville's 20th of the season, was a go-ahead score and wound up being the game-winner as the Rush held off the Mavericks' scramble in the waning minutes to earn their fourth straight victory with a 3-2 win at Rushmore Plaza Civic Center.
"We knew going into the third that if we put a ton of pucks on net, we'd be successful," Quenneville said. "To get the one we did and to hold on late, we did an excellent job of shutting things down and keeping them to the outside, and (Dave) Tendeck was rock solid as always."
Rapid City (28-22-4), sitting in the fourth and final playoff spot in the ECHL Western Conference standings, gained a bit of separation from the fifth place Utah Grizzlies (23-20-11) and now hold a 0.028 points percentage lead.
"Ginn played a hell of a game," Rush head coach Daniel Tetrault said. "He kept his team in there and Kansas City kept hanging around because of them. That third period was unbelievable. Our guys were just outworking them and we had position in their own end for most of the period and (Ginn) made some big stops.
"We could've scored five or six goals easily, but the good news is we're finding ways to win right now. Good teams find ways to win and we're a good team right now."
Ginn ended with 33 saves, while his counterpart, Rapid City goalie Dave Tendeck, stopped 22 shots in his first game at the Civic Center since February. Tendeck improved to 7-8-0 this season after dropping his first six.
The Rush got on the board at 10:36 of the first period when Mike Hedden dropped off a pass for Hunter Garlent, who unleashed a slap shot from the top of the right faceoff circle and past the blocker side of Ginn.
The lead lasted all of 22 seconds, however, as Phil Marinaccio found himself point blank in front of Tendeck and buried a goal at 10:58 to even the score.
At 12:52 of the opening frame, a faceoff won by Rapid City sent the puck to Charlie Curti, who directed a wrister toward the net that deflected off a Kansas City skater and ricocheted into the net to make it 2-1.
A scoreless second period gave way to a handful of penalties that were all killed off. A neutral zone collision at 14:21 between Tyler Coulter and Jared VanWormer drew an interference call and resulted in Coulter being slow to get up, but the forward and team's second-leading goal scorer remained in the contest.
The Mavericks leveled the game for the second time when a tripping penalty on Curti gave them a man-advantage. Rob Bordson put a shot top-left on Tendeck from the center slot to make it 2-2 at 4:15 of the third period. 
A scrum in Ginn's crease eventually led to a lamp-lighting but the potential go-ahead goal was immediately waived off by officials and not reviewed. But in the same minute, an interference call on Kansas City put Rapid City on the power play, and eight seconds in came Quenneville's goal off Coulter's assist that was initiated by a pass from Garlent, scored at 7:55.
Quenneville became the third Rush player to reach 20 goals this season, joining linemates Coulter and Avery Peterson. That line has now accounted for more than 38% of Rapid City's goals.
"It's a fun couple guys to play with every night. I think we look forward to seeing what's going to happen. Obviously hockey is a unique game and things happen differently every night, so it's just exciting to come to the rink and try to make plays and be accountable for the team."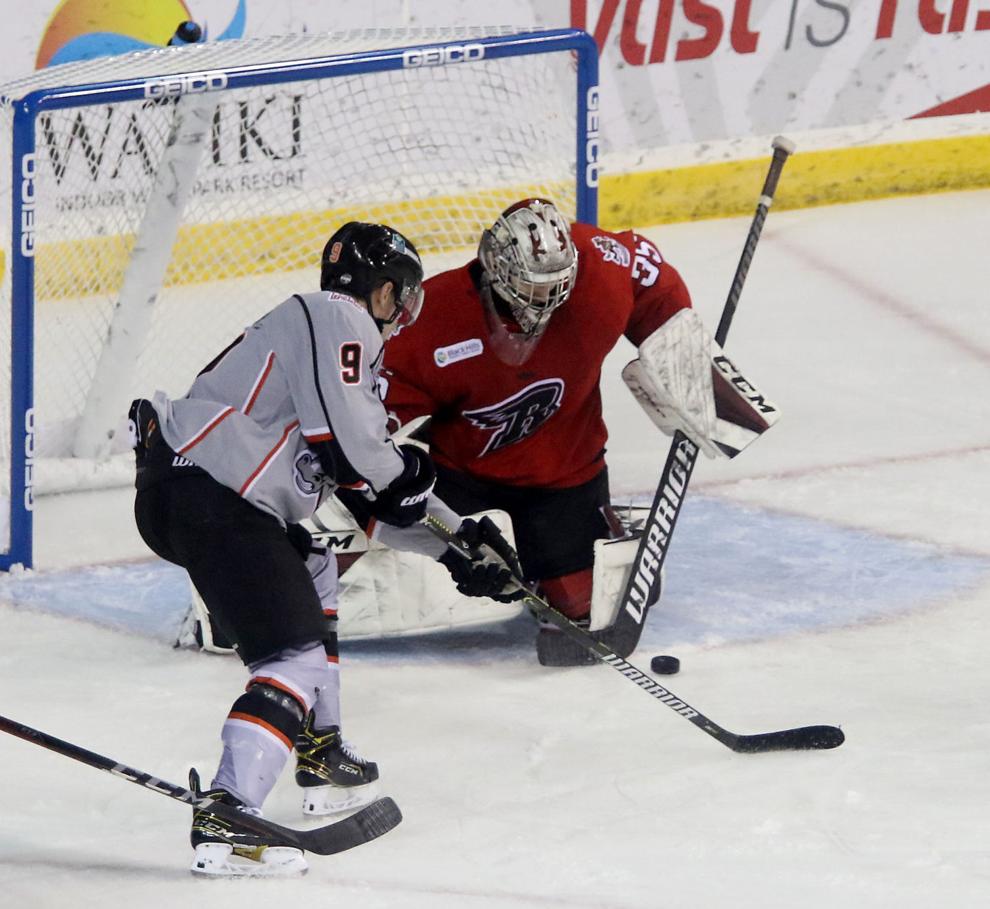 The Rush have also scored a power-play goal in seven of their last 12 contests.
"Our power play has really been producing the last four or five games, and you need your power play to score big goals, and we did," Tetrault said. "That solidified our win."
Rapid City led the shots department 10-1 more than halfway through the final frame and increased its advantage to 18-2 before Kansas City pulled Ginn at 17:45. Still, the Mavericks managed just one shot on target in the final 2:15 as they were met with diving blocks and staunch defense.
The Rush have won four straight games decided by one goal.
"We believe in our group and the ability to score, and I think we've matured in our ability to keep games close instead of letting them blow open," Quenneville said. "We keep them close and wait for an opportunity, and then we strike."
Forward Brandon Magee, signed last week, made his Rapid City debut and had one shot. Tetrault said he was pleased with his performance.
"He hadn't played all year and he's a great player. He works hard, he's got a great shot," he said. "The timing might have been a little off, but he just adds a lot of quality to our team, and he's going to be good for us."
The Rush and Mavericks will meet again Saturday for the second of three matchups at the Civic Center. Puckdrop is slated for 7:05 p.m. 
"We've just got to keep it going one game at a time and keep playing well," Tetrault said. "The main thing is, guys are playing hard for each other and we're outworking teams. We've got a lot of talent, and when you mix that with hard work it's a pretty lethal combination."