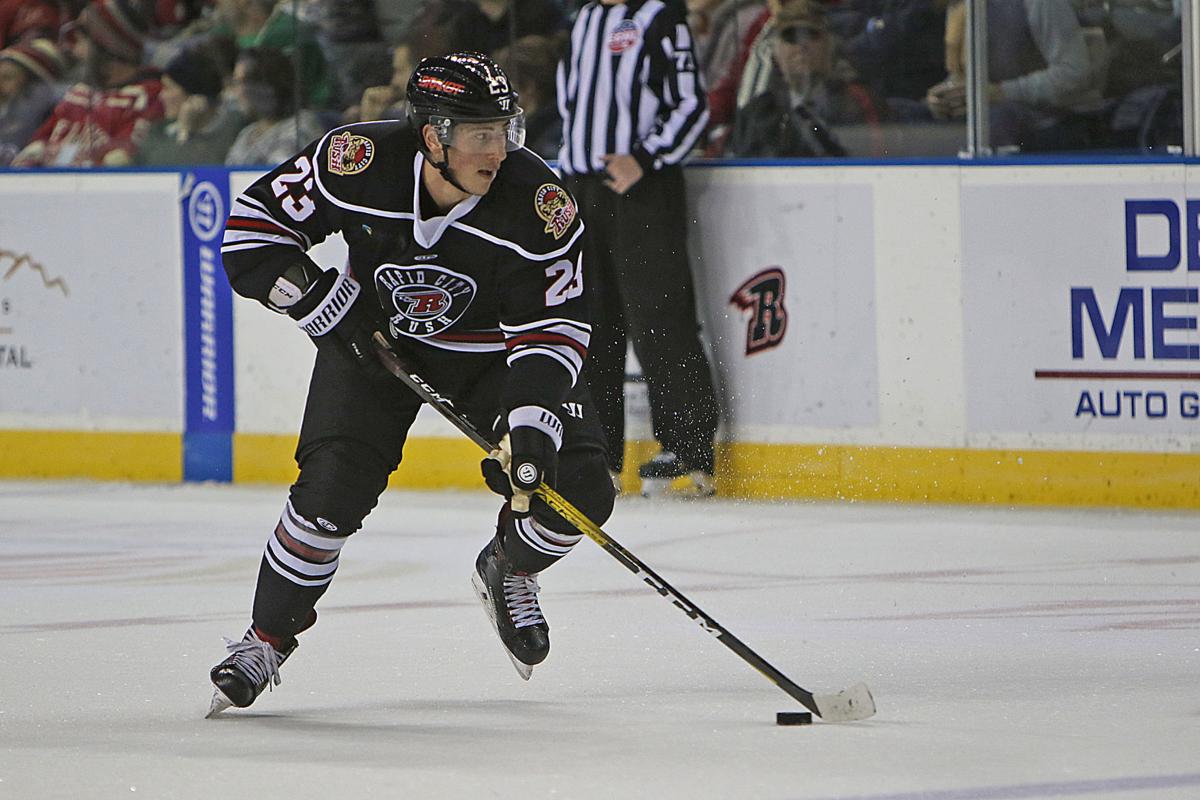 With 17 games remaining in the regular season, this weekend's three-game, home ice series against the Tulsa Oilers will go a long way toward determining whether the Rapid City Rush will be playing ECHL playoff hockey in April.
Looking for their first playoff appearance since the 2014-15 season, the Rush (27-22-5-1) are holding down the fourth and final playoff spot in the Mountain Division. Fifth-place Tulsa (26-25-6-1) has drawn to within a point (60-59) of Rapid City for the race for the final spot.
The puck drops on the opener of the three-game series on Friday night (7:05) with games to follow on Saturday night (7:05) and Sunday afternoon (4:05).
"It's going to be exciting and the guys are up for it," Rush coach Danny Tetrault said following practice on Wednesday. "As a player you want to play in these types of games since this is going to be a playoff atmosphere hockey. We've put ourselves in a good spot here with three games in hand and are hoping to feed off the energy of a big hometown crowd."
Coming off a winless four-game road trip to Utah and Idaho (two points earned off overtime losses), Rapid City hopes to rebound from a 3-5-1-1 performance in the last 10 games in order to hold off a hard-charging Oiler team that has gone 6-3-1-1 during a similar span.
Rapid City needs to continue to play well against a Tulsa team that the Rush have owned in the previous eight games (7-1-0-0) this season.
"They made some additions, gotten healthy, and had some great goaltending," Tetrault said in assessing Tulsa's recent success. "They've gotten some help from their affiliation (St. Louis Blues), and are aggressive and put a lot of shots on net. Tulsa lead the league in shot on net (35.24 per game), so we will have to be at our best defensively."
On the other end of the ice the Rush have struggled offensively at times this season, particularly during the recent 10-game span in which they have been woefully unproductive scoring but 16 goals.
"We've been snake-bitten the last couple weeks, and the guys have been squeezing their sticks a little too tight," Tetrault said. "Shots have been hitting crossbars and goalies have been coming up big, but hopefully the floodgates will open on Friday. We had a lot of good shooting drills today with traffic to the net. And we also are getting (Matteo) Gennaro back from Tucson, and that will help since he's a great player (six points in nine games with the Rush). Also, (Tyler) Parks is coming back and maybe some d-men, so that should be a big boost."
Tetrault hopes that Gennaro's return coupled with the recent addition of newcomers Dante Salituro and Garrett Milan will help amp up the firepower.
As always special teams play will be crucial this weekend, and Tetrault is hoping that a power play unit that is 18th in the ECHL (16.1%) after a strong start to the season will reboot this weekend.
"We are going to make some changes based upon film study and possibly make some personnel changes," he said. "The penalty kill has been great all year. We've had great goal tending all year, and we've have been staying out of the box lately (the Rush are third in the league in penalty minutes per game) which helps energy wise."
Be the first to know
Get local news delivered to your inbox!