A win for the Utah Grizzlies on Thursday will end any remaining hopes the Rapid City Rush have for reaching their first postseason in six years.
Following Sunday's shutout loss to the Indy Fuel, their first blanking at Rushmore Plaza Civic Center and their largest margin of defeat this season, the Rush (32-20-4) are on the brink of elimination from contention for a spot in the 2021 Kelly Cup Playoffs. They can still tie the Grizzlies (33-22-11) in points percentage, but Utah owns the first tiebreaker of percentage of regulation wins.
Rapid City slogged through an 18-shot performance, the second time it failed to reach 20 in the last three games, while allowing 36 from the Fuel (33-22-7), who forced the replacement of Rush starting goalie Adam Carlson after potting two goals in the first 17 minutes en route to a 5-0 victory.
"Indy dominated us tonight," Rush head coach Daniel Tetrault said. "They scored the first couple goals there early, and it's tough to come back. We didn't generate much offense, to be honest. It was tough."
Power-play opportunities were again an issue for the Rush, who went 0-for-4 to finish 0-for-15 in the split series.   
"I don't know. Execution," Tetrault said of fixing the power play. "We'll work on this week."
Tommy Apap opened the blowout when he fired a shot under the blocker-side of Carlson just 1:29 into the contest. Cedric Lacroix followed by tapping in a goal on a net-front scramble at 16:31, prompting the benching of Carlson, who was making his first appearance since May 14 and ended with nine saves in the loss.
Brad Barone entered in relief and made 22 saves in the remaining 43:29.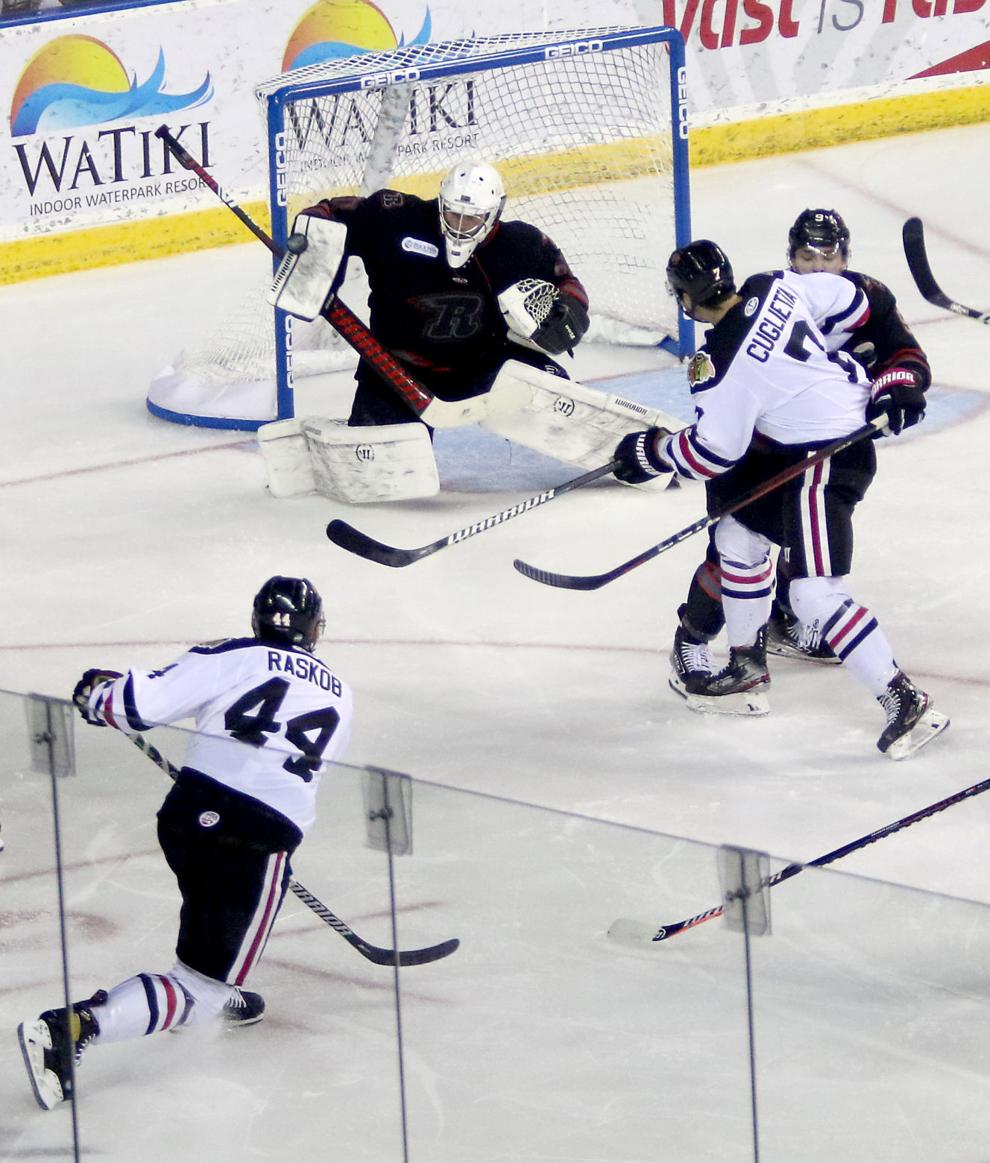 "There were two quick goals, I thought he could have them," Tetrault said of Carlson. "That's why I switched goalies."
Rapid City went more than six minutes without a shot on net, and one of the first early ones came from Jake Wahlin, the rookie forward who last played for the Rush on Dec. 12 before being sent to the Southern Professional Hockey League, where he was named Rookie of the Year. Wahlin unsuccessfully tried to stuff in the puck on the attempt, finished with two shots and was called for a rare illegal-check-to-the-head penalty in the second period.
"Jake provides energy," Tetrault said. "I thought he was pretty good in his first game in a while."
In a bright spot for Rapid City, its shorthanded unit killed off all three penalties it faced, which all came in a seven-minute span during the second period, recovering from Saturday's performance where all three of Indy's goals were tallied via power play.
Dmitry Osipov made it a three-score game at 4:07 of the third period when he rifled in a shot that ricocheted off the crossbar and went in. Barone pleaded that the puck did not cross the goal line, but officials stuck with the call following a short review.
Insult to injury was added later when Lacroix and Matt Marcinew each notched goals that came within 28 seconds of each other. Lacroix was given credit to a shot that deflected off Kevin Spinozzi, and a miscue in front of Barone led to an unassisted score for Marcinew.
Avery Peterson and Cedric Montminy both saw their five-game points streaks snapped. The Rush won just 21 of 60 faceoffs.
The lingering hope for Rapid City could be over before it takes the ice again, as it does not play until Friday, while Utah's meeting with the Kansas City Mavericks on Thursday could decide their fate. The Rush, however, will play the first of their final three home games Friday against the Allen Americans.