Scott Burt doesn't use the word "cuts."
After Friday's intrasquad scrimmage, the Rapid City Rush first-year head coach will have to chisel down his roster for Opening Night the following week, but he's hoping to find homes for any player he parts with, and he hopes those choices will be difficult.
"At the end of the day, I want decisions to be tough for me and my coaching staff," Burt said. "With having a youthful group, it pushes the guys to a next level, and that's going to make the decision for (assistant coach) Jeremy Gates and myself tough, and that's what we want."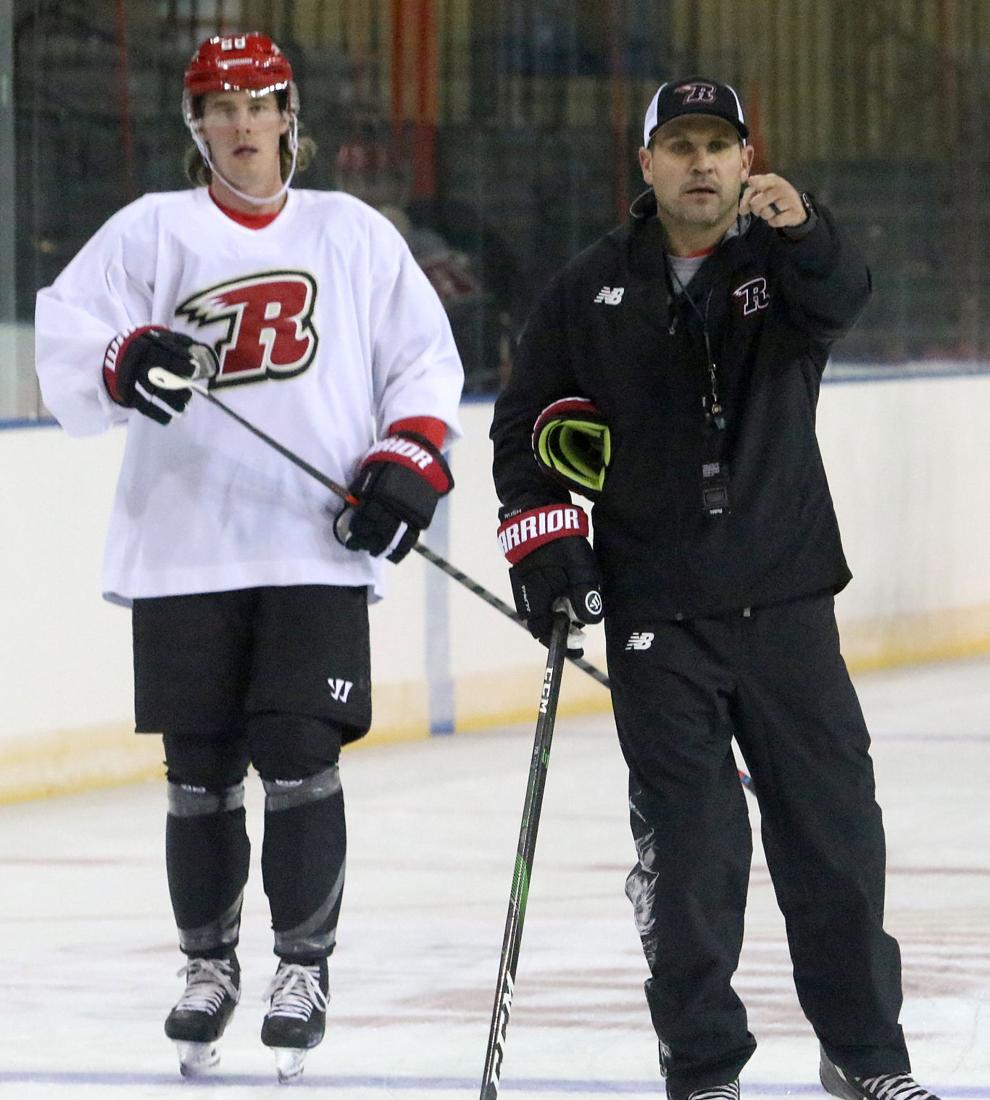 Monday marked the first day Burt got a glimpse of his 2021-22 team on the ice as training camp got underway. This season, the 28-player roster is composed of youth, as no skater is older than 28 and the youngest is 20. The average age is 24.9.
That translates into inexperience, but what it does bring is energy, Burt said, which is valuable early in the season.
"There are a lot of guys where it's really their first kick at the can at this level, so with that being said that brings that energy," he said. "That brings that extra little pace, that brings the mood of the group into an upbeat group."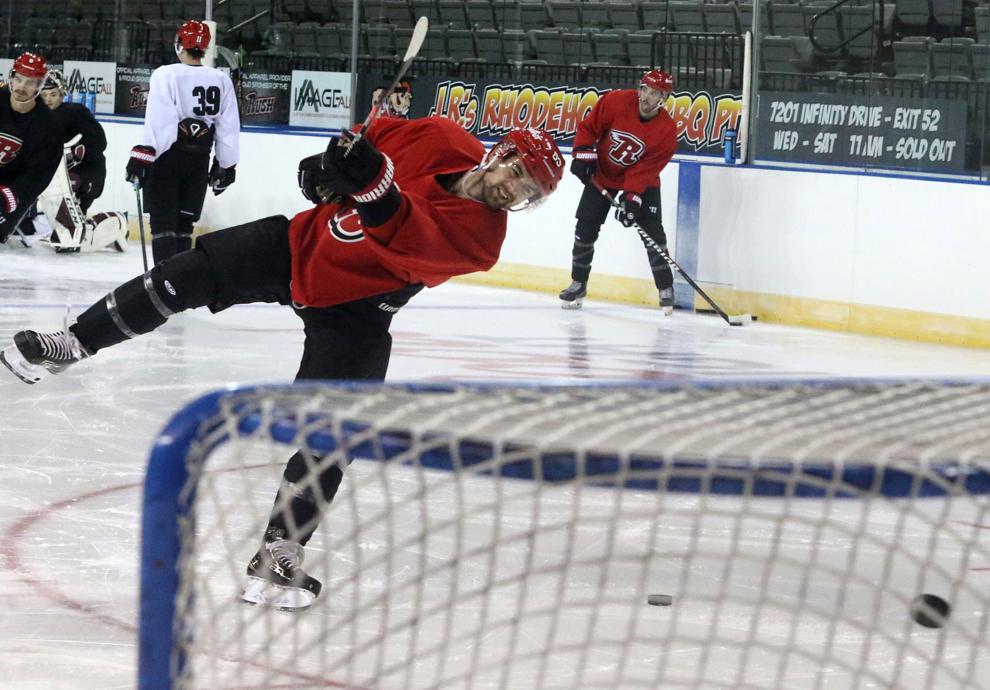 In addition to the young talent, the Rush are also introducing a new slate of players as they have only seven returners. Avery Peterson, Rapid City's leading scorer, reverted back to the Atlanta Gladiators per ECHL rules, and Tyler Coulter, another efficient scorer, signed a contract to play in Norway. Every defenseman on the current squad is also new to the Black Hills.
"When you bring a new group of players and a new coach with new systems in, then a lot of players aren't used to certain details," Burt said. "We're not necessarily making them robots, but having them understand my vision and what I believe will make this team successful."
Burt said he's emphasizing pace in the first few training camp days. Since the Rush don't have a preseason game, he's trying to simulate live game speed and acclimate players who have been out of competition since last season ended in June.
"I thought our guys put in the work today. I think the pace at times is a little bit harder when during the summer you don't have that competition-like pace," Burt said. "I know some guys have to catch up to that pace."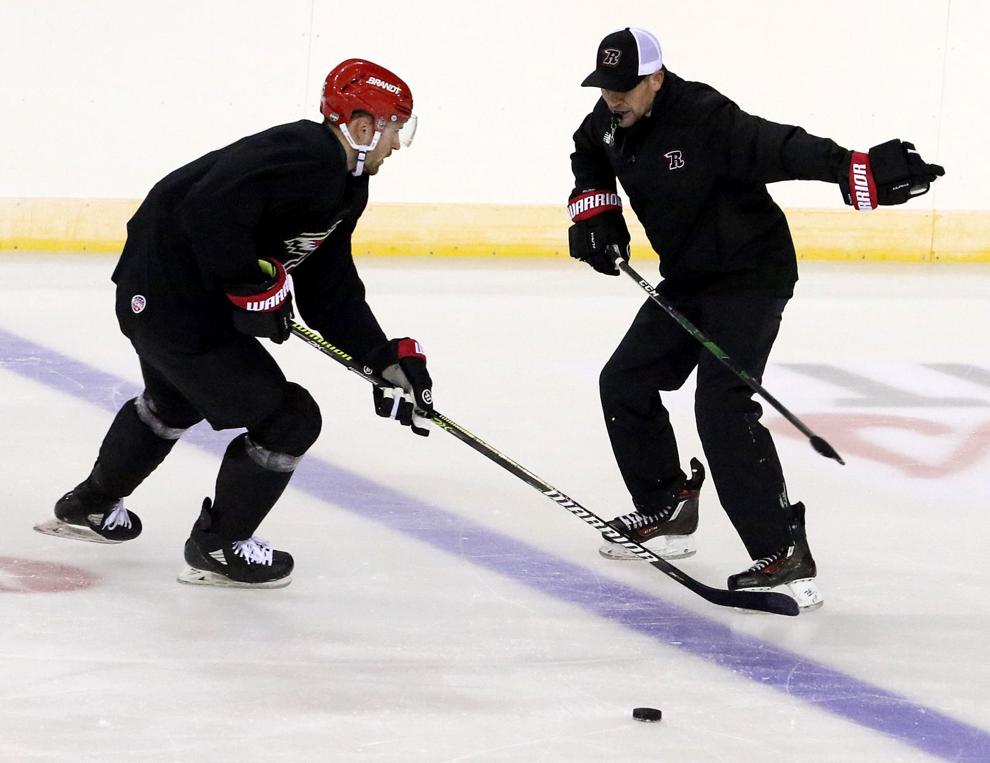 Among the returning players, forward Stephen Baylis was back on The Monument ice with his new squad. The 27-year-old forward tallied seven goals and nine assists in 43 games with Rapid City last year.
Baylis was a member of a squad that surged into a playoff spot late in the season but collapsed on the final stretch of the games and ended in last place in the Western Conference. Experiencing that, he said he hopes he and his fellow returners can help avoid the same fate this year and get the Rush their first postseason berth since 2015.
"We didn't really get the job done last season," Baylis said. "So I think the guys who are returning would like to get back into the position of getting into the playoffs and going on a run." 
Baylis is joined by Jake Wahlin, Gabriel Chabot, Tyson Empey, Garrett Klotz, Dave Tendeck and Adam Carlson as returning players.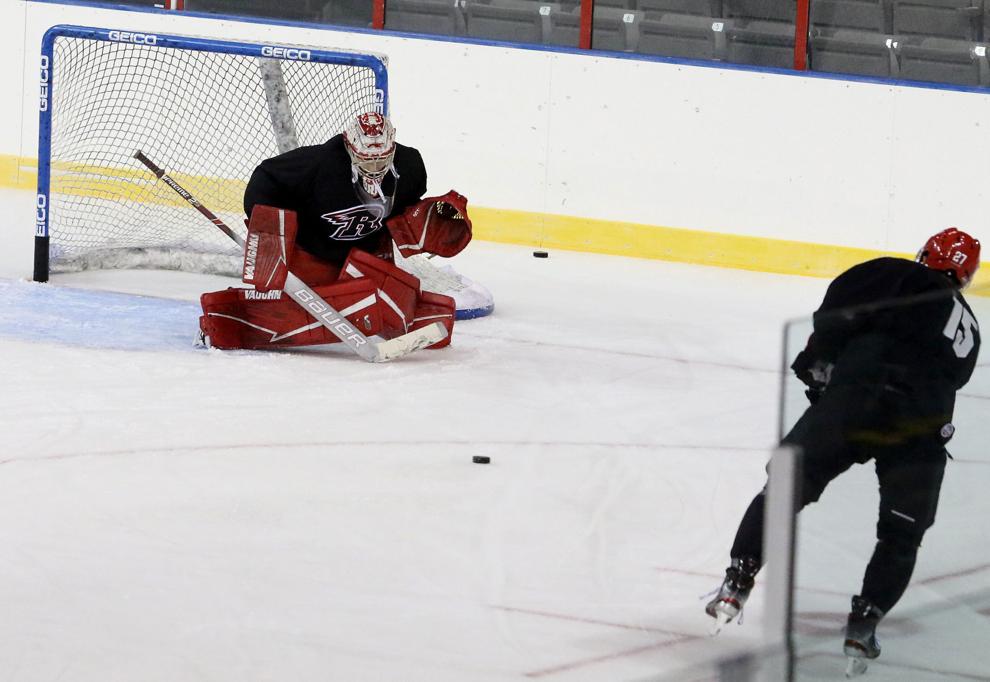 Burt said it'll be important for skaters to stick to what they know during training camp and not try to stretch beyond the skill set. He signed them for a reason after all.
"Don't come in here and try to be someone who you're not, because you'll just look like a fool. You've been recruited to try out here for this team for a certain reason, so just be you," he said. "We're going to push them to maximize their potential and maximize what we can get out of them, and if we can do that, then leading into Game 1 they should be ready."
The Rush open their 2021-22 season Friday, Oct. 22 at The Monument against the Tulsa Oilers.