Daniel Tetrault said he feels he has the team to win a championship.
The Rapid City Rush head coach is beginning his fourth season at the helm, and through several signings during an extended and somewhat unpredictable offseason, has put together a smorgasbord of a 23-man roster, composed of knowledgeable veterans, familiar returners and aspiring rookies who battled months upon months without hockey, and underwent unique journeys to end up in the Black Hills.
For Tetrault, it's a group that has all the weapons.
"We have a great team on paper," he said. "Now it's time to put it to action on the ice."
The Rush open their season with a two-game homestand against the Utah Grizzlies Friday and Saturday, both with 7:05 p.m. puckdrops.
Rapid City was 29-25-5, good for fifth in the ECHL Mountain Division and 15th in the entire league, with a dozen games left on its 2019-20 schedule when the season was suspended in March due to COVID-19 and ultimately canceled. What ensued was a lengthy waiting period, not knowing when, or if, the following season would commence.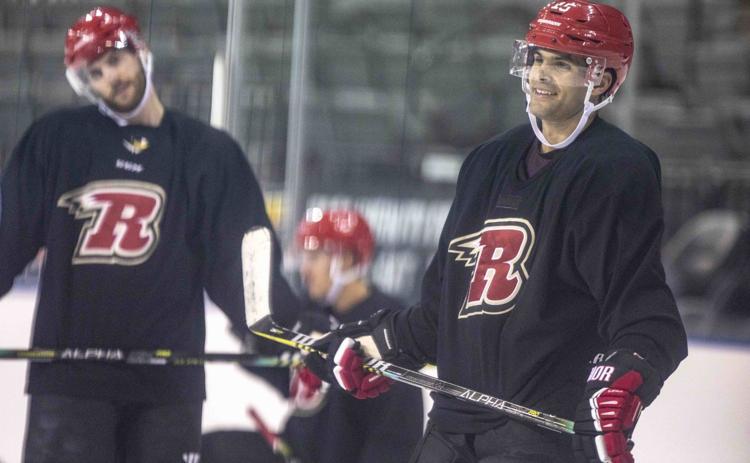 The league eventually announced a December start date, with teams able to opt out of the 2020-21 season. When several did, its players became free agents, and Tetrault jumped at the opportunity to make some additions, signing Avery Peterson from the Atlanta Gladiators and Alex Rodriquez from the Norfolk Admirals.
The two shined in the Rush's annual intrasquad scrimmage a week ago, scoring two goals each for their respective teams and showing off the speed they and their teammates possess on offense, which is partly why Tetrault thinks his squad will score a ton of goals this season, more than the 3.02 they averaged per game last year, which was ninth worst in the league.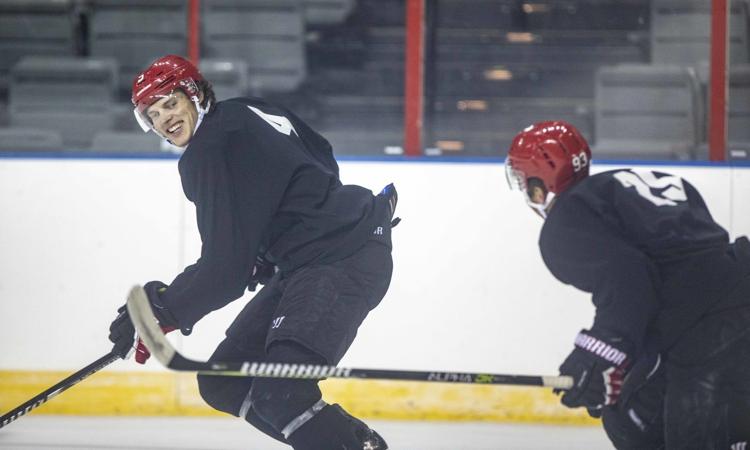 Rapid City has 12 brand new faces on the roster, including eight rookies. Forward Gabriel Chabot and Griffin Luce were signed fresh off Division I hockey programs in Boston University and the University of Michigan, respectively, while UMass Amherst alumnus Jack Suter and SUNY Geneseo alumnus Tyson Empey both made the team as rookie tryouts.
Several veterans were also acquired, like 30-year-olds Shawn Boutin and Mason Baptista, who have 16 combined years of professional hockey and will be making their first appearances in a Rush uniform. Baptista, a forward, said the role of his and fellow veterans this season is to share wisdom from their careers with newcomers, and to teach them how to preserve their bodies during a physically demanding campaign.
"We have a lot of good young players coming in, and I think with all the veterans who came in, (our role) is to fill in that gap with some experience, whether it's winning championships, experience playing playoffs and experience playing those long seasons," he said. "And helping guide those players and making sure they're ready to go, day in and day out."
Tyler Coulter, the 2019-20 Blaine Jarvis 'Heart and Soul Award' recipient, is back for his second season with Rapid City, and is one of seven players on last year's squad who have returned for another.
Coulter, along with forward Peter Quenneville and Brennan Saulnier, are a trio of players Tetrault said he's happy to have back. Coulter tied with Quennville for the team lead in goals, notching 24 each, while Coulter added 15 assists and Quenneville had 34. Saulnier collected 22 goals and 22 assists.
Much of the defense will feature returners, including Eric Israel, Mark Auk, Brendan Beauvais and Brandon Fehd, who combined for 26 points last season.
A pair of veterans have also come back to the Rush after not being on last year's squad. Joey Sides, a 34-year-old forward, was last with Rapid City during its inaugural ECHL season in 2014-15 and is one year removed from professional hockey entirely, while 32-year-old forward Garrett Klotz previously had a two-year stint from 2017-19.
As the Rush's lone active goalkeeper during training camp, Adam Carlson has absorbed a plethora of shots.
While goalie coach and jersey-retired Danny Battochio suited up and assisted with duties, the 6-foot-4 netminder was given a heavy workload to wipe the rust off, which sits just fine with him.
"The only way to get prepared for goaltending is to be in the net," Carlson said. "You can do as much off-ice work as you want in the offseason, but it's really hard to mimic actually playing the position in the gym. Seeing the million pucks I did in the last two weeks has been the best thing possible for me."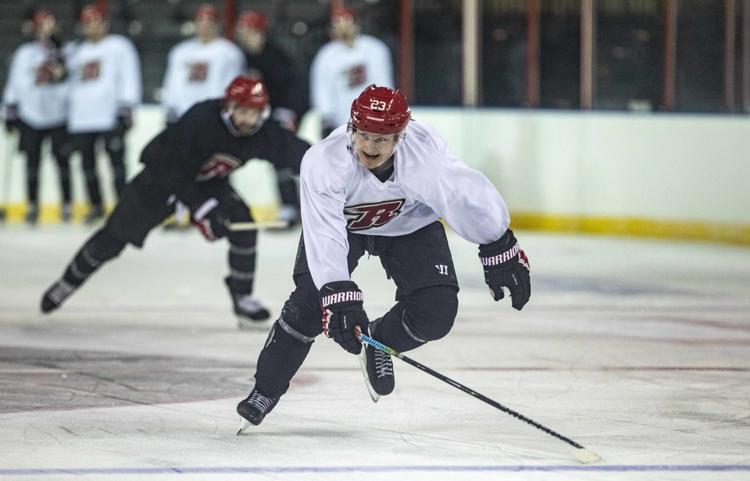 Carlson, who played for Rapid City during the 2018-19 season and accumulated a 21-17-6 record before spending last year with the ECHL's Jacksonville Iceman and made two appearances in the AHL, saved 26 shots in the intrasquad scrimmage.
Earlier this week, the Rush added a second goalkeeper in rookie David Tendeck, who is on assignment from the Arizona Coyotes. The 21-year-old was in the Western Hockey League the last five seasons.
Rookie tryouts Gary Haden, a six-year WHL player, and SUNY Geneseo alumnus Tanner Salsberry were cut from the roster, as was rookie Collin Saccoman, a Lake Superior State University graduate.
In an unprecedented year, the Rush's opening day lineup may not be the same in a few weeks.
More ECHL teams have opted out since Peterson and Rodriquez's did in October, meaning more players are up for grabs. Tetrault, who said he wants to add a third goalie, will keep his ears peeled.
There's a lot of great free agents out there without jobs, looking for jobs, and our phones are always ringing," he said. "We're always looking to upgrade, but right now we're still comfortable with the lineup we have, but we're still evaluating."
GOALS WILL COME, BUT DEFENSE IS THE FOCUS
Following the intrasquad scrimmage, as confident as he is with the offense, Tetrault said Rapid City's defense still needs work.
With the speed they have up front, they're focusing on quick transitions, and have conducted a lot of drills in practice this week that emphasize not overhandling the puck and moving it forwards at a fast rate.
"We want to attack and we want to score some goals. We did score quite a few goals last year, we had a good offense," Tetrault said. "Now we've added pieces to the puzzle on defense and we just want to play fast and catch teams off guard."
As the man in charge of keeping opponents off the scoreboard, Carlson said the competition this season will be fierce with better players on fewer teams, so defense is paramount.
"I don't want the guys to worry too much about the defensive zone, but I mean it is something that we have to hammer in on this season, just because of all the talent around the league," he said. "We're basically the American (Hockey) League right now. There's so many guys down here right now on American (Hockey) League contracts."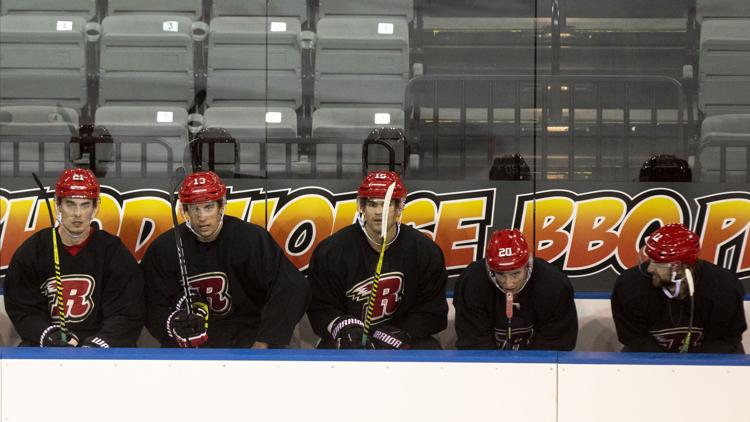 KEYS TO A SUCCESSFUL SEASON
Carlson added that playing strong defense will be crucial to a successful season.
"Having the right mindset every single night to protect the house I think is going to be the biggest key for us this season," he said.
For Baptista, defense is part of the key. He said a full team effort is what will prove to be the most critical element for collecting wins. Individual efforts are fun to watch on the highlight reel, but isn't conducive to long-term success.
Like Tetrault, Baptista also said his squad is a championship contender, as they have shown resilience in the past by persevering through challenging situations. With stiff competition ahead of them, The Rapid City Rush will have to play as one.
"I do believe the coaches really preach that, as well as all the players see that. They know that if they want to win, we're going to need to do it as a five-man unit," Baptista said. "Every team's going to be stacked, every team's going to be good, so really the differentiating factor, when you have every team basically on the same playing field when it comes to skill and speed, is going to be who's able to do it together."