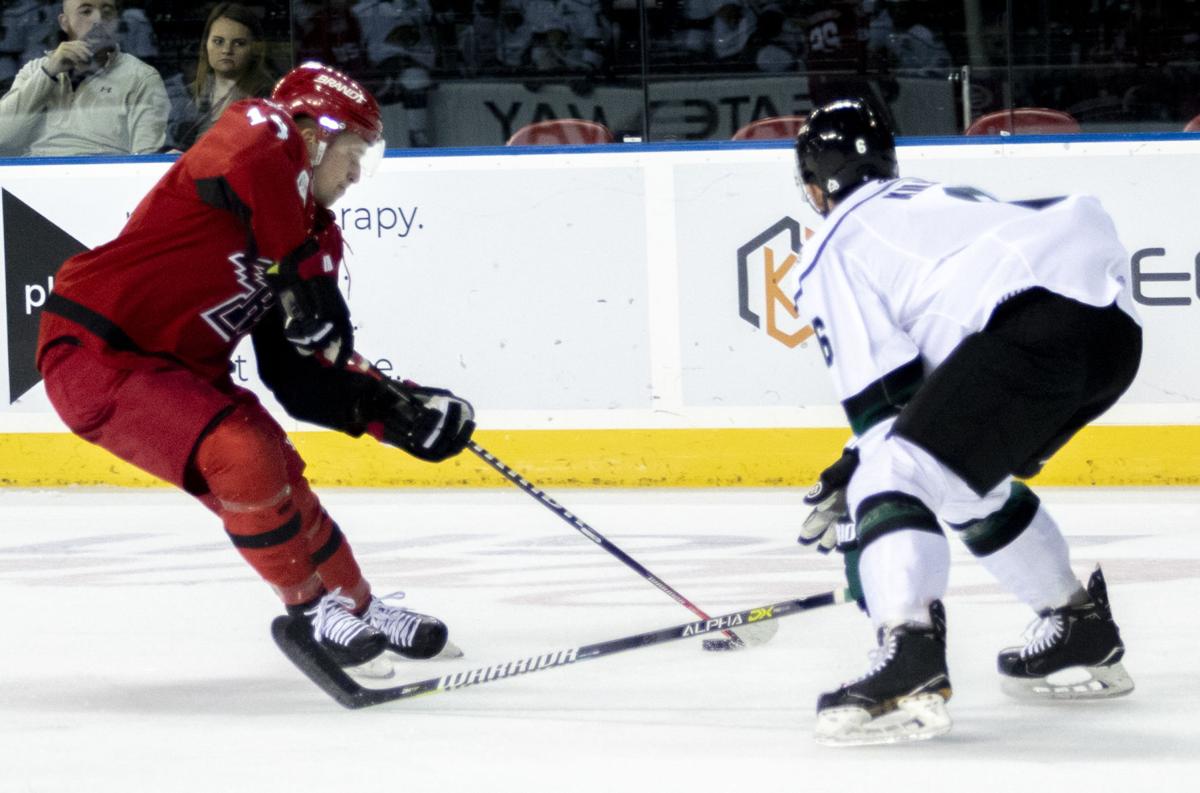 With energy and momentum on their side, an equalizer felt only moments away.
After going down by three goals in the second period, the Rapid City Rush battled back and made Friday night's contest a one-score game late with two unanswered goals. Several close chances came their way in the closing minutes, but a game-tying tally never came as the Utah Grizzlies emerged victorious with a 3-2 win to claim five straight over their rivals this season.
"We've got to execute when we have chances. We had plenty of chances to score a lot of goals tonight," Rush head coach Daniel Tetrault said. "We didn't execute, and that's what's frustrating."
Tyler Coulter scored a goal and added an assist for Rapid City (4-10-0), while Avery Peterson notched a goal and Cedric Montminy, Jack Suter and Drew Callin tallied assists. Dave Tendeck, making his first start in net since winning his first professional game last week, saved 26 shots in the loss.
Trey Bradley recorded two goals for Utah (6-3-3), while Riley Woods earned a goal and two assists and Hunter Skinner collected two assists. Goalie Brad Barone made 27 saves.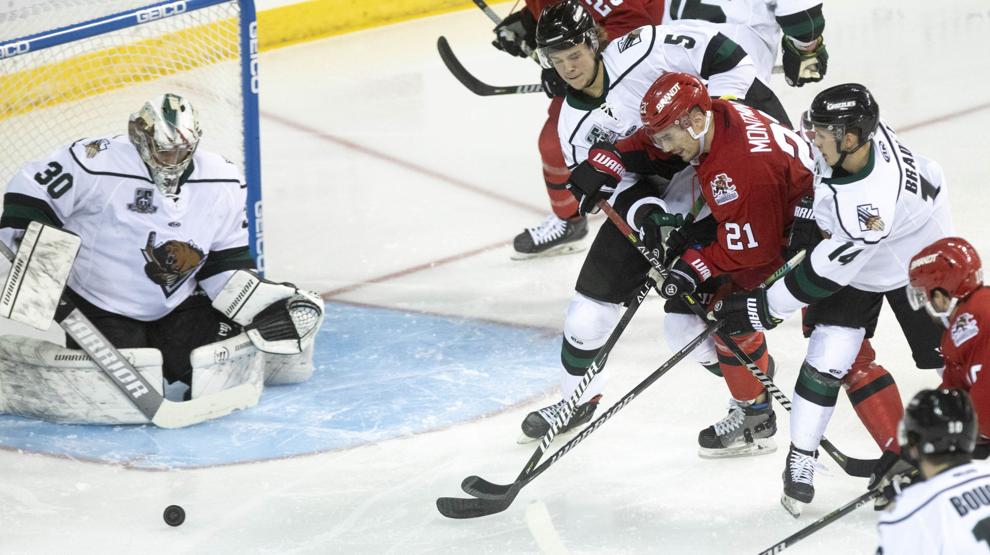 The two squads exchanged boarding penalties early in the opening frame, with Garrett Klotz being nabbed for the Rush and Jack Jenkins getting called for the Grizzlies in the first four minutes. Both penalties were killed, however, and Rapid City's second man-advantage later, off a hooking infraction, was also killed.
It was the Rush's second penalty, the fourth one of the period, that something finally gave. Nate Kallen was nabbed for interference with 2:13 to play in the first and the Grizzlies needed just 13 seconds to score, a tally from Bradley, to get on the board.
Rapid City put a handful of solid shots on net but managed just seven total heading into the middle frame.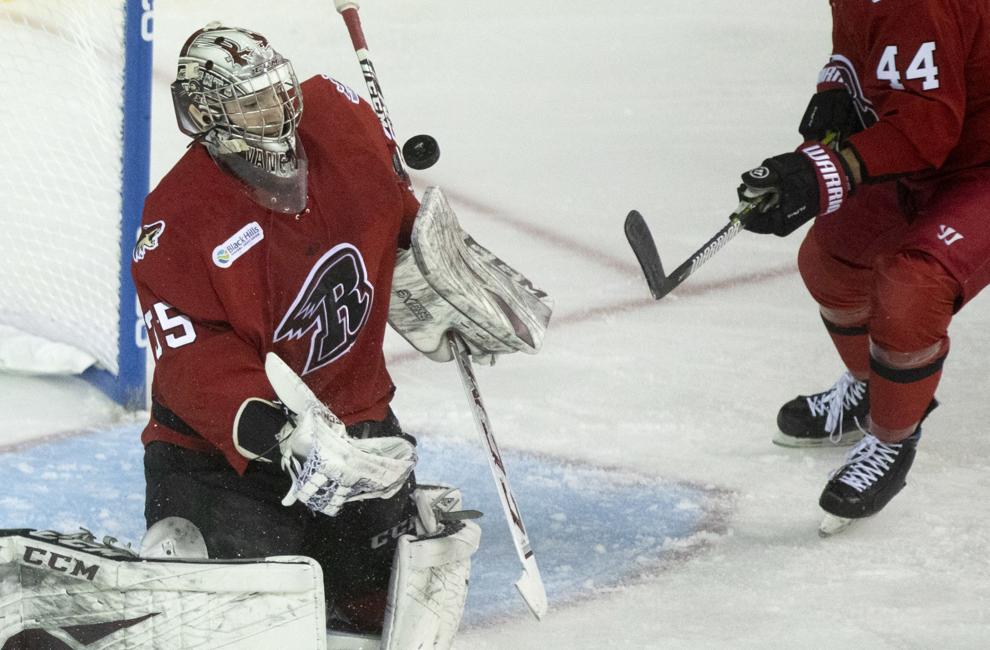 A two-on-one attack for Utah 99 seconds into the second period resulted in a goal when Woods hauled in a pass from Boucher and buried a shot behind Tendeck. About four minutes later, a long-range shot by Skinner deflected off Bradley's shoulder and bounded into the net to give the Grizzlies a 3-0 advantage. 
Mikael Tam left the team bench to inquire officials about a possible high-sticking infraction but the play was not reviewed.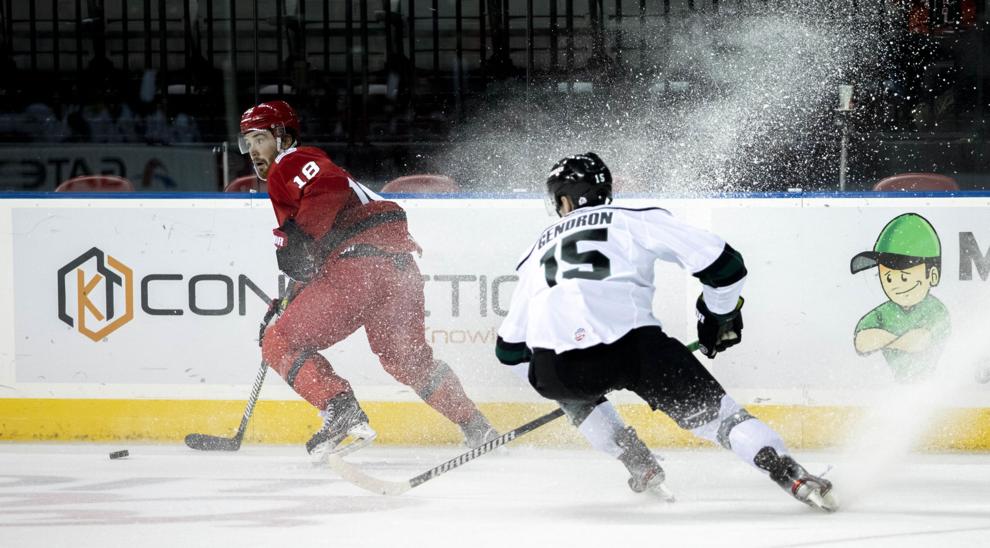 "Again, our first periods are costing us," Tetrault said. "You can't go down 3-nothing, it's always hard to get back, but we had glorious opportunities. We couldn't execute."
Suter earned an opportunity for Rapid City when he broke away for a one-on-one opportunity with Barone, but his attempt was turned away. Callin also had a look on net when he corralled a pass from Tyson Empey but his shot was stopped.
The Rush killed a high-sticking penalty called on Montminy with 7:54 left in the middle frame to advance to 2-for-3 on the night. Later in the period, Coulter came out of a scrum in Tendeck's net with possession of the puck and traveled coast-to-coast, beating two defensemen along the way and executing a toe-drag before firing a shot in the top-right corner of Barone's net and scoring for Rapid City's first goal of the contest with 2:06 to play.
Less than a minute later, Utah was nabbed for delay of game when a skater sent the puck into the stands from his own defensive zone. Tetrault, ahead of his team's third power-play opportunity, elected to take his lone timeout.
"My power-play guys were dead tired," Tetrault said. "They were coming off the end of a shift, and I was mixing and matching lines. They needed an extra breather."
The Rush failed to take advantage as the penalty expired 47 seconds into the third period and the score still stood at 3-1. After Rapid City killed its third penalty, a slashing call on Butrus Ghafari, Peter Quenneville had nothing but space between Barone and the net but his shot missed, possibly deflected. 
With 9:31 remaining in regulation, a Grizzlies skater was sent to the box after the team was called for too many men on the ice. The Rush capitalized on its fourth man-advantage when Peterson blasted a one-timer off a rebound from the left side and scored to cut Rapid City's deficit to one with 9:10 left.
Coulter and Quenneville both tried to level with shots that ended up being near-misses. After Tendeck was pulled with 1:48 to play, Montminy earned the best chance at an equalizer when he fired off a shot in front of the net with 58 seconds remaining, but the puck flew wide of the iron.
Both squads ended with 29 shots, but Rapid City outshot Utah 10-4 in the final frame.
"I thought the energy was there, especially after they made it 3-nothing," Tetrault said. "We were all over their defense and we had a lot of glorious chances, breakways and wide open nets, and you've got to score. That's it."
The Rush wrap up their eight-game homestand with the second of two contests against the Grizzlies on Saturday with a 7:05 p.m. puckdrop.