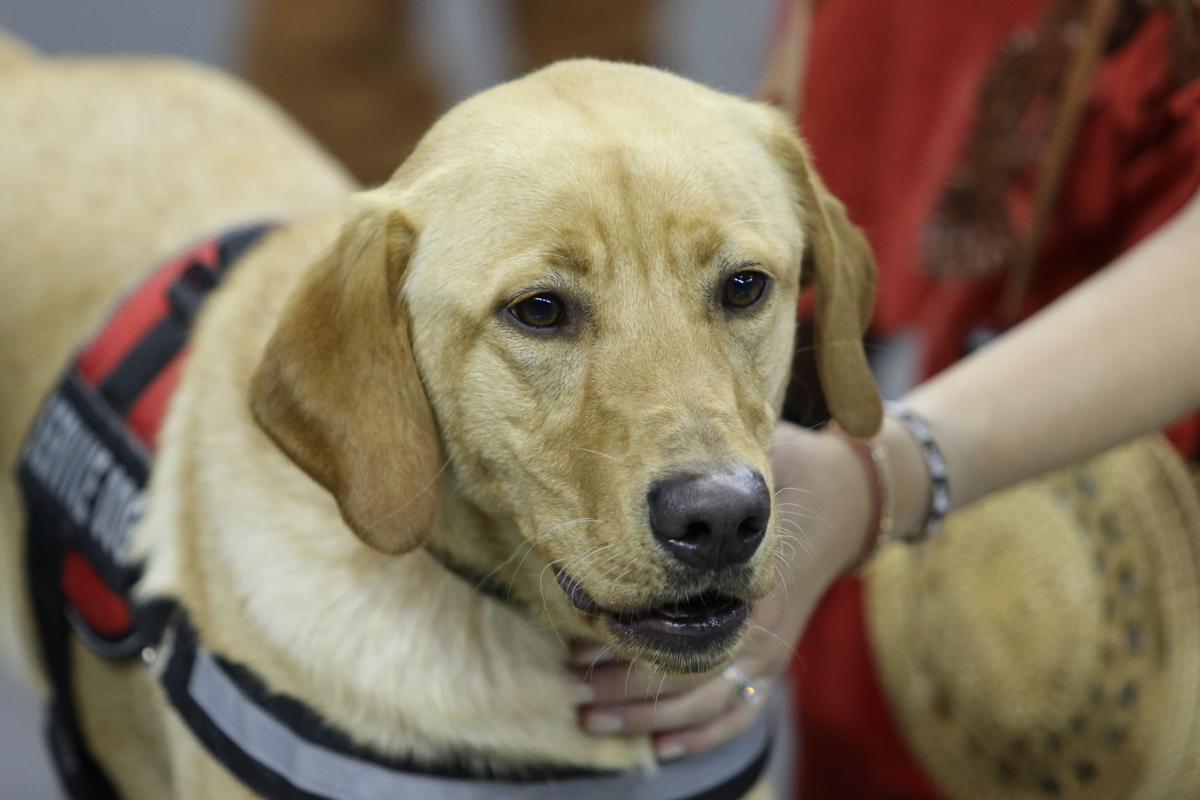 When members of last year's Rapid City Rush team roamed around the locker room and front offices, preparing for games or practices, present alongside them was a furry companion rarely found in hockey arenas. 
Rush, a red fox labrador retriever, was just six weeks old when he joined the Rush organization, discovering the world as he bounded down hallways and interacted with players on the ice, always bringing that unstoppable puppy energy. 
"To have him around the rink and practices, before games in the locker room, was an inspiration for the guys and a little bit of a motivating factor as well," head coach Daniel Tetrault said. "We had a good home record, and we can give credit to Rush for that a little bit."
The Rapid City Rush partnered with local businesses last year with the idea of adopting a team puppy for the season that would eventually move on to become a service dog for a military veteran, team president Todd Mackin said.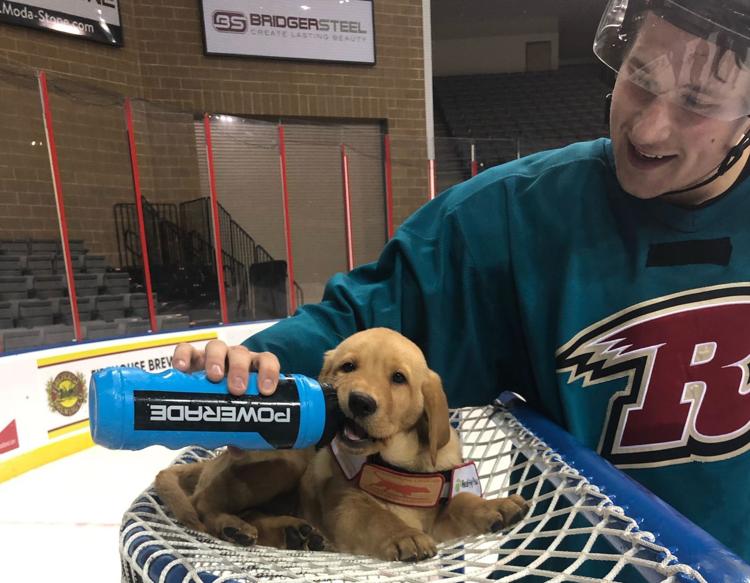 "We figured out that that was a need in our marketplace just by having different conversations with some organizations and hearing that veterans in our area were having a hard time getting the service dog they needed or requested," Mackin said. "There's so many different reasons for why that's an issue, but we just wanted to be part of the solution."
They received Rush from Turkey Creek Labradors, a southwest Minnesota company that breeds hunting dogs, and worked with Canyon Lake Veterinary Hospital, Healthy Paws and South Dakota Canine Center to provide him with health services, food and training. 
Mackin fostered Rush and took him home in the evenings, but the pup made frequent trips to Rushmore Plaza Civic Center during the day and spent hours with athletes and staff, brightening their days as the season continued through the winter months.  
"We had him in the office every day. We had him all around. Puppies can be challenging but they can also be really fun, and I think he provided a spark for us in our front office," Mackin said. "We just found him to be a very caring, loving, energetic and fun dog."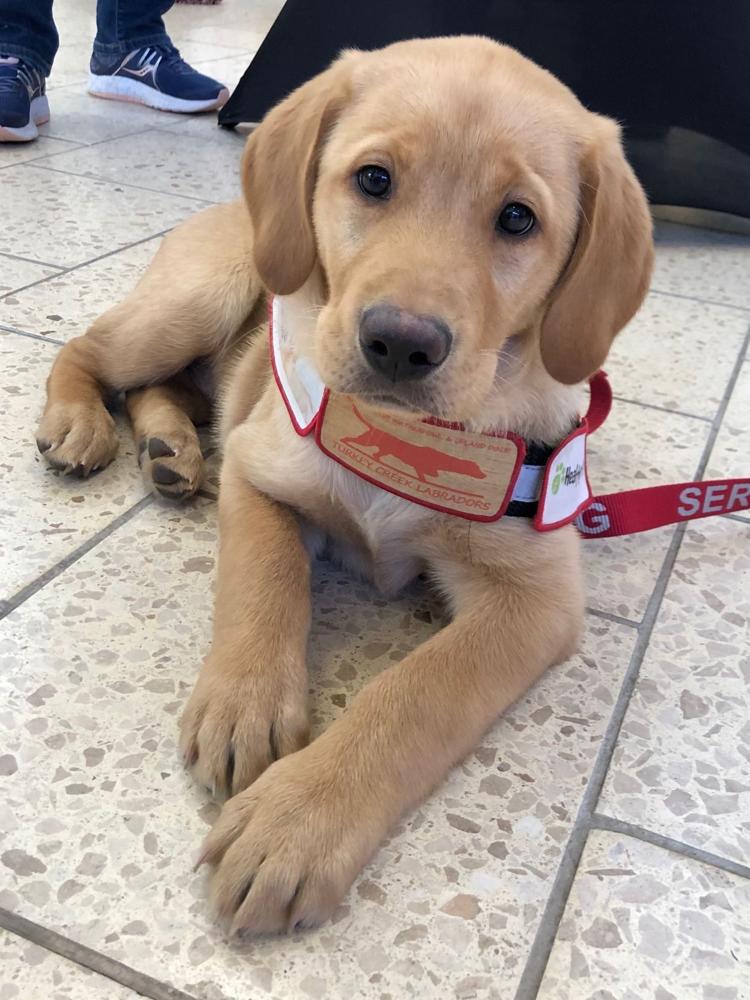 Rush was also a regular presence in the hallway leading to the ice, greeting players as they made their way out for warmups before competition. 
Things will be different this season, however, as Rush has been paired with his veteran and is undergoing the required training to become a service dog. 
Tetrault said Rush was beloved by players, and having him around was like having a pet dog at home, but it was even more meaningful knowing he would soon take on a noble profession.
"That's what makes Rush so special, that he was being trained for that purpose," he said. "That means a lot to the players and all the staff, and the organization."
Mackin said it was difficult to part from Rush after so many months, but he knows he has all the right qualities to be a service dog.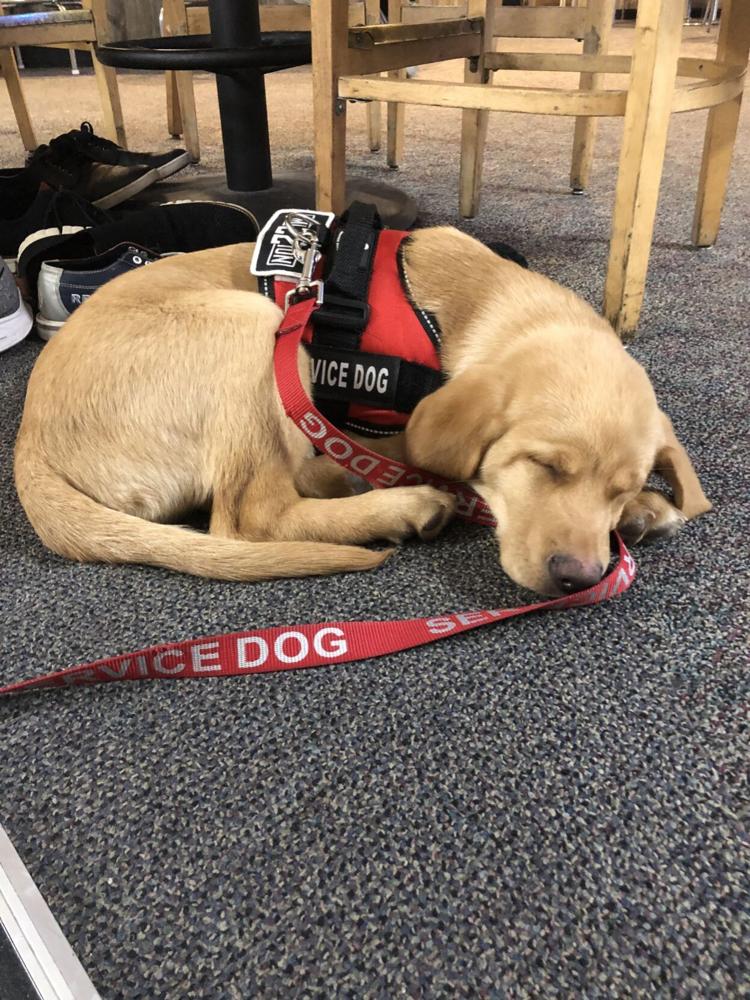 "That's a tough thing to give away," he said. "We raised him from when he was six weeks old to when we gave him away at about 10 months, and he really became a part of our family, so he was awesome and I think he's got all the characteristics of what a great service dog should be."
While Rush will be almost exclusively by the side of his veteran, a 32-year-old local man with walking and vision needs, Mackin said he expects to see his former dog around the organization in the near and long-term future. 
"We're saying goodbye, but not forever," he said. "I think he's going to spend a lot of time around our office and around our team over the next hopefully 10-15 years, but certainly in the everyday moments and everyday aspect of having a puppy running around your office, we're certainly going to miss him a lot."
Tetrault said he hopes the team will do it again and adopt another puppy, but he also is looking forward to seeing Rush this upcoming season, as he'll serve as a much-needed boost with the difficulties surrounding COVID-19.  
 "We'll miss him definitely but it's good to know he will be back for some games or some practices here and there," he said. "That's going to be special seeing him again coming up. It's been a tough year for everyone with this pandemic, so we're looking forward to seeing him here and there."
Be the first to know
Get local news delivered to your inbox!