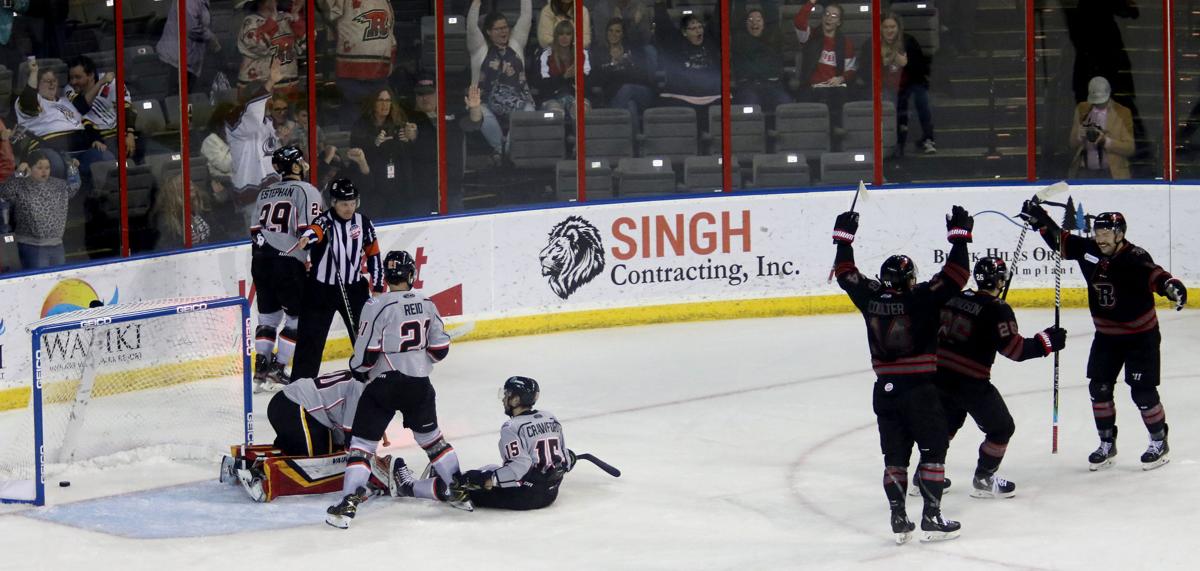 The puck that scored the Rapid City Rush's 3-2 overtime win Saturday night might have disappeared entirely and magically shown up behind the Kansas City Mavericks goalie.
A scramble for the puck outside the crease forced the frozen biscuit to vanish from view. When it reappeared, the spectators at Rushmore Plaza Civic Center witnessed it calmly and smoothly glide over the goal line, seemingly out of nowhere, and rest easily in the back of the net.
"I think their defenseman tried to push the puck back to his goalie, for him to cover it, and it actually went through his legs and went in," Rush head coach Daniel Tetrault said. "Could've been a lot better but we'll take it, that's for sure."
The goal, credited to Peter Quenneville, was potted just 28 seconds into the extra period and immediately dashed the hopes of the Mavericks, who had leveled the game with 21.5 seconds remaining in regulation to send the contest into overtime. 
Instead, the Rush (29-22-4) earned their fifth straight victory, ninth out of their last 10 to improve to 6-0-0 against their conference foe, waking up from a sluggish first period to keep their streak going and their playoff chances rising.
"We weren't ready to play and Kansas City was desperate, and they had a great first period. They were all over us. We weren't prepared to play hard," Tetrault said. "This is playoff hockey, no game's going to be easy, but I was really proud of their response after the first period."
Quenneville had a hand in all three goals, tallying the first one to even the game in the middle frame and assisting on Avery Peterson's go-ahead score in the third to extend his points streak to five in a row.
"We felt like that was as good as we were going to see. They dominated us in that first period," Quenneville said. "We just went into the storm, (Tendeck) was fantastic and we just chipped away."
Dave Tendeck, making his third straight start and fourth consecutive appearance in net, made 27 saves. Tyler Coulter dished out two assists, and David Quennevile added an assist for the fourth straight game since being signed to the team last week.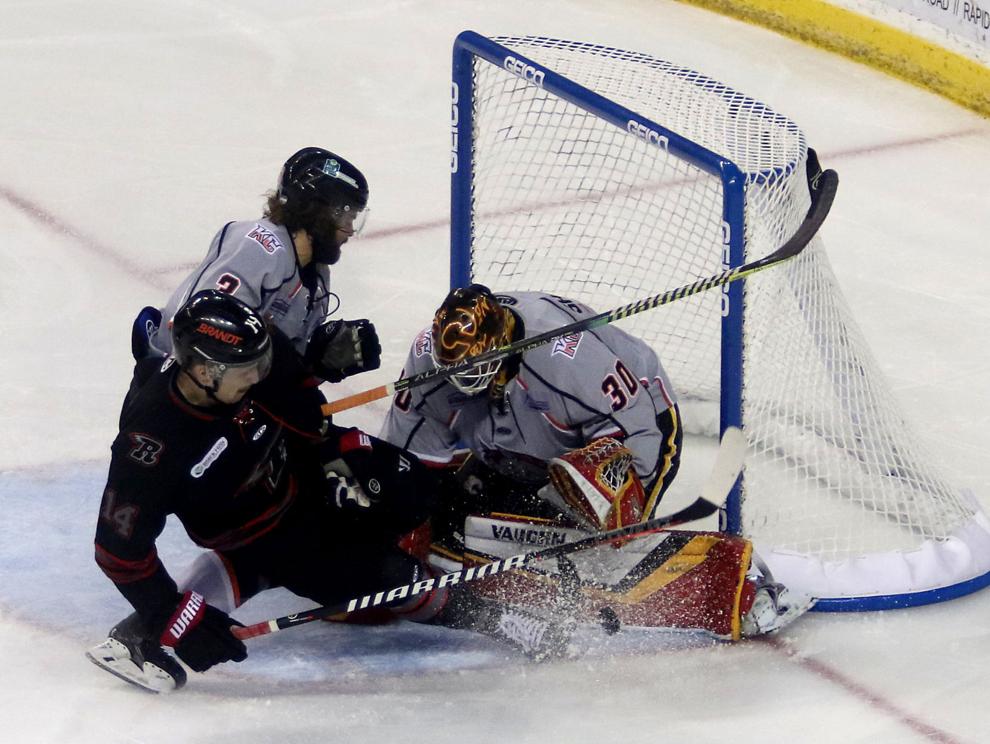 In honor of Saturday's Kentucky Derby, the Mavericks (22-24-9) came out of the gates flying and got on the board less than three minutes into the first period when Darik Angeli found an open lane and a slapped a shot under the blocker side of the left-handed Tendeck at 2:57.
Rapid City was outshot 15-6 in the opening frame and struggled with offensive zone entries despite winning the first 11 faceoffs and holding a 16-3 advantage at the first intermission. 
A holding penalty in the second period gave a red hot Rush power-play unit its first chance, and they converted when Peter Quenneville sniped in a one-timer from his brother at 4:23 to make it 1-1. Rapid City is now 9 of 15 on the man-advantage during its winning streak.
"It's exciting. I think we have a lot of confidence on it, and every guy is a threat to score," Peter Quenneville said of the power-play unit. "So we just try to make plays, take what's available and we've just got to keep it going." 
After more than 30 minutes, Peterson finally broke the tie when he gathered the puck following a questionable non-icing call, delayed in the slot and lasered in a wrister at 14:56 of the third period to give the Rush a 2-1 advantage and score his league-leading 24th goal of the season.
Kansas City pulled goalie Andrew Shortridge with 1:55 to play and used the extra attacker to help tally the equalizer, a deflected goal that was credited to Lane Scheidl.
But Rapid City's first attack on Shortridge in overtime was successful, initialized by a neutral zone turnover that resulted in a 2-on-1, and the mishap that ended the contest.
"I thought in the second period we got our legs under us," Tetrault said. "We established that forecheck, and the last two periods were great."
The Rush continued to build their lead on the Utah Grizzlies for the fourth and final playoff position in the Western Conference, as the Grizzlies fell 2-0 to the Tulsa Oilers. They'll host the Mavericks on Sunday in the last of three meetings with a chance to pick up their second straight series sweep.
"(Kansas City) is fighting for their lives, they're down in the standings, so they're going to give it all they have," Tetrault said. "You've got to give them credit; they played hard, they played desperately, so we've got to be ready when the puck drops tomorrow and just keep playing well and try to get another win."