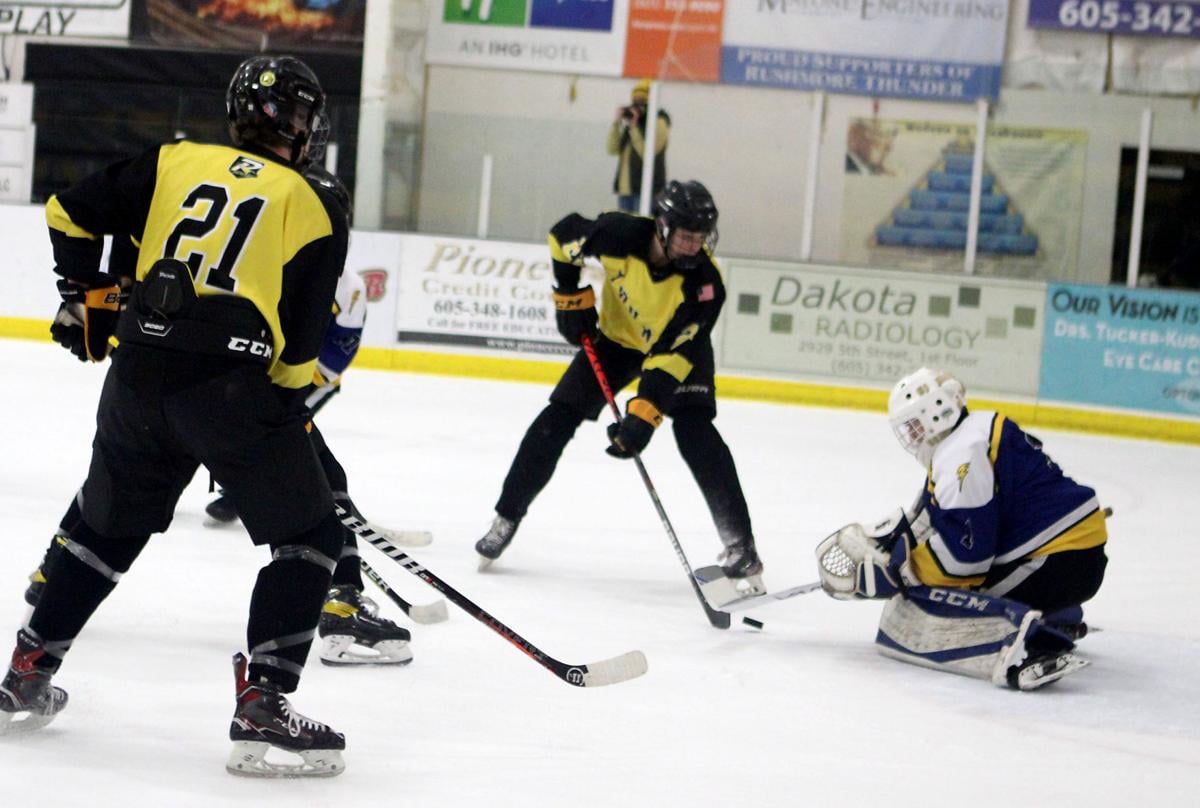 In Saturday's matchup, the Rushmore Thunder and Sioux Center Storm were tied 1-1 heading into the final period, where the two squads traded goals before the Thunder tallied the game-winner with less than five minutes to play.
Sunday was a different story, as Rushmore earned two goals in each of the first two frames and ran away with a 4-1 victory at the Rushmore Thunderdome.
Despite the two results, Thunder head coach Brendon Hodge said not much was different on the ice.
"Sioux Center came out and worked hard on both nights. You've got to give them credit for the way they played both nights. They kept coming and kept working hard," he said. "We got ourselves into some penalty problems tonight, which we're talking about shoring that up, but I think we capitalized on some chances that we got tonight that got us going."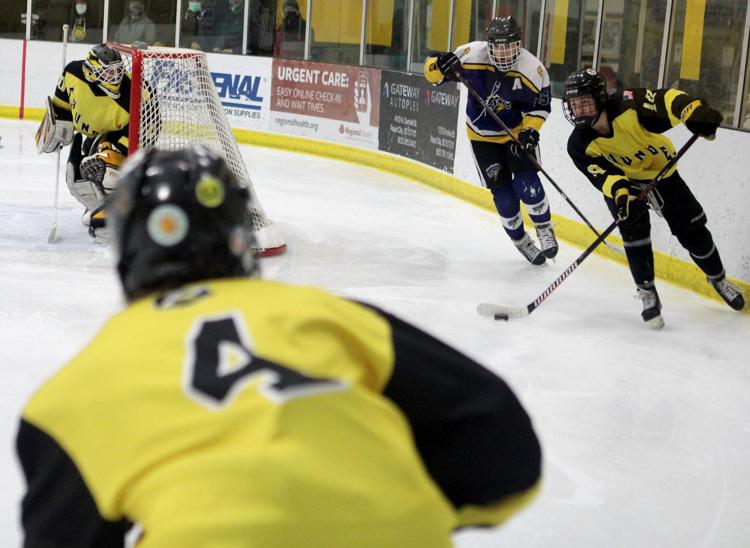 Nine different skaters picked up points in the win for Rushmore (9-2-0), with all four goals coming from four separate players. Ryan Hipsag had the only multi-point performance, collecting two assists. Brady Devries made 13 saves in net.
"It's super fun to play when you have guys who can score the puck whenever you give it to them," Hipsag said. "It doesn't even have to be a good pass, and they'll still catch it and manage to put it in the net, so it's been pretty fun."
Additionally, the Thunder defense allowed only 14 shots and earned a 100% efficiency on their penalty kill, going 8-for-8 with their unit and even notching a shorthanded goal.
"When we're killing penalties, it's a whole line effort and a whole team effort. Our penalty killers stepped up and did a great job for us today. They've been working hard," Hodge said. "We have a problem taking some bad penalties, so our penalty killers have been working their butts off for us all year and trying to do the best that they can."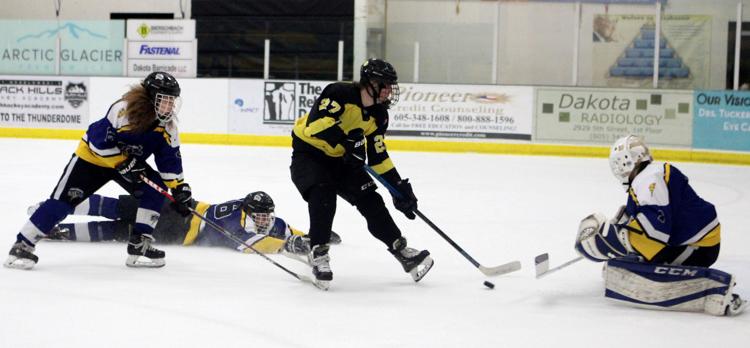 Rushmore killed two early roughing penalties called on Alexander Dietrich and Zeke Farlee, halting a 5-on-3 opportunity for Sioux Center (4-4-0) and then a 5-on-4. During the Storm's power play, Hipsag fed Dawson Wirth a pass and he put a shot on goal that sailed through the goaltender's legs and went into the net for a shorthanded score to put the Thunder on the board with 8:39 to play in the opening frame. Just over a minute later, after Devries made a glove save on a two-on-one attack from the Storm, Brayden Fine slipped in a shot from close range to make it 2-0. 
Mason Martin and Farlee were nabbed for boarding and slashing, respectively, in the last five and a half minutes of the first period, setting up Sioux Center with another 5-on-3, but the Storm were unsuccessful as Devries saved a one-timer to help preserve his squad's two-goal advantage.
"I think we just worked harder today," Hipsag said. "Stayed out of the box a little more and just buried it today."
Duncan Chisolm added to Rushmore's lead three minutes into the middle frame when his wrister from the left side landed in the net on a power play. Alec Humke then directed a rebound off Kaleb Merchen's wrap-around attempt into the goal to make it 4-0 with 8:03 left in the second period.
The Storm picked up their lone goal of the contest when Grady Duden grabbed the puck, after a Thunder skater lost control of it as he fell to the ice, and fired in a point-blank shot with 2:48 remaining.
Rushmore tallied 15 shots in the period and gave up just two from Sioux Center.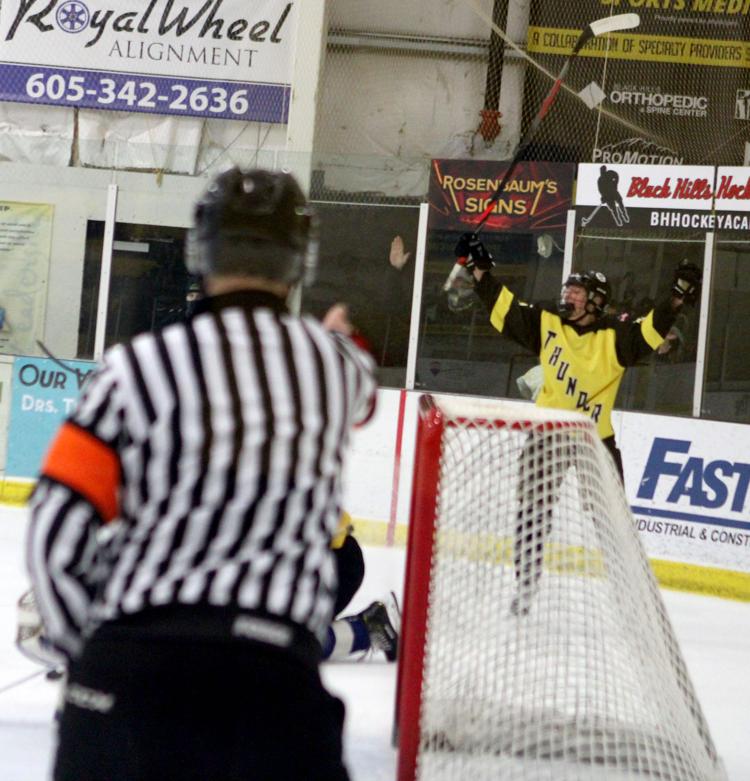 "If there was a rebound, there was only one rebound. There weren't two or three whacks at the puck," Hodge said. "We have a lot of depth when we put it together and we want to play as a team, and not individually. Sometimes we stray away from the team aspect and try and get into our own individual (success), which drives me crazy, but when we play as a team, we're successful." 
The third period ended scoreless as seven penalties were handed out, five on the Thunder. Martin, Kael Delzer and Chisolm were all called for roughing, while Seth Stock was sent to the box for unsportsmanlike conduct. Rushmore still managed to kill all five penalties, including a third 5-on-3 for the Storm.
"We've still got a lot of things to work on. Penalties are something that's really sticking in our minds right now as coaches," Hodge said. "It's going to come back to bite us pretty soon if we don't control that."
The Thunder outshot the Storm 35-14 in the victory.
"We were working hard, playing smart," Hipsag said. "Not chasing in the corners too much and just blocking shots whenever we had the chance."
Rushmore has the next four weeks off and will play again at home Feb. 6-7 in a two-game series against the Watertown Lakers.
"It was a good weekend," Hodge said. "After coming off two losses last weekend, to get a couple wins is always good."