South Dakota School of Mines and Black Hills State University, the two in-state West River colleges, are taking full advantage of a new policy for selling alcohol at athletic events.
On June 23, the South Dakota Board of Regents approved an expanded policy that will allow its institutions to begin selling alcohol to general admission areas at games starting in the 2022-23 school year. The plan was unanimously approved after the board received a request from South Dakota public university students.
Both SD Mines and BHSU were in favor of the expansion, and are now moving forward to implement the policy this fall.
"This brings opportunities for us to potentially enhance our gameday atmosphere," Mines athletic director Joel Lueken said. "It allows us to expand our marketing and potential partnerships in town."
While the previous policy allowed schools to sell alcohol on a limited basis to select box seats and special ticketed areas, Hardrocker facilities like O'Harra Stadium and the King Center sold no alcohol whatsoever, but they soon will.
The school is planning to partner with its food service provider Sodexo, Lueken said, to initiate the selling of alcohol, which is strictly beer and wine and does not include hard liquor. It's working on determining the best locations to sell, which under the new policy must be kept separate from other concessions, and what works best for Sodexo.
At O'Harra Stadium, alcohol will most likely be sold outside the ramps of the stands, though Lueken said selling it within the ramps is a possibility, and at the King Center, there is currently a workout space outside the venue that Mines is looking to retrofit into a beer garden, where drinks cannot be taken out.
"I think this is going to be a positive thing moving forward at athletic events, and not just athletic events," Lueken said. "We're also planning on doing it at concerts, potentially, and even theatrical performances."  
Black Hills State is also making plans to implement the policy this fall, athletic director Padraic McMeel said. The school previously sold alcohol at football and men's and women's basketball games as a special ticketed item and at special designated areas, but is planning on expanding that into Lyle Hare Stadium and the Donald Young Center, per the new policy, and selling alcohol at volleyball, soccer and softball events as well.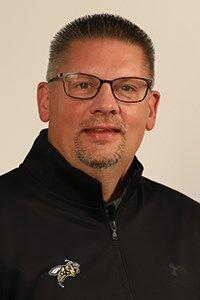 "We were in favor of this becoming an opportunity, and excited that the board looked at for all of the institutions in the system," McMeel said. "It's a little bit different dynamic with the seating arrangement and things like that (at soccer and softball games), so we'll just have to manage through those particular events, but that's why we're putting those policies and procedures together."
McMeel, who has helped implement new alcohol policies at other schools, said BHSU's facilities have the space to put the policy into operation, and that it has strong relationships with its partners to support them.
"We may have individuals who will purchase tickets to come to our events because they'd like to have the ability to purchase beer or wine as part of their game experience," McMeel said. "So really revenue is going to be the absolute best thing that will happen to us."