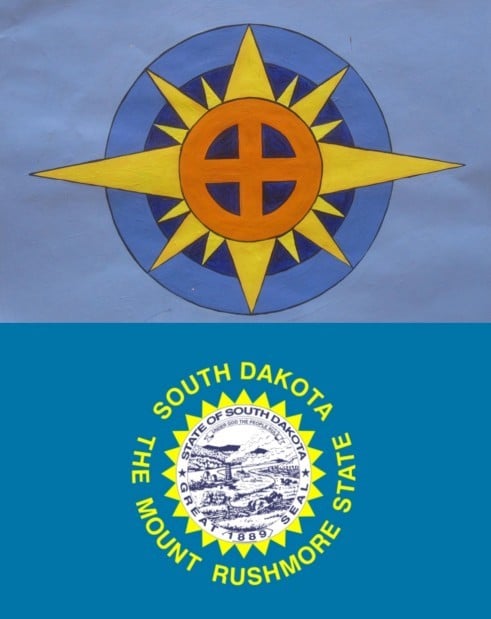 Dozens of legislators want to replace South Dakota's venerable state flag with a design by a Spearfish artist.
Rep. Bernie Hunhoff, D-Yankton, and more than 80 other lawmakers support HB 1235, which would adopt a flag featuring a sunburst, a Native American medicine wheel and concentric blue circles. It was designed in 1989 by Dick Termes of Spearfish.
"I believe it's a great design," Hunhoff said Wednesday. "I think it fits with the whole effort we've had in South Dakota to unify the state and find ways to really promote state unity."
The state's current flag features the state seal of South Dakota - a black and white image including farms, the Missouri River and the Black Hills. That is inside a sunburst with the state's name and nickname, "The Mount Rushmore State."
Termes, notable for his spherical, six-point-perspective "Termespheres," said the state flag shouldn't include the seal.
"The seal is designed so that it's very complex and very detailed, so when you make a stamp on a letter, it's official, and no one will be able to duplicate it," Termes said. "The job of a flag is to be very easily recognized from a distance... (and) be very fun and attractive."
Termes also said the flag should have minimal lettering. His design includes no words. The current flag has 17 words and a date on it.
A 2006 document by the North American Vexillological Association of flag experts called "Good Flag, Bad Flag: How to Design a Great Flag," identified five key principles: simplicity, meaningful symbolism, limited colors, distinctiveness and "no lettering or seals."
A survey of association members in 2001 ranked South Dakota as the fifth-worst state flag.
But plenty of people say those experts, and Hunhoff and Termes, are off base. They like the current flag.
"I like the motif and the colors," Robert Dennis, a Meade County rancher, said about the existing design. "If I was to do anything to the current flag to change it, I would just take the central part and make it larger. It's identifiable and it basically shows everything that this state stands for."
Termes' design, Dennis said, was "kind of blah."
"It doesn't seem to mean anything to me," Dennis said. "I've heard it said it's somewhat reminiscent of a star pattern quilt, and I sure like those, but this state is more than just that."
Termes said he tried to blend together two different motifs: the sunburst from the traditional state flag and a medicine wheel to represent Native American heritage.
The bill wouldn't abolish the old flag. All official flags made before July 1 would remain official even after the new design went into effect. The law would also authorize displaying the state seal - currently at the center of the flag - as a flag or banner.
Even though more than three quarters of the legislators have signed on to sponsor Hunhoff's bill, he predicted a tough battle ahead.
"Art is always in the eye of the beholder," Hunhoff said. "I have no illusions that this is going to be easy or be adopted by acclamation."
If Hunhoff's bill fails, he said lawmakers might explore other options for changing the flag, including possibly holding a contest or soliciting nominations. He said Termes' design was a good, time-tested option that should be considered first.